Heartfulness Now Retreat: The Five Steps to Total Heart Transformation – Harun Rabbani

Sunday, 1 November 2015 from 10:00 to 16:30 (GMT)
Event Details
Sunday 1 November 2015 at the Creative Living Centre, Prestwich, M25 3BL
Heartfulness Now One Day Retreat:
The Five Steps to Total Heart Transformation
Are you sick of feeling stuck, confused or despair about one or many aspects of your life? 
Would you like to get out of just surviving and passionately into thriving?
Are you ready to walk away from mediocrity and step into your brilliance?
Life is about one thing. Relationships. The rest are just distractions from your greatness.  
Let me explain.
You have a relationship with every aspect of your life:  your physical, vocation, family and life partner, education, money and spiritual health. And you deserve to have the most healthy, abundant and joyful relationship in each and every area. 
However, life doesn't always work out that way, does it? 
That's why so many people suffer from disease and chronic health conditions, anxiety and depression, career stagnation, business challenges, broken hearts and family breakdown, money problems and loss of connection. 
In short, life becomes mediocre instead of the brilliance that was meant for you. 
Make no mistake about it. 
You were born to be amazing. But somewhere along the road, something fizzled out. That's why so many people go to their graves with their music still in them.
The choice is yours. 
Would you prefer to choose brilliance over mediocrity? 
If so, then the Heartfulness Now One-Day Retreat is a must for you. At this deep-dive interactive day, you will discover: 
How to silence that critical voice that is sabotaging your success

How to transform the causes of all your pain, suffering and anguish

How to find and unleash your true and authentic self

How to remove money blockages

How to believe in yourself and live congruently

How to heal your pain from past relationships

How to find your true purpose

How to exponentially increase your energy and vitality

How to deal with energy leeches, vampires and distractors

How to rejuvenate and reinvigorate your love life
During the Heartfulness Now One Day Retreat, you will learn and extraordinarily heart meditation that will accelerate your ability to manifest and influence others. 
- You will also be shown the Five Decisive Steps to Total Heart Transformation. 
- You will also get an opportunity to work on your biggest challenges on your own, with a partner and collectively as a group. That way you will get the full experiential immersion into real personal evolution.  
Who Will Benefit Most from the Retreat? 
This is for you if:
You (and/or your partner) are ready to regain your freedom.

You are willing to fully interact and engage during the retreat. 

You want to remove past or current pain, trauma or blockages that are holding you back from enjoying the best that life has to offer - romance, health, wealth and other relationships 
How Does Heartfulness Differ from Mindfulness?
Whilst 'mindfulness' is a wonderful practice that brings about greater mental wellbeing, 'Heartfulness' removes the blockages to other (now proven by the HeartMath Institute) mind known as the 'heart mind'. Our greatest fears and survival based conditioning affect our lives as a result of operating from the subsconscious mind. Heartfulness activates the energy flow from the heart, which has a way of significantly and, often, permanently dissolving much of the fear- and survival-based thinking, feeling and behaving.   
As a result, you become a conscious creator of your reality. You become a master of your destiny. And you're able to create, develop and nurture much healthier and harmonious relationships with yourself in particular, other people, money, career or business, nature and much more. When you open your heart, you transcend the paradigm of beliefs and programming AND your own thoughts, feelings and actions adapt to a way of being that sets you free.  
"I have known Harun for many years and have the utmost respect for his work. After his talk at Mastery Path where he gave us so many tools, I experienced a powerful healing session with him by phone. I want you all to experience his work and have invited him back to Manchester so we can go much deeper. I encourage you to bring your loved ones to help bring about transformation in all your lives."  Debra Sofia Magdalene
JOINING INSTRUCTIONS 
Time: 10 am registration for a 10.30 am sharp start with a 45 minutes lunch break (lunch not included) Finish at 4.30pm.  
Place: Creative Living Centre, Prestwich, M25 3BL
Nearest Motorway Junction: M60 J17 ... head towards Manchester from roundabout on exit. Turn first right at traffic lights. Venue is right behind TGI Fridays. 
What to bring:  Packed lunch, notebook and pen, an open heart and mind. Dress comfortably.
Contact Debra Sofia Magdalene if you have any special requirements. E: debramagdalene@gmail.com
How to Book 
The Early Bird Price is £47 and is subject to availability. The Early Bird offer ends at midnight on Wednesday 30th September 2015. 
Our current full price for this event is £77 (instead of the usual £97)
Booking is very easy. Scroll to the top of the page and click on the Buy Ticket Button. 
About Harun Rabbani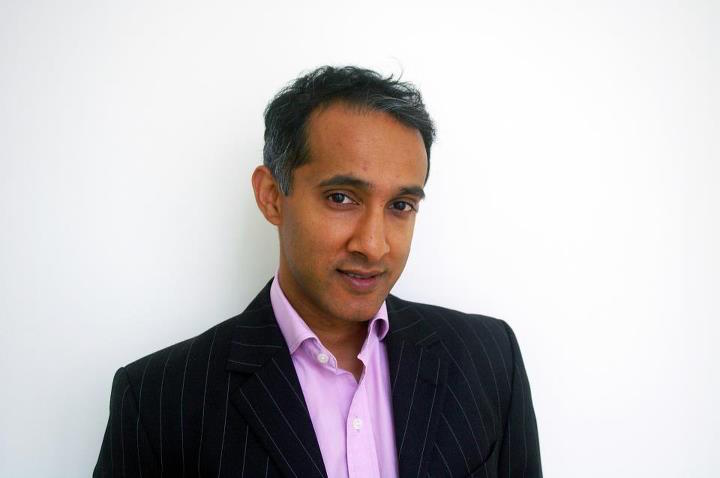 Since childhood, Harun Rabbani has been immersed in spiritual practice. However, even as a 10-year old, he started seeing a big mismatch between conventional spiritual practice and what he calls 'true spirituality'. His exposure to Martial Arts practice from the age of 14 led him to question the true nature of energy flow in all areas of life particularly in Medicine and the healing arts. 
After spending nearly a decade in the medical devices industry and then several years running his own business, Harun began investigating the synergy between science and spirituality. During this period, he had the privilege of learning from many of the leading scientists, healers and mystics who including Dr Bruce Lipton, Dr Joe Dispenza, Dr Manjir Samanta-Laughton, Professor Konstantin Korotkov, Dr David R. Hawkins, Dr John Gray, Marianne Williamson, Amma and many more.  
Although he has been healing many lives over many years, it was only in 2014 when Harun began developing and practising a process called 'Total Heart Transformation'. In the previous year, having experienced re-emergence of painful experiences as a result of a relationship breakdown, Harun underwent a series of healing sessions with several other healers and therapists. By 2014, he discovered that the results his clients were experiencing were far more profound than any individual or combination of healing modality. 
After research and enquiry, Harun's father revealed to him that his parents (Harun's grandparents) were Sufi mystics who renown for their abilities in Moulvibazaar region of Bengal in India (now Bangladesh). Their lineage of Sufi healers stretches back to over 600 years. It is concluded that much of Harun's healing abilities are inherited. It was only as a result of removing his own blockages that his healign prowess were unleashed.  
Testimonials
"I have known Harun for many years and have the utmost respect for his work. After his talk at Mastery Path where he gave us so many tools, I experienced a powerful healing session with him by phone. I want you all to experience his work and have invited him back to Manchester so we can go much deeper. I encourage you to bring your loved ones to help bring about transformation in all your lives."  Debra Sofia Magdalene
"Harun gave me many tools to use...I was free of my last ex and the ones before him, free of anger towards mum and, most importantly, I was falling in love more and more with me, life and so much more."  Anna Bojaryn
"Thank you Harun, you have saved me from what I thought would be a very miserable life!"  Nomi Said
"Harun and his work have helped me heal many areas of my life such as relationships, money and my inward journey. Harun is a gifted healer and his healing sessions are truly priceless and I'm unable to describe them as the experience is purely beyond words." Sabrina Ben Salmi 
"I am in absolute gratitude for Harun playing such a powerful role in my life. Specifically, his intuitive healing session helped me come full circle in my healing to do with my father issues. I had felt that my dad had taken a piece of my heart away. By the time the session was done, I knew that a major shift had taken place because the feeling that arose was that my dad needed that piece of my heart to survive, when I could do without it. This blew my mind. Harun is one of the few people that I'd recommend for healing as his heart is aligned to your heart." Vineet Bhatia 
"Harun worked with great intuition and openness, helping me to recognise that which I wasn't so aware of before so that I can effectively move forward from where I am now to where I want to be with more peace and awareness."  Miranda Adams 
"Even across the globe your intuitive and gentle process was profoundly effective and I felt clearer & more open at once and the proceeding week, although challenging at times, has seen, I believe, a continued opening and healing. I would have no hesitation in endorsing your process or recommending you to others."  Kathryn Anne
Domains: http://www.heartfulnessnow.com and http://www.untangledfm.com
YouTube: https://www.youtube.com/user/UnTangledTV
Twitter: @harunrabbani
Facebook: https://www.facebook.com/harunrabbani528
LinkedIn: https://uk.linkedin.com/in/harunrabbani
Book your place NOW via eventbrite
Do you have questions about Heartfulness Now Retreat: The Five Steps to Total Heart Transformation – Harun Rabbani?
Contact Mastery Path
When & Where

Creative Living Centre
Bury New Road
M25 3BL Prestwich
United Kingdom


Sunday, 1 November 2015 from 10:00 to 16:30 (GMT)
Add to my calendar