Amersham Arms 6:00pm - doors 7:15/7:30 It begins 11:30pm - Finish 388 New Cross Rd, London SE14 6TY
About this event
What is an NFT? Its actually the start of a game, and a new beginning for artists, an experiment/experience we can all enjoy, as well as a part of history.
Hosted and closed by Joe Nix (Ring Tailed Lemur)
Featuring the amazing:
Heidi Vogel
Chloe Carterr
Sam Dotia
Poet RS
Kings Cvstle
Paradox
ODF (Collective)
It's going to be phenomenal, So we'll see you there! P.S if you purchase a ticket online you get 5 bonus points in the game which shall be explained on the night. Also if you tell a friend to tell a friend or purchase multiple tickets then you also get a community star.
Just show us the proof or let us know who you brought on the evening!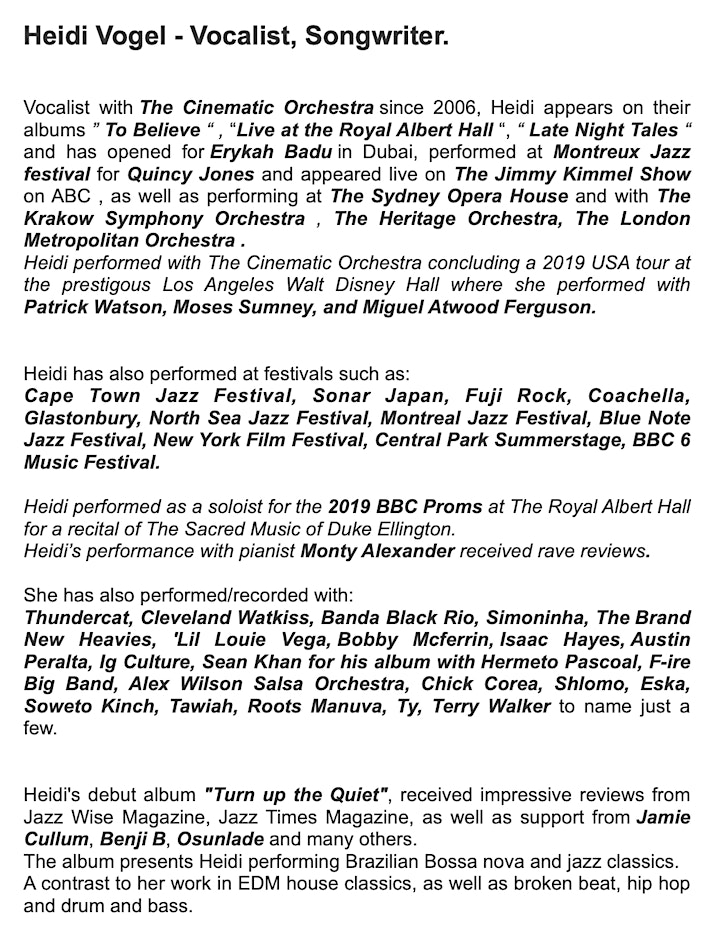 You can very easily look up the mountainous achievements of Heidi Vogel. Her voice is phenomenal, as well as her humble demeanour. The fact she's here performing with us after touring the world and being a killer in the Jazz game speaks volumes in itself and we at Heartistry are honoured to host her. We're also going above and beyond to make this an experience to be remembered. (All shall be revealed) p.s. remember to tell a friend to tell a friend. Or bring one :)
Now I saw Chloe Carterr (With two R's) during the brief break in 2020 at a little event held by Poetic Conscience in East London. It was an incredible experience and i was blown away by her. Both being and what she had to say. She's clever with it, and an amazing poet and human being. I know you'll love it and this is a humble video on her youtube performing "Board Games" in the car.
Tell a friend to tell a friend. Or bring one :)
Now Sam Dotia is a good friend of mine. We both went to Uni together and he also lost a song we both wrote but we shan't dwell on that here. More-so to talk about the amazing artist he's crafted himself into, and always been. It's amazing to be able to showcase his talent at this event. He's a soul/poet in my opinion, but with a staggering voice who plays guitar. What a g.
P.S. Tell a friend to tell a friend. Or bring one :)
Here we have Poet RS. A talented, wise, intellectual poet who i had the pleasure of meeting through instagram lives and finally in real life in Birmingham a few weeks back, where he was recording some poetry which he did in one take. Classic. His wisdom and perspective on life as well as his craft and word play blends hip-hop, spoken word, and education with surgical precision. He is a teacher by day, Poet by life. and an amazing person.
as always. tell a friend to tell a friend or bring one. :)
Ok ok, Kings Cvstle. True legends in the underground scene and awesome people two brothers rapping and making real music from real life experiences touching on the problems with the system we are all faced in dealing with the passion and dedication to what they're doing is amazing. Reflected in there most recent release and video approaching 40k views in two weeks with 177 likes and 0 dislikes is a great representation of the talent to be witnessed with these Kings.
Tell a friend to tell a friend and also bring one :)
Paradox is a legend who i met on instagram live and was baffled at how i was the only one listening to what he had to say. He introduces himself perfectly in the song Reign. It's truely going to be awesome to witness.
"Born in south, brought up in chaotic houses, waring spouses housing im surely doubting council low it we're not proud of your awful counselling, everytime i thought ive found bliss there's more around it. I just want to spread my message out before the thousands, i was a young kid feeding face of a hoard of mountains. Started playing pool, then i took a liking to 8 balls and ounces in fatal surroundings like Hi my names Paradox, you might not know me yet."
Dont know what to say about this incredible wordsmith/storyteller and master of Flows "Paradox".
Tell a friend to tell a friend and/or bring one.
Now i first heard about the Overdose Family through J Dolphinn who i've seen multiple times on instagram live. Truly some of the undergrounds finest with hard bars and wavy flows. Its going to be a treat to be able to experience a rap collective kicking off the show and shedding light on what this powerful collective have under the hood with special performances from all the Family.
Tell a friend to TELL A FRIEND!! AND BRING SOME TOO!
Now if you read all the way to here well done!! take a screen shot of this and send it to @heartistryevents with who you're most excited to see for 5 extra points in the game which shall be explained on the night :)
See you all there and thanks for being apart of Heartistry's first Live NFT event which is going to be making a small part of history within an up & coming space! Dont Miss out!
Thanks,
Joe, aka The Designer & Ring Tailed Lemur in Heartistry