About this Event

You're Invited to the launch of HeartShaper Sunday School Curriculum!
WHO IS IT FOR?
Sunday School Leaders, Teachers & Helpers
Homeschool Mums & Dads, Grandparents & Carers
Children's & Family Ministry Leaders
Activity Club Leaders & Helpers
Church Leaders
WHEN & WHERE
Our HeartShaper event will be held at St John's Church,194 Tonbridge Rd, Hildenborough, Tonbridge, Kent, TN11 9HR. Proposed date November 28th
Exact date to be confirmed
THE EVENT
We are going to have fun!
Enjoy refreshments
Find out more about HeartShaper Curriculum
Network with other Sunday School Teachers and Helpers
And a few surprises along the way.....
PLEASE RSVP
Tell us you'd like to come and we will add you to the VIP list and ensure your place is reserved and notify you of the date and location.
Just register and we will do the rest!
HeartShaper Curriculum
Shape Hearts. Change Lives.
💜 ❤️ 💙 💛 💚 💗 🧡 💜 ❤️ 💙 💛
WHAT IS HEARTSHAPER CURRICULUM?
HeartShaper® Children's Curriculum is designed to help children in your Sunday school or activity club discover God through His Word. Each session will take your group through the Bible and its key themes, encouraging a life-long love of Scripture and helping children to see how God can shape their lives.
HeartShaper Red Primary ages 5 - 11
HeartShaper Blue Primary ages 5 - 11
HeartShaper Yellow Preschool ages 3 - 5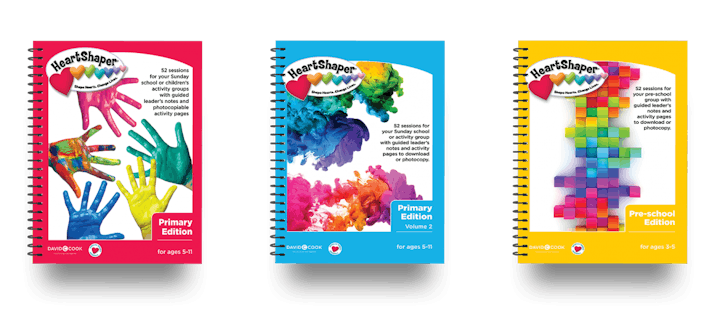 Author and Storyteller Bob Hartman talks about HeartShaper Primary edition
FOCUSED SESSIONS
Each session is designed and structured for children to...
Focus In
Explore His Word
Make It Real
Live It Out
HEARTSHAPER AT A GLANCE
Pre-school & Primary Editions
Special Needs Friendly
52 Spiral Bound Sessions
Printable Greyscale Activity Sheets
Dedicated Worship Song List with Chords & Sheets music
FREE Downloadable Colour or Greyscale Activity Sheets
Dedicated HeartShaper Website With Ideas, Tips and Help
Clear Leaders Guide For Each Session
WEBSITE
Visit our dedicated HeartShaper website for more information and to download your free HeartShaper Sunday School sampler!
TALK TO US!
We'd love to hear from you! You can find us on Facebook and Instagram!
@HeartShaperUK #HeartShaper #SundaySchool #Curriculum
PUBLISHER INFORMATION
Our Sunday school curriculum is trusted and loved around the world. We cover every corner of kids' ministry because we believe in sharing the truth and power of Scripture with the next generation.
From New York to New Delhi, children have fallen in love with the message of the Gospel while engaging with a David C Cook product. We know that love can last a lifetime.