Location
Gare Maritime
11 Rue Picard
1000 Bruxelles
Belgium
All you need to know about the energy transition in buildings and industry.
About this event
"Green heat recovery: Reinforcing Europe's industrial and energy transition leadership" Heat Pump Forum 2021 puts heat pumps at the centre of the green, digital, cost-effective energy transition and industrial transformation.​ On the road to a climate neutral Europe by 2050, its aim is to discuss what is needed for the EU to decarbonise "heating and cooling" effectively and fully.   
By bringing together high-level policy makers​, major players of the heating and cooling industry, influencers from related stakeholders,​ we will provide a stock-tacking on market development across Europe and ask how demand can be increased. 
The Heat Pump Award
Just like every year, in 2021 we will recognise the most efficient, smart and sustainable Heat Pump projects at the local level in EHPA's Heat Pump Award Ceremony. This year we will award 5 categories: the Heat Pump City of the Year, DecarbIndustry, Decarbuilding, Outside Of the Box Heat Pump and People's choice award: the most popular heat pump project.
The Heat Pump Forum 2021 and the Heat Pump Award Ceremony will take place on September 29th both virtually and physically at Gare Maritime in Brussels. When you register you have the option of selecting whether you want to join the event physically at Gare Maritime or remotely online.
To respect the planet, this is a Green Event. As we want to avoid food waste, please be responsible with your decision to attend the event physically.
Green heating and cooling workshop: Heat Pump RD&I in EU Projects
This event is organised in the framework of the REWARDHeat project, as an opportunity to gather with heat pump stakeholders and share knowledge about the heat pump role in the selected EU projects.
REWARDHeat project is the organizer and aims to demonstrate a new generation of low-temperature district heating and cooling networks, which will be able to recover renewable and waste heat, available at low temperature. These networks will be able to increase production and distribution efficiency by recovering, renewable and waste heat available at low temperature.
The other two EU projects (SunHorizon and ETIP-RHC)are invited to present their perspective and approach in R&I about heat pump application.
The European Technology Platform on Renewable Heating and Cooling (RHC-Platform) brings together stakeholders from the biomass, geothermal, solar thermal and heat pump sectors to define a common strategy for increasing the use of renewable energy technologies for heating and cooling.
Meanwhile, SunHorizon aims at deploying sun-coupled innovative heat pump in the residential and tertiary sector, thus supporting the decarbonisation of the heating and cooling sector.
Join us in this event to know more about the projects' development and how innovative heat pumps are deployed in different sectors.
This event will take place on October 6th and it's a free virtual event. In your registration, you can select the virtual ticket.
29/09 Agenda
9:20 AM - 10:00 AM: Welcome Coffee
10:00 AM - 10:10 AM: Welcome and introduction
10:10 AM – 10:30 AM: Opening
10:30 AM – 11:25 AM: The new energy market design: why carbon pricing matters
11:25 AM – 12:00 AM: The need for a strong EU heat pump industry for a fast energy transition
12:00 AM - 13:30 PM: Lunch Break & Projects showreel
13:30 PM – 14:20 PM: The value of digital innovation in the heating business
14:20 PM – 15:10 PM: The power of global-local connection: decarbonisation of cities
15:10 PM – 16:00 PM: The remarkable versatility of (hybrid) heat pumps: adding value to our customers
16:00 PM – 16:30 PM: Coffee break & Projects showreel
16:30 PM – 17:15 PM: The new industrial strategy for Europe: co-creating with large and industrial heat pumps​
17:15 PM – 17:45 PM: The new language for heat pumps: a marketing perspective
17:45 PM – 18:00 PM: Break & Projects showreel
18:00 PM –18:40 PM: The Heat Pump Award 
06/10 Agenda
10:00 AM - 10:20 AM: Welcome Speech by Dan Stefanica (EHPA)
10:20 AM - 10:50 AM: REWARDHeat project presentation:
10:20 AM – 10:35 AM: Project overview
10:35 AM – 10:50 AM: Presentation of the Heat Pump role in REWARDHeat
10:50 AM - 11:05 AM: SunHorizon project presentation
11:05 AM - 11:20 AM: SecRHC project presentation
11:20 AM - 11:40 AM: Panel discussion
11:40 AM – 11:45 AM: End of the event and next project events by Dan Stefanica (EHPA)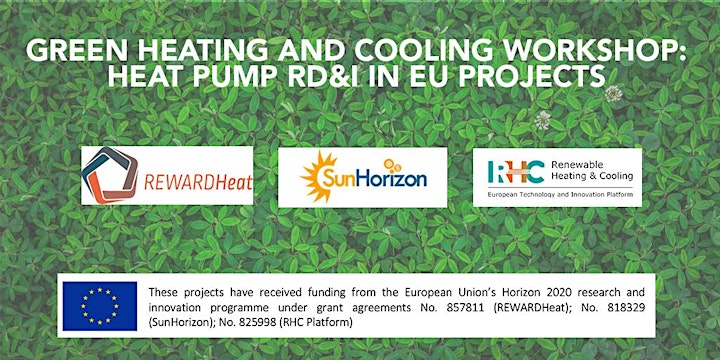 The Heat Pump Forum Partners