Trafodaeth banel gyda gwesteion arbenigol ar heddwch a newid hinsawdd. A panel discussion with expert guests on peace and climate change.
About this event
Ymunwch â ni i ddathlu Diwrnod Heddwch Rhyngwladol 2021, gyda thrafodaeth banel ar Heddwch a Newid Hinsawdd. Ein Cadeirir bydd Prif Weithredwr WCIA Susie Ventris-Field, bydd gwesteion arbenigol yn ymuno â ni (gan gynnwys Dr. Gillian McFadyen o Brifysgol Aberystwyth, Yr Athro Gareth Wyn Jones, Cymrawd Cymdeithas Ddysgedig Cymru a gynt o Brifysgol Bangor, a Faith Clark o voice.wales) i drafod y cysylltiad rhwng heddwch a newid hinsawdd.
Join us to celebrate International Peace Day 2021, with a panel discussion on Peace and Climate Change. Chaired by WCIA Chief Executive Susie Ventris-Field, we will be joined by expert guests (including Dr. Gillian McFadyen of Aberystwyth University, Professor Gareth Wyn Jones, a Fellow of the Learned Society of Wales and formerly of Bangor University, as well as Faith Clarke of voice.wales) to discuss the link between peace and climate change.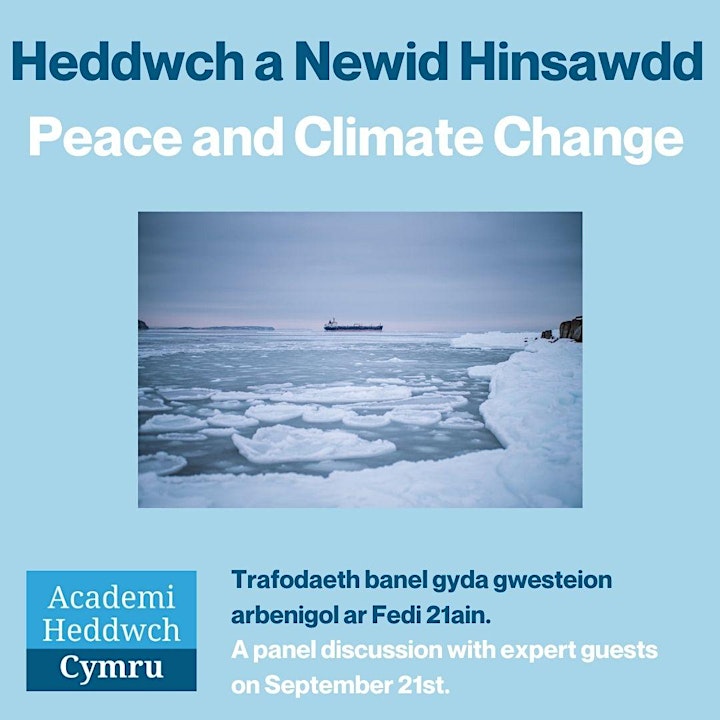 Organizer of Heddwch a Newid Hinsawdd / Peace and Climate Change
Diben yr Academi Heddwch yw ymestyn traddodiad cryf Cymru o ran hyrwyddo a gweithio dros heddwch, drwy ddatblygu a chydgysylltu cymuned o ymchwilwyr annibynnol mewn meysydd cysylltiedig. Bydd Academi Heddwch Cymru yn gweithio i sicrhau bod lle cadarn i heddwch ar agenda genedlaethol Cymru ac ar y llwyfan cenedlaethol, drwy gyfrwng y rhwydwaith byd-eang o sefydliadau heddwch sydd eisoes yn bodoli.
Academi Heddwch's aim is to extend Wales' strong tradition of peace-making and peace-promotion, by developing and coordinating an independent community of researchers in related fields. Academi Heddwch Cymru will work to place peace firmly on Wales' national agenda, and on the international stage working through the existing global network of peace institutes.