Sales Have Ended
Registrations are closed
Thank you for registering for the HEDG Autumn Meeting 2020. You receive an email with a link to the Zoom meeting closer to the date. You will be put into your Zoom breakout room on the day. Further details are available on the HEDG Eventbrite page. If you need any further information please email info@hedg.ac.uk
Sales Have Ended
Registrations are closed
Thank you for registering for the HEDG Autumn Meeting 2020. You receive an email with a link to the Zoom meeting closer to the date. You will be put into your Zoom breakout room on the day. Further details are available on the HEDG Eventbrite page. If you need any further information please email info@hedg.ac.uk
About this event
9:30 Virtual Coffee Room 
Join HEDG's virtual coffee room for an informal catch up before the meeting begins 
10.00 Chair's Introduction
Jackie Potter, Chair of HEDG, Head of OCSLD, Oxford Brookes University.                               
10.15 Office for Students
Digital Teaching and Learning Review
Facilitated by Jackie Potter, Head of OCSLD, Oxford Brookes University, Chair of HEDG
Breakout Rooms
National Student Survey Review
Facilitated by Alastair Robertson, Glasgow Caledonian University, Interim Vice Chair HEDG
Breakout Rooms
11.00 Break
11.15 HEDG Extraordinary AGM
Chair: Jackie Potter
Members will vote for new HEDG Executive Committee members and agree nomination of HEDG Treasurer
11.30 Mid Semester Updates
Facilitated by HEDG Executive Committee member, Susannah Quinsee, Director of Learning Enhancement and Development, City University of London
12.00 HEDG Group Mentoring Scheme
Facilitated by HEDG Executive Committee member, Sue Mathieson, Director of Learning and Teaching, Northumbria University.
12.30 Close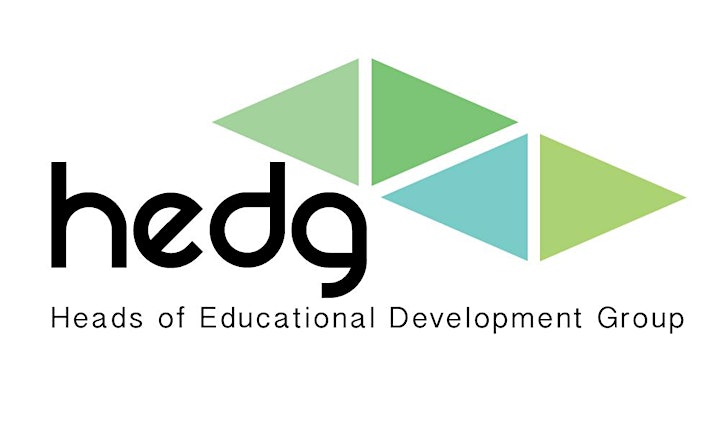 Organiser of HEDG Autumn Meeting 2020
The Heads of Educational Development Group (HEDG) is a not-for-profit Association.
'Heads of Educational Development' for the purposes of this Association is defined as follows:
The term 'Head' is understood to mean a person holding responsibility for cross-institutional educational development in a Higher Education Institution in the UK.
The term 'educational development' is understood to include activities designed to:

improve teaching, learning and assessment practices in higher education,

promote the professional development of all staff with a teaching or learning support role,

contribute to organisational and policy development in higher education with respect to learning and teaching at institutional, regional and national levels,

support the learning development of students

promote informed debate, research and scholarly activity relating to the above.
HEDG is an Association which exists for the following purposes:
To provide a network for the communication of ideas and sharing of good practice relating to the institutional role of heads of educational development as defined above

To promote discussion about matters of common interest to the members

To represent the common interests or concerns of its members to national organisations

To liaise and collaborate with other organisations with common interests to promote the aims of HEDG