Heels of Hell 2021 -(Rescheduled)
About this event
The Ultimate Halloween Tour RETURNS 2021, Voted one of the top 15 uk tours to been seen. Bringing some of the best Drag Entertainment its the Halloween spooktacular not to be missed !!!!!!
This is a 14+ Event anyone under 18 must be accompanied by an adult
Meet & Greet Doors will open at 5.45pm
Standard Doors will open at 7pm
Venue Curfew 11pm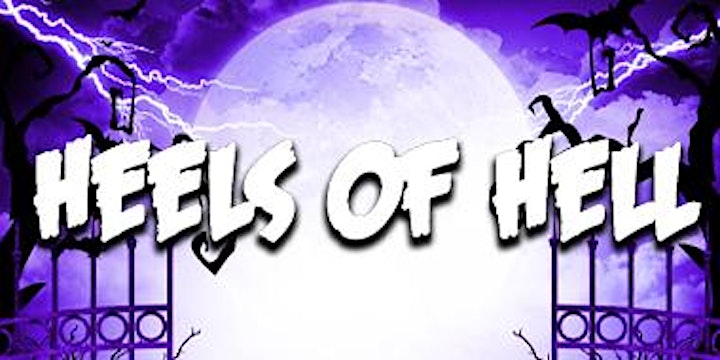 Organiser of Heels of Hell 2021 - Brimingham 14+ -(Rescheduled)
ALL SALES ARE FINAL, NO REFUNDS!
This is a HolyTEurope event which includes a show from a guest performer.
PLEASE NOTE: The times stated are for doors opening, and NOT performance times. This is due to health and safety and crowd control. 
Multiple Lineup Events: if an event has a multiple lineup of artists and lineup is subject to change, on purchase of a ticket you are agreeing to these T&C
Substituted Artists: If a substitute act appears in place of a show's headline star, or there's a change to the line up due to unforeseen circumstances, you are NOT entitled to a cash refund except in the case of cancellation. If the event goes ahead with a substituted act, HolyTEurope may offer tickets for the original headline artist's rescheduled performance or an alternative artist's show as a gesture of goodwill. This will be limited to a selection set by HolyTEurope and will be at their discretion. 
For rescheduled performances: If HolyTEurope still goes ahead on the ticketed date with a substituted artist, you are not entitled to a cash refund. However, HolyTEurope may offer a tickets for the rescheduled headline artist's performance or a substitution to an alternative artist's show (limited to a selection set by HolyTEurope), as a goodwill gesture.
If neither of these options are suitable, we authorise the resale of tickets by the Purchaser to friends, family, colleagues, etc.
Artist Abandonment is covered by FORCE MAJUERE:
In the event of any illness or accident affecting the artist, or if the performance is rendered impossible or not feasible by any force majeure event not within control of the artist including but not limited to accident, bereavement, fire, riot, civil disturbance, strike, lockout or other labor dispute, act of God, order, rule, regulation or act of governmental authority, absence of power or any other essential services, failure of technical facilities, failure or delay of transportation facility(ies), lost or delayed performance luggage, the parties hereto specifically agree that: (a) all of the artist's obligations to the engagement(s) affected shall be deemed waived, (b) Purchaser shall not have any claim to damages with respect to the affected engagement(s), and (c) a substitution for an alternative event or rescheduled date may be offered to the Purchaser by the Promoter.
**Please Note, there may be promotions put in place for any remaining tickets for events & these will be standard tickets 
**The promoter can not be held responsible for late comers.
**The Promoter has the right to change anything advertised at any time
**If any tickets are advertised to include any signed photos or professional photos the promoter has the right to change at any time but are happy to refund the difference of what a normal meet & greet would be charged 
**Any tickets purchased for anyone between the ages of 14-17 must be accompanied by an adult 18+ on all tickets (this includes meet & greet tickets) the promoter & venue has the right of refusal if anyone under 18 is not accompanied by an adult 18+
**Any cameras over 35mm will not be admitted into any shows  
**Please Note, on some shows Meet & Greet times may be changed (please check event times on ticket information at time of booking). If times do change due to unforeseen circumstances then ticket buyers will be emailed or info posted on the promoters Facebook page or twitter with updates 
**Please Note, some events may be restricted view (tickets will be discounted from premium priced seats of a seated or live stage show) 
 **if any extra dates are added to any event or tour due to demand then the ticket will stand to the event its held for.
 T&C UPDATE - 1/5/2020
COVID-19 (Terms & Conditions) As per HolyTEvents booking Terms and Conditions, on confirmation of booking a ticket for this event you are agreeing to the below.
1. By purchasing a ticket for any event you are agreeing to honour your booking.
2. If the date for this event has to be rescheduled due to the change of government advice or guidelines regarding COVID-19, by purchasing you are agreeing to our Terms and Conditions and accepting that ALL SALES ARE FINAL.
3. If you cannot make the rescheduled date HolyTEvents allow customers to transfer your ticket to another city of the same tour subject to availability OR resell your ticket.
4. If the event is an ages 14+ event, anyone aged 14-17 must be accompanied by an adult aged 18+. The promoter and venue have the right of refusal if these terms are not followed without refund.
5. If the event you have purchased tickets for is an ages 18+ event and you don't have legal identification on arrival, the venue holds the right of refusal without refund from either the venue or promoter.
6. On purchase of a ticket you are confirming that ALL persons on your booking are members of your household or support bubble. (if required at time of show)
7. If the show is moved to an alternative venue within the same city you will not qualify for a refund.