Description
Heffers Music presents: Cambridge Harmony Chorus at Christmas.

In 1982 a small group of women came together to sing four-part, unaccompanied harmony in 'barbershop' style. Thirty-plus years on, and Cambridge Harmony Chorus now has a membership of 21 ladies. Every year they perform a variety of 'sing-outs' and Heffers is pleased to welcome them back to the shop for a special festive event!
On 18th December we will be opening late so you can enjoy doing your Christmas shopping at a more leisurely pace. You can get all of your gifts under one roof, accompanied by the joyous sounds of the group!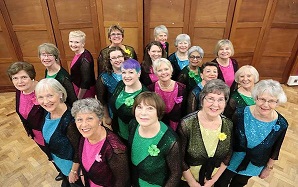 Donations welcome and will be in favour of the local charity Cambridge Cruse

For more info about Cambridge Harmony Chorus visit https://www.cambridgeharmony.org.uk
Like this? See a full list of our forthcoming events by clicking here.