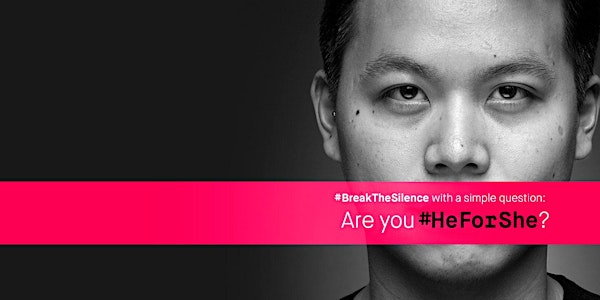 HeForShe - Discussing the role of men in progressing gender equality
Location
University of East London, Docklands Campus
WB.G.02
University Way
London, England E16 2RD
Description
HeForShe is a UN movement which recognises that gender equality is not just a women's issue. The movement is about all working together regardless of gender to effect change. HeForShe is inviting people around the world to stand together to create a bold, visible force for gender equality.

You are invited to join this event, hosted by Dr Lisa Mooney, PVC Research and Knowledge Exchange and chair of our Athena SWAN Steering Group, as an opportunity to hear and to participate in a discussion on gender equality from men's perspective.

The event aims to enable discussion and raise awareness of the role of men in promoting gender equality; from the perspective of men's roles in promoting the empowerment of women as well as how shifting the norms about gender and masculinity and creating positive discussions impacts on men's wellbeing. Discussion will include the HeforShe campaign to enable and encourage engagement.

Panel:
Dr Kate Williams, Deputy PVC for E&D at University of Leicester (https://le.ac.uk/about/equality-diversity/heforshe) - Recently appointed PVC in 2016, trained as a Registered Nurse before joining the University of Leicester as a researcher. Kate led the first successful departmental Silver Athena SWAN application in the University and went on to support other departments in their awards as Gender Equality Lead.

Gwenton Sloley, Director of Crying Son's Ltd, as a specialist in relation to the housing of ex offenders, vulnerable young people and their families for over 10 years. During this time he became involved in the professional development of professionals in related sectors through his training and books.
Mandy Sanghera, award winning philanthropist, community consultant and global campaigner. As well as being an international human rights activist & motivational Tedx speaker, she has been driving innovation, building strategic partnerships, promoting advocacy and programming in the areas of human rights, gender equality, accountability and social justice globally. Mandy has recently spoken at The US House of Representatives.

Dr Ben Hine, Senior Lecturer in Psychology and Co-Founder of http://www.menandboyscoalition.org.uk/; a network of organisations, academics, journalists, professionals and leaders committed to highlighting and taking action on the gender-specific issues that affect men and boys.
Dr Anthony Gunter, Principal Lecturer in Criminology and Programme Leader for the BA (Hons) Criminology & Law degree. Prior to his career in academia Anthony worked for over 14 years on youth transitions in both South and East London, within a variety of community settings, as a detached community and youth worker and Project / Area Manager.
5.30pm Registration, networking and refreshments
6pm Welcome and opening remarks
6.00 - 7.45pm Panel discussion / Question & Answer session
7.45pm Closing remarks