18-24? Thinking about starting a business, struggling to find work, or just not sure what you want to do? Let us help shape your future!
About this event
WHO IS IT FOR?
18-24 years-olds in Tendring and Colchester who want to start their own business or learn skills to help them get a job.
This online training course consists of 6 workshops, held weekly from midday-3.30pm.
You may benefit from this course if you:
Have left education or an apprenticeship and are finding it difficult to move on.
Have been made redundant or lost your job for other reasons.
Are in a job which pays the bills, but you don't feel it's taking you forward.
WHEN IS IT?
Wednesday 18 May - 6 July 2022.
18th May
25th May
08th June
15th June
29th June
06th July
Each session starts at 12.00 midday and finishes at 3.30pm.
WHAT DO I NEED?
The internet and a device with a camera (laptop, tablet etc). You don't need to have any prior knowledge or experience for this online training programme. A workbook will be provided to all participants outlining course expectations, content, focus and pre-course activity/preparation.
Your commitment will be to:
Attend six training sessions and a one-to-one advisor session.
Interact with your co-participants and lead trainer.
Be prepared to put questions to the guest speakers.
Complete short 'homework' activities and use the course resources to develop your next steps.
WHAT WILL I LEARN?
We will identify your strengths and capabilities, build your confidence, support you to find the right opportunities, and prepare you to be a successful candidate in business or employment.
Entrepreneur or employee? Either way, finding your ideal role can be a daunting process. This training is delivered by real people; business owners and employees, sharing real experiences, tips, hints, and resources to support you taking your next step to successful entrepreneurship or employment.
The full course will:
Help you understand the differences and commonalities between running your own business and employment.
Work through some exercises to identify the best route for you at this point in your life.
Give you tools and strategies to prepare you for your next steps.
Give you the opportunity to try out your networking skills in a safe environment with a group of people making similar decisions.
HOW DO I BOOK?
It's a free course, funded by Tendring District Council and Colchester Borough Council. To book your space click on the tickets button above!
WHAT TO EXPECT
Each session will follow a similar format:
12.00pm-3.30pm Session time
12.00pm-12.15pm Log in, troubleshooting and tech help
12.15pm-1.00pm Informal discussion time
1.00pm-1.10pm Formal session begins | Introduction | Room conversations
1.10pm-2.00pm Session content and activities
2.00pm-2.10pm Comfort break
2.10pm-3.00pm Guest speaker
3.00pm-3.30pm Q&A and discussion
3.30pm Session ends
Session outlines:
Session 1: 18th May | Introduction – What is Entrepreneurship and what is Employability? Common factors/differences.
Session 2: 25th May | Who are you? What are your strengths and transferable skills – Guest Recruitment Specialist.
Session 3: 08th June | Identity, suitability, and interest. CV/cover letter or proposal practice. Tailoring your approach to an opportunity. Guest Project Manager.
Session 4: 15th June | Appearance, Attitude and Approach - Your USP will make the difference. Guest Marketing Specialist.
Session 5: 29th June | Employability and Entrepreneurial Skills – Word/excel/social media, organisation and record keeping. Guest Administrator.
Session 6: 06th July | Networking/building relationships and trust – Finding opportunities. Guest Employer/Contract Manager.
Ongoing mentoring and one-to-one appointments will also be available during the course.
Short activities will be set for homework after each session and research and resources will be available for each participant. These activities will help the trainers offer feedback and refine the focus of the one-to-one sessions.
Other information will be available and distributed during sessions to support self-lead further development.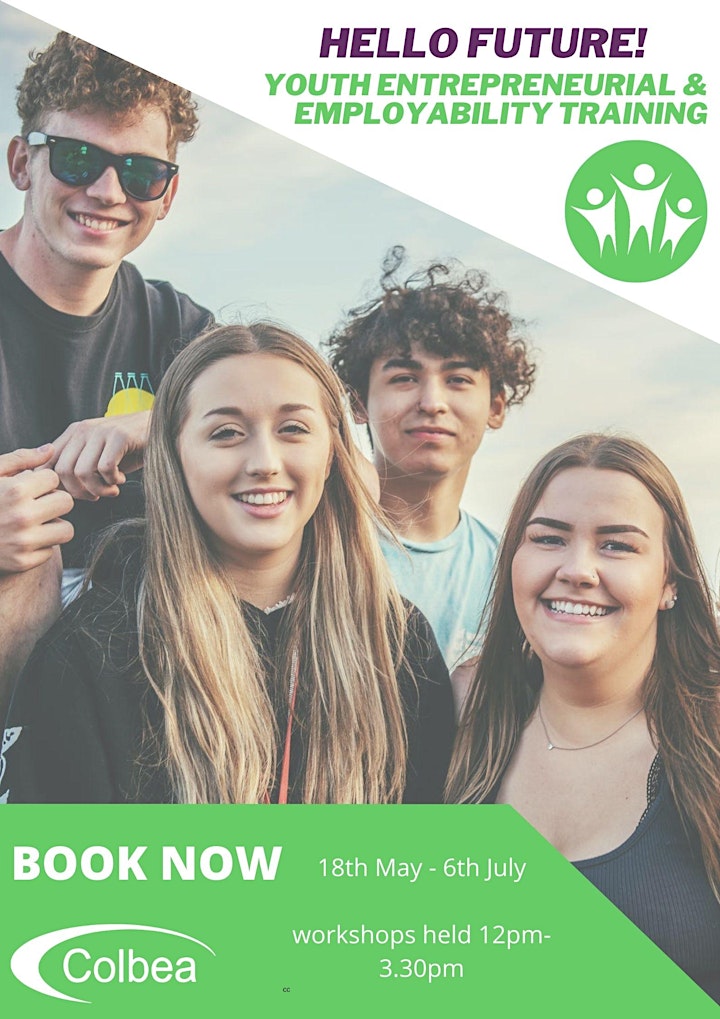 Organiser of Hello Future! Youth Entrepreneurial & Employability Training - May 22
Colbea is a catalyst for business success across Essex, providing business advice, training and office space for new and established businesses.
Fully-funded one to one business advice sessions are available for anyone looking for information, advice, and guidance in order to start, grow or develop a business. This may include support on a range of topics from business planning to accessing funding and grants.
Colbea's two business centres are home to more than 60 businesses with agile working spaces, a mix of light industrial units and office space up to 430 sq ft. We also offer Virtual Tenancy packages.
Fully equipped meeting and training rooms can also be hired at competitive rates.
Our business training courses are usually fully-funded, or there is a small nominal fee to try and encourage participation. We cover single short masterclasses on specific topics as well as longer workshop-style interactive, multi-session programs with expert facilitators.