Description
Please join us for the launch of Hello Tomorrow's new hub in Silicon Valley! Hello Tomorrow is a global network of entrepreneurs, investors, academics, and researchers supporting innovation in deep technologies - those based on scientific discovery and engineering expertise.
We will meet at the legendary innovation engine, Xerox's PARC (Palo Alto Research Center) which has spawned some of the most important technologies we use today. Hearing from PARC's experts as well as others from NASA's CASIS, China's Pony.ai, the IndieBio accelerator, Genentech, Lux Capital, InnovationLab, and more, we will discuss the topics that everyone pursuing these technologies shares, such as:

funding long-term technology development
dealing with uncertain/changing regulatory frameworks
technology disrupting established industries and business models
hiring talent that understands both science and business
finding a site to grow a company that may have unusual equipment and space needs
understanding a complex global market landscape
Participants and speakers will span scales from quantum computing, to neural interfaces, to planetary hyperloops, but three main tracks will go deep into:

Mobility - a century of transportation innovation in one decade. In a century,

we

went

from

horseless

carriages

to

electric

vehicles

,

from

sailing

ships

to

nuclear

subs

,

from

first flight to

spaceflight

. Now

electrification

,

autonomy

, and new business

models

promise to

redefine

the transportation

landscape

as

much

in 10

years

as

we

did

in the last 100.Will

these

technologies change

cities

, commerce, and culture

again

at a

similar

pace?

Life science - evolving models for engineering life.

Gene drives, CRISPR,

synthetic

biology

... Not

only

are

these

new technologies

expanding

the toolkit for engineering life,

they

are

spawning

new

models

for

conducting

and

commercializing

research

. What

roles

will

traditional

R&D, venture

funding

, crowdsourcing, hackathons and more

play

in the future? How

will

these

new

models

accelerate

discovery

, change IP, and open

markets

?

Space - outer space in everyone's reach.

Space

has

always

been the

domain

of

government-level

activities

–

until

just

now

. Hordes of startups,

students

, and

other

actors

are

rushing

into

orbit

. In the

deeptech

context

, satellites and the

space

station are key to the future of

mobility

and

biology

. But the shifts in

funding

,

regulation

, and

technology

accessibility

that

all

three

face are

similar

. How can

they

help

each

other

?
To wrap up the day, we will nosh and network surrounded by demonstrations of artificial creativity - AI entering music, visual arts, and even comedy, as we pit human expression against the machine in a preview of the world to come.

Confirmed speakers so far include Markus Larsson, PARC; Mark Bünger, Innovation Lab; Shruti Gandhi, Array Ventures; Peter Hebert, Lux Capital; Maryanna Saenko, Future Ventures; Hemai Parthasarathy, Breakout Labs; Swati Chaturvedi, Propel(x); Miki Sode, International Space Station (ISS) U.S. National Laboratory; Bruce Pittman, NASA Space Portal; Hugo Wagner, Airbus; Romy Seth, Ferghana Partners; Jessica Adomako, Genentech; John Cumbers, Synbiobeta; Jessica Ching, Open LOOP pancreas and open insulin; Jun Axup, IndieBio; Ann Cheng ; Hyundai CRADLE; Melody Li, Pony.ai; Nicholas Paul Brysiewicz, Long Now Foundation; Madelynn Martiniere, Uncomproimise; and Dhaya Lakshminarayanan, Dhaya Comedy.
In case of last-minute emergency or questions on the day of the event, please contact Ulrika Lidstrom 415-307-6111.
Programme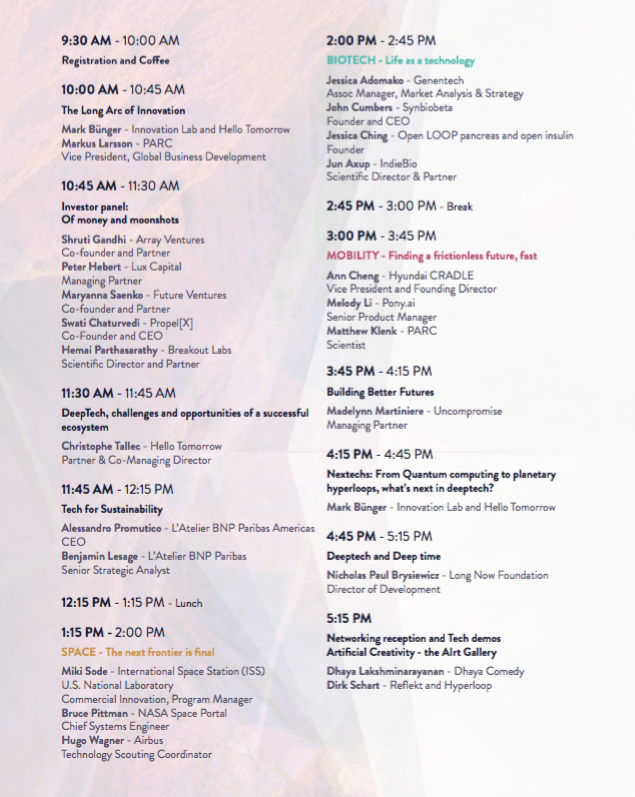 Please join us in seeing and creating the future at PARC!
Sponsored by