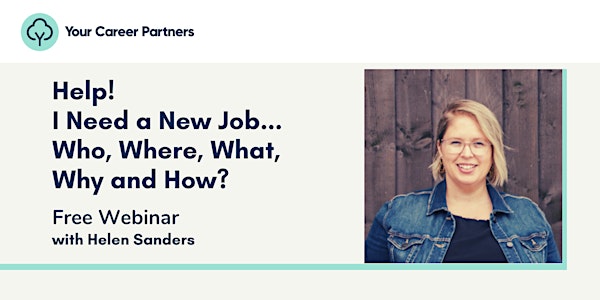 HELP! I Need a New Job - Who, Where, What, Why and How?
Looking for a new job can be scary. Who can help? Where do you want to work? What can you do? Do you know your 'why'? And then how?
About this event
Join Helen Sanders from Your Career Partners (part of Your People Partners) for this free one-hour informative and interactive workshop.
You'll be able to use what you learn to formulate a plan for your job search in this one hour:
Here's a sneak peak of what you'll learn:
Who are you really?
Who can help you?
Where will you find that ideal company and role?
What do you want to do (really)?
What can you really achieve?
Why? What's your 'why'?
How can you navigate woring with recruiters?
How on earth do you put this all together and secure that role where you'll be happy, thrive and contribute the way you want to?
Webinar Agenda:
• Presentation with Helen
• Q&A Session
About your Speaker:
Helen and her team at Your People Partners are commited to putting human beings, and not CVs, at the middle of every recruitment process.
They work each day to help people like you discover their purpose and land their dream job.
Life is too short to be in a job you that makes you unhappy!
With over 35 years of experience between them, you'll be in safe hands to know exactly how to market yourself and work with recruiters to find your ideal role where you can thrive and be happy for years to come.
See you there!