Help Sweet Eid Prepare 25,000 Free Eid Gifts!
About this Event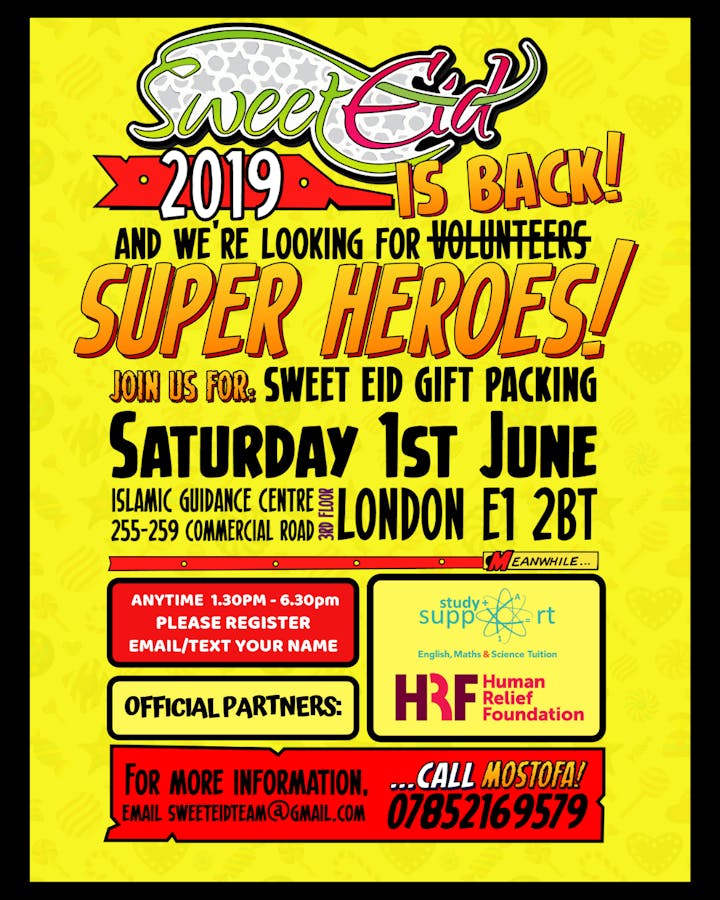 Sweet Eid is a pioneering community project initiated by a group of young British professionals. The idea behind Sweet Eid is to make Eid, a festival celebrated by over 1.6 billion Muslims from across the world, engaging and memorable for children and their families!
On the day, dressed in our infamous Sweet Eid t-shirts, our friendly volunteers distribute sweet gift bags, balloons (modelled into hats, swords, flowers and more) and Eid cards outside mosques, parks and community centres throughout the UK– bringing smiles to the faces of thousands of people! In 2018, we distributed over 25,000 Sweet Eid gifts across 50 locations in the UK.
We are calling for amazing volunteers to come forward and help us pack 25,000 Sweet Eid gifts, this Ramadan! Male and female volunteers are most welcome (we have separate facilities available for women). It's a wonderful opportunity to gain some immense rewards during the holy month of Ramadan, meet some new people but more importantly, support a fantastic growing project.
If you are also interested in distributing these Sweet Eid gifts outside your local Mosque or community centre, please get in touch! For any questions or concerns, please do not hesitate to contact me.
Thank you,
Mostofa UddinSweet
Eid Co-Founder & Project Manager
07852169579
sweeteidteam@gmail.com
Facebook.com/sweeteid
instagram.com/sweeteid_
www.sweeteid.com