A short, informative, 120 min. training session that highlights the benefits of supporting clients to access quality, free money advice.
About this event
Enables learners to recognise signs of poverty and exclusion, understand the benefits of money advice and what regulated advice means. Then use the skills & knowledge to help users access the best, most appropriate, free and impartial money, benefits and debt advice available and support them through the money advice process.
WHAT IS COVERED:
• What is Money Advice?
• The benefits of money advice
• What is FCA regulated advice?
• Signals someone needs money advice support
• What happens during money advice?
• Where to refer your clients for appropriate help
PRIOR KNOWLEDGE REQUIREMENTS:
No prior knowledge is needed or assumed to benefit from this course.
DATES, VENUES & PRICING:
Available for 'in-house' delivery and occasionally as an 'open course' – please check our web site www.pennysmart.org.uk for pricing, T's and C's and availability.
CONTACT:
training@pennysmart.org.uk or Tel 01244 651210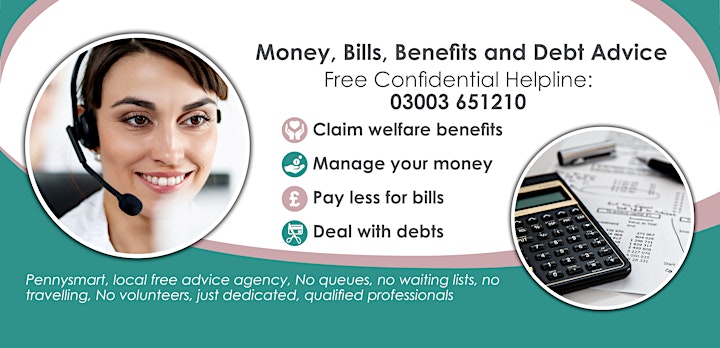 Organiser of Helping Your Clients to Access Money Advice Services
Pennysmart Community Interest Company is a social enterprise set up in 2009 to promote Financial Wellbeing in those most at risk of financial crisis by supporting community facing organisations to tackle poverty, debt and financial exclusion. 
As well as providing quality accredited, outsourced money advice & casework services, we organise training and events for community facing workers and volunteers
The money raised through our training courses helps to fund our free-to-client budgeting, benefits and regulated debt advice service.
Can't wait for the next dates, or have more than 4 staff/volunteers interested? We can deliver these sessions in-house please contact us for details
Contact us for more information contact us on - training@pennysmart.org.uk