Howerd's End ....."Remember the last time someone kissed you and meant it?"
About this event
Arts4All 2022 at the Memorial Hall, Henley in Arden
Start 16:30 Running time 75 minutes no interval.
Unreserved seating - bar available.
Howerd's End
Written by Mark Farrelly
"I knew Dennis, and I wrote for Frankie – and this play is brilliant" – Barry Cryer
"Remember the last time someone kissed you and meant it?"
Though Frankie Howerd was and still is "one of Britain's best-loved comedians", he was in truth a radical, whose courage and innovation as a performer have too often been obscured by cosy nostalgia. The first stand-up to dispense with conventional punchlines and slick patter, instead he crafted stumbling, surreal streams of insecurity, based on his sense of inadequacy, disappointment and sheer unsuitability to the very job of being a comedian. In his refusal to 'do' comedy like everyone else had done, he predated fellow non-conformists such as The Goons, Python and Eddie Izzard.
Howerd's End is a two-hander exploring both the development of Frankie's comedy, and the clandestine union which made it all possible: his extraordinary forty-year relationship with his lover, friend and anchor Dennis Heymer, whose existence was strictly guarded from the public in Frankie's lifetime. More than simply a tribute show about a comedian who outlasted them all, Howerd's End is also a piercingly honest love story about a relationship that tried to defy every odd – including death.
Howerd's End is currently touring the UK, and throughout 2022.
Running time: 80 mins no interval.
Reviews
★★★★★ London Living Large
★★★★ Theatre Weekly
★★★★ London Pub Theatres
★★★★ Libby Purves
★★★★ Sardines Magazine
★★★★ The Reviews Hub
★★★★ Reviews Gate
★★★★ Theatre Vibe
★★★★ London Theatre 1
★★★★ British Theatre Guide
★★★★ Behind The Arras
★★★★ Theatre Whippet
★★★★ Get Your Coats On
★★★★ North West End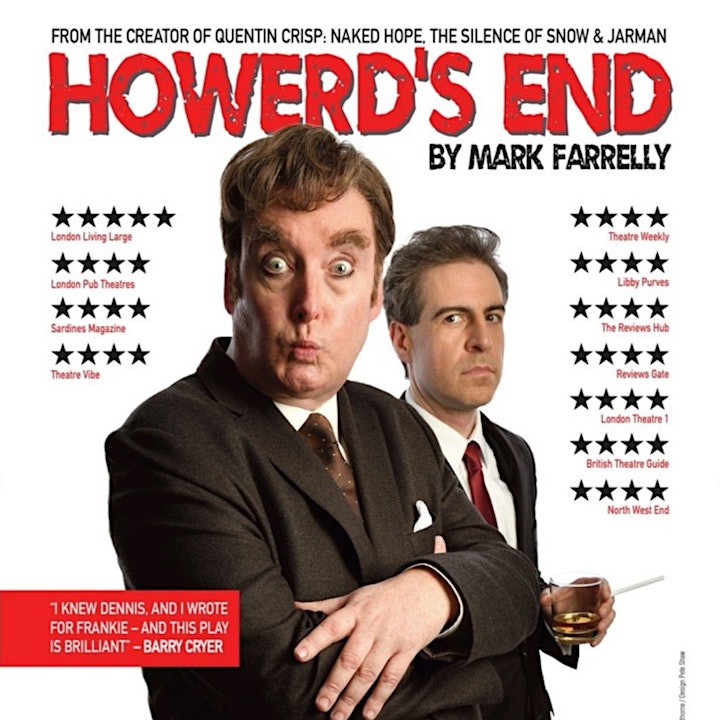 Organiser of Henley Arts4All 2022 - Howerd's End
(REGISTERED CHARITY NUMBER 1185264)
We are an independent, not-for-profit charity committed to enriching the cultural life of Henley-in-Arden and further afield and bring this event to you in association with Henley Arts4All.
www.HenleyArts4All.Co.Uk
All your support for the Trust - from ticket sale profit, donations and membership fees to room hire and refreshment sale profit helps to fund the Guild Hall Trust. This includes our own programme of indoor and outdoor live performance, community events, historical enactments and learning opportunities as well as taking care of the Guild Hall buildings and gardens so that they can be enjoyed today and for generations to come.