Henry Normal in conversation with... Tony Curry
About this event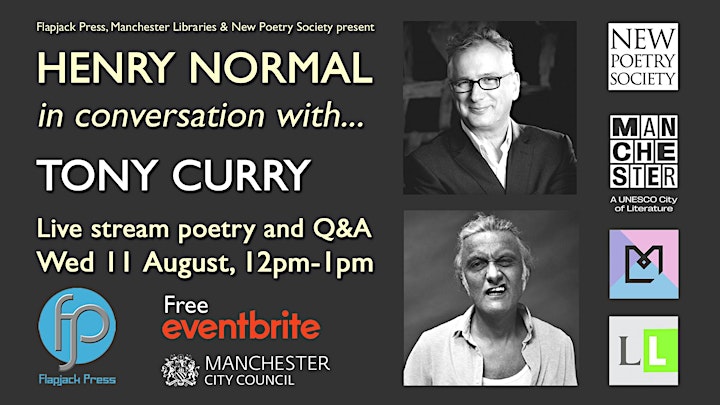 Join poet, writer, TV and film producer Henry Normal as he chats and shares poems with award-winning wordsmiths from Flapjack Press – and you can ask questions too!
A series of free live stream events brought to you this summer by Flapjack Press, Manchester Libraries and New Poetry Society. What better way to spend your lunchtime?
HENRY NORMAL
Henry Normal is a poet, writer, TV and film producer, founder of the Manchester Poetry Festival (now the Manchester Literature Festival) and co-founder of the Nottingham Poetry Festival. Henry co-wrote and script edited The Mrs Merton Show and the spin-off series Mrs Merton and Malcolm. He also co-created and co-wrote the first series of The Royle Family. Among his writing collaborations with Steve Coogan are the BAFTA-winning Paul and Pauline Calf Video Diaries, all of Steve's live tours and the film The Parole Officer. Setting up Baby Cow Productions Ltd in 1999, Henry Executive Produced all and script edited many of the shows during his tenure as MD. Highlights of the Baby Cow output during this time include Oscar-nominated Philomena, Gavin and Stacey, Moone Boy, The Mighty Boosh, Marion and Geoff, Red Dwarf, Uncle, Nighty Night and Alan Partridge. In 2017 he was honoured with a special BAFTA for services to television. Since retiring, Henry has written and performed seven BBC Radio 4 shows in his 'occasional series' A Normal…, combining comedy, poetry and stories about his life and family. His most recent poetry collection, The Distance Between Clouds, was published in 2021 and volume one of his collected poems will be published in November this year. Henry will be touring the UK throughout the forthcoming winter and spring.
"Shove up national treasures. We need to make room for Henry Normal." Radio Times
TONY CURRY
Tony Curry is a performance poet, playwright, workshop facilitator, soundsmith and enabler. He runs literature-in-the-community projects with a specific leaning towards mental health and wellbeing across the north-west. His solo shows and plays have been performed at Manchester's Royal Exchange and Contact theatres, and his work has been exhibited at the city's art galleries and museum. Tony is also host of Word Central, the monthly spoken word event at Manchester Central Library coordinated by Flapjack Press and Manchester Libraries. His third poetry collection, We Kid Ourselves, was published in 2021.
"This is our poetry. These are our poems." Tony Walsh, poet