Description
A one-day symposium curated by It's Nice That bringing together inspirational creatives from the UK and abroad to share their practice, process, ideas, and expertise with an emphasis on inspiration.
On Friday June 21, It's Nice That are hosting a one-day, fast-paced festival of creativity featuring some of the best practitioners from the UK and abroad.
Taking place at London's beautiful Royal Geographical Society, expect an expertly-curated programme of inspirational talks, creative experiments and live elements from a dozen renowned creatives.
To give you an idea of what's in store, the jam-packed line-up includes, New York-based visual artist Rafaël Rozendaal, award-winning set designer and creative director Es Devlin, writer and director Adam Buxton, French experience designer Nelly Ben Hayoun, legendary British designer Wayne Hemingway and Erik Kessels, the renowned creative director of Amsterdam-based communications agency KesselsKramer.
We'll also be joined by celebrated editorial designer Mark Porter, Berlin-based art director and set designer Sarah Illenberger, multi-disciplinary illustrator Andy Rementer, Stuart Wood, founding member of rAndom International, renowned graphic artist and art director Kate Moross and Spanish directors' collective CANADA. Full programme details will be released in the coming weeks.
All tickets include lunch and refreshments.
For more information, please visit here-london.com or contact It's Nice That on event@itsnicethat.com / 0207 739 5222.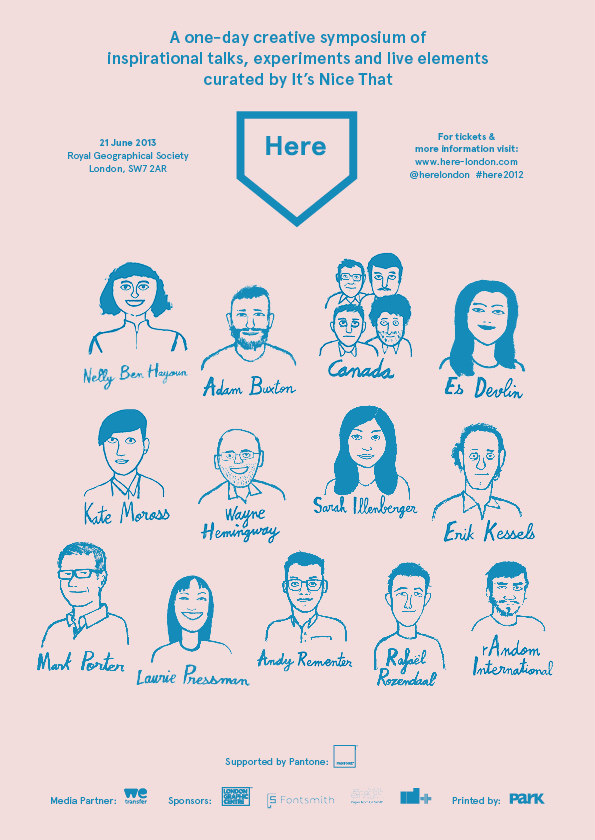 Student discounts are available (£60 full day passes). Students or recent graduates (2012 graduates) please email event@itsnicethat.com for the discount code.
Group discounts are available for 5+ people. Please email event@itsnicethat.com for more info.
Press enquiries: please contact Maya Davies md@itsnicethat.com.
It's Nice That curate, publish and direct the finest work and practitioners from across the creative industry. Since setting up in April 2007, we have remained dedicated to staying up to date with studios and individuals and discovering new talent from all over the world, adding to our online archive daily.