Description
Heretics and Horrors of London
Embark on this 90-minute private walking tour that explores the horrors of living through the Great Plague, the Great Fire of London and Newgate Prison.
Walking along the medieval street plan of the City of London our tour starts during the Great Plague. How would people have lived during this scary time? What did they do to try and avoid this deadly disease? Why were cats and dogs no longer safe on the streets? What were Watchmen paid to watch?
We will discuss how Bloody Mary earned her name, was she as bad or worse than her father Henry VIII? and why did people fear her?
Were body snatchers a necessity? Did Sherlock Holmes really jump? Learn how to avoid prison after killing your mother.
Accompanied by a professional guide, learn about the history of this area as you snap memorable photos.
Meet: Exit 2 St Paul's Underground Station (by Cafe Nero)
Step-free access: Yes
Reviews: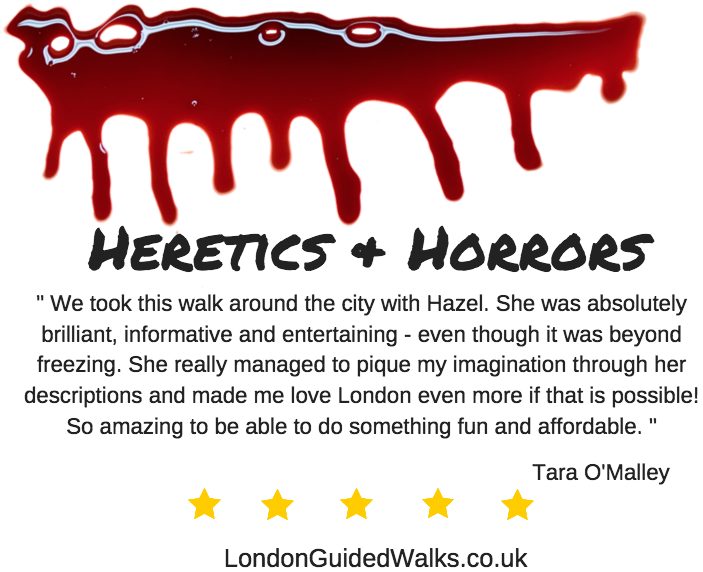 "Great walking tour if you're looking for something to do for a couple of hours before dinner on a Saturday night. Tour guide was really good and was an interesting walk!" Anon
"Great time was had even in the rain! Really good information and little background stories making it seem like yesterday. Hazel has a genius for bringing it all to life!" Linda W
"We took this walk around the city with Havel on Valentine's Day. She was absolutely brilliant, informative and entertaining - even though it was beyond freezing. She really managed to pique my imagination through her descriptions and made me love London even more if that is possible! So amazing to be able to do something fun and affordable." Tara O
"Another enjoyable walk with Hazel. I liked the idea of going macabre for Valentine's Day. As always the tour highlighted buildings and monuments that ordinarily are rushed past and vividly described their tormented past. My baby joined me in his pram and we are already signed up for our next outing with Hazel!" Helen M
"Heretics and Horrors of Smithfields ..wow what a evening !"
I spent bank holiday Saturday in the delightful company of Hazel our tour guide....this girl is a professional ...a fountain of knowledge/humour/fun.....she goes into role as an globe winning actress does.....we exercised our bodies by walking and our brain through knowledge...and our spirit through laughter/fun....whilst this area of London has got a rather bloodied past, Hazel made you understand the background /feelings poverty /lack of education that made this life they faced necessary...it certainly took my rose tinted glasses off and actually appreciated my life in modern day society more.....it was light hearted and fun though...it was suitable for younger and older couples and singles and a really beautiful labarododdle joined in called Nellie who had to put her paws around her ears when Hazel described the treatment of dogs during the plague....thank you Hazel you are numero uno.
"One of my favourite things in London!"
I moved to London almost 2 years ago and have gone on a number of walks led by Hazel, all of them fantastic! My favourite so far is the Heretics and Horrors walk, but all of them are informative, entertaining and a great way to learn about, and see, things in London, that aren't necessarily the top 10 tourist sites. Hazel holds a wealth of information and delivers it in a manner that keeps the group engaged. I look forward to the next one!
"Heretics and Horrors of Smithfield"
Hazel has a great approach to her walks, and mixes fact, humour and thought-provoking comments throughout the tour. I've done two now, and I'll go back for more, as I've learnt a lot about two areas I have lived in. Perhaps she could have told us a bit more about Charterhouse, the killing of the monks, and also the plague pit that is there--though to be fair, perhaps this is worthy of an additional tour? The route of the walk is not arduous at all, and there's an ideal mix of walking, talking and standing and looking. I have to admit, I wish the walk had gone on for another hour, as I was enjoying it so much. Well done Hazel, and thank you!