An opportunity to learn traditional skills celebrating Islamic heritage
About this event
Heritage Mosaic Workshops
Brief description:
We will deliver a series of 5 weekly workshops offering participants an opportunity to learn traditional skills celebrating Islamic heritage in the form of mosaic making.
Participants will decorate ceramic pots for the garden ready for the spring.
Through the five-week programme of workshops participants will learn historical and practical skills in how mosaics have been used in Islamic Culture and how the Eastern influences are still pat of modern contemporary society and architecture today in the UK.
Workshops are free but there will be a charge for materials (approx. £20-£25)
Dates:
1) Wednesday, 4 March 2020
2) Wednesday, 11 March 2020
3) Wednesday, 18 March 2020
4) Wednesday, 1 April 2020
5) Wednesday, 8 April 2020
Time:
11.00 am - 1.00 pm
Location:
Howe Park Wood, Education and Visitor Centre, Tattenhoe, Milton Keynes, MK4 3GG
More information about the project:
* MKIAC believes that developing and celebrating Islamic heritage, sharing traditional arts are essential to our contemporary lives and environments. We want to ensure that traditional arts are practised, not endangered, and that they evolve and endure.
* Over the last 2 decades MKIAC has striven to create opportunities in Islamic heritage arts and crafts for participants to learn and practice. Previous projects have involved traditional textiles featuring arabesque and geometric designs, calligraphy using traditional inks, qualms and papers and felt making using geometric grids.
* For this project we will have an Islamic artist from The Prince's School delivering the workshops on heritage mosaic skills, specialising in traditional mosaic skills, geometry and arabesque.
* We will then showcase the participants work and once they have mastered the traditional skills we will then invite them to be part of a large-scale public art project in the future.
Contact us:
If you would like any other information regarding this project, then please do hesitate to contact Ami Aubrey at Ami.Aubrey@mkcollege.ac.uk or call 01908 637142.
We look-forward to meeting you!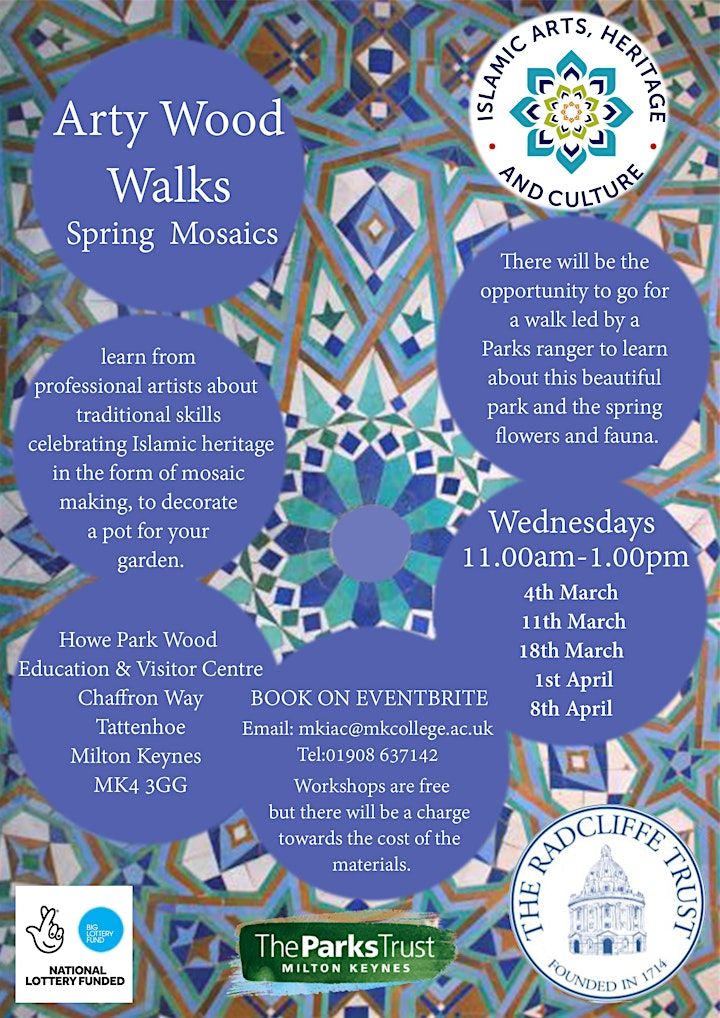 Organiser of Heritage Mosaic Workshops
MKIAC (Milton Keynes Islamic Arts, Heritage and Culture) - Enriching lives through arts and culture