Herminia Ibarra on Making the Transition to Leadership

Tuesday, 24 March 2015 from 12:30 to 13:45 (GMT)
Event Details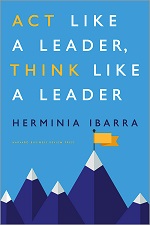 For many people career progression stops in mid-career. Despite being better and better at what we do we find ourselves typecast as technical specialists with no clear path to further opportunities.
This webinar, led by Professor Herminia Ibarra and based on her new book Act Like a Leader, Think like a Leader, shows how aspiring leaders escape this "competency trap" using action rather than reflection.
Action not reflection
Professor Ibarra's solution is to start the change process with action not reflection. Based on a decade of teaching (and researching the career paths) of more than 500 executives Ibarra has developed the "outsight" approach to leadership transition.
This action-first method shows how experimenting with different roles, meeting different people in different contexts and gaining alternative perspectives leads to a new self-conception which is unavailable by introspection.
How to get started
In this webinar we will detail what aspiring leaders really do on their "outsight" journeys and explore some of the practical actions you can undertake to start making these changes:
Focus on action not reflection – 8 quick wins to promote "outsight" action
 
Changing your current job – We explore the best (and less good) ways to do this (hint: external or cross-functional projects)
 
Networking – Why our psychology (esp. our attraction to similarity) makes it hard to develop a broad network and how we can overcome this
 
Adopting a playful attitude – We explore the importance of the concept of playfulness in facilitating experimentation.
 
Developing vision – We look at practical techniques everyone can use to develop and articulate a desired future for your organisation.
 
Using influence ethically – We investigate how managers can become more comfortable "playing politics" and using their influence ethically.
Homework and post-event reporting    
There is some homework and pre-reading involved in this webinar and participants will not get the most out of it if they are unable to devote 2-3 hours to this beforehand. Furthermore, we will invite participants to take part in a post-event reporting study aimed at encouraging and tracking efforts to experiment at work.
What you will get from the webinar
All participants receive:
Access to the webinar including a chance to put questions to Professor Ibarra live
 
Video recording to access after the event
 
Audio podcast (for Iphone/Android/MP3 player) for download
 
Resource pack including readings and resources mentioned during the webinar
 
Refunds
A full refund-on-demand is available to all participants at any time. Please email refund requests to lucy@sensiblemedia.co.uk.

Herminia Ibarra is the Cora Chaired Professor of Leadership and Learning, and Professor of Organizational Behavior at INSEAD. Prior to joining INSEAD she served on the Harvard Business School faculty for thirteen years. She is a member of the World Economic Forum Global Agenda Councils, a judge for the Financial Times and McKinsey Business Book of the Year Award, and Chairs the Visiting Committee of the Harvard Business School. Thinkers 50 ranked Ibarra #9 among the most influential business gurus in the world.  Her new book Act Like a Leader, Think like a Leader is published by Harvard Business Review Press on 10 February 2015.
Organiser
Sensible Media publishes online career guidance for business schools around the world.  You can find out more here.