About this Event
Our mission at Dorothy House is to provide compassionate care and support for those in our community, living with a life-limiting illness.
But we can't do this alone!
Are you ready for your mission?
We're calling on all superheroes to take on the first ever virtual Hero Walk challenge. Take part in this year's Hero Walk and celebrate the heroes in our lives and across our community.
This is your big chance to make a bold statement and do something epic for a hero in your life, while raising vital funds for Dorothy House.
So who's your hero?
Maybe it's a neighbour on your street that always goes the extra mile. Or a family member that was always there for you. Or a friend that helped you through a difficult time. Or a Dorothy House hero who touched your life. No matter who your hero is, this is your chance to let them know you care, while supporting your local community.
You can fly solo, recruit a buddy, enlist the family or draft a team! Just pick the distance that suits you.
Choose from:
• The 5-mile Hero Walk
• The 13-mile Half Marathon Hero Challenge
• The 26-mile Mega Marathon Hero Monstrosity

• Or - set your own hero target…. something personal to you and your hero
Sign-up today for just £5 (plus administration fees) and we'll post your Welcome Pack to you! It includes your very own Hero Cape to wear during your walk. We've also included a FINISH LINE tape for your own epic selfie as you glide through the end of your course.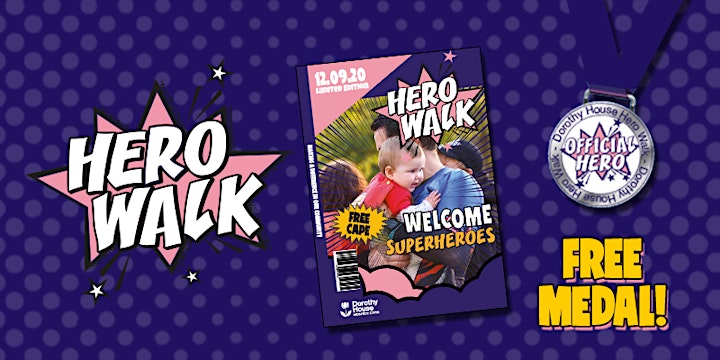 To help you make the most of your fundraising, we'll email you some brilliant tips for setting up your giving page and how to become a virtual star!
The event is live until 12 September. Complete your challenge all in one go or spread it out over several weeks.
On 12 September, join the Hero Walk Afterparty on Zoom to celebrate you and your hero. Following the Hero Walk, you'll receive a stunning hero medal with a dedication card.
Whoever you are fundraising for, we can't thank you enough. You are all superheroes to us and we can't wait to celebrate with you and share in your amazing fundraising stories.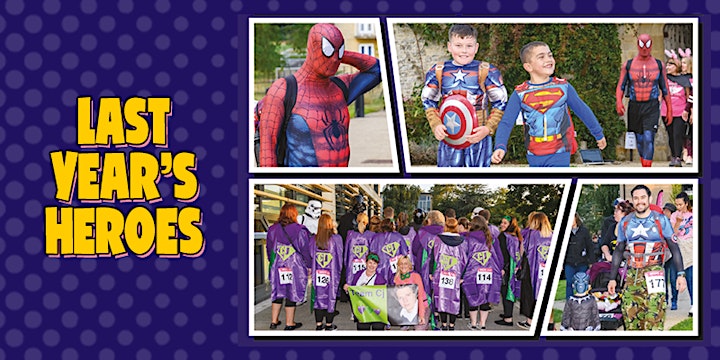 T&C's
*Please note that if you decide to make a donation in lieu of sponsorship there will be a fee deducted from your kind donation due to admin fees from Eventbrite. If you would like to call Dorothy House fundraising and donate directly we would of course welcome you to do so.
*Entrants are responsible for their own medical condition, ensuring they are fit to complete the walk. Dorothy House Hospice Care reserves the right to cancel this event at any time due to unforeseen circumstances.
*In no event shall Dorothy House Hospice Care be liable for any injuries, loss or damages whatsoever, including indirect, punitive, special, incidental or consequential losses connected with any aspect of this walk.
*Please note that we operate a no refund policy on all event tickets sold.