Join The Heroines: Collaborate, Design, Serve & Manifest new blueprints of success-for self, business, society, planet & future generations
About this Event
A 4 Weeks Online Program for game-changers who are on a mission to redefine & manifest what is success for themselves, their organizations, communities and for the future generations.
This unique program is designed to unlock & integrate feminine energy in business with 5D Conscious Business Model & fluid leadership of the Heroines-our growing tribe of powerful womxn around the world.
We succeed when we are satisfied. We succeed when the planet is healthy. We succeed when we are in flow-with our values, with nature and what wants to emerge through us.
You are the soul of your business. And you are needed, now.
This moment in history offers a fascinating opportunity to understand the consequences of leadership decisions in a high-stakes situation. We know existing leadership and businesses are no longer capable of sustaining the wellbeing of humanity nor the planet. It is time to allow our heroine qualities within, to rise, and give birth to a new story of the human potential together. We understand women, from all ages, backgrounds, cultures and interests need to step up, not only for ourselves but also for our children, communities, future generations and Mother Earth.
It is time to role model fluid leadership and design conscious businesses as The Heroines. Each heroine contributes to the journey with the power of her authentic self-as well as the inspiration of her dreams, richness of her culture & wisdom of her experiences.
OVERVIEW & PURPOSE
In this camp, you'll reimagine your role in business, in collaboration with other heroines.
Through "5D Conscious Business Model" design process, you will integrate mega shifts in human psyche, technology and new economies to design and take action on a conscious strategy and scenario for your business, project and organization.
Through Sacred Embodiment, Authentic Storytelling and Wellbeing guidance, you will combine intuitive, analytical, creative and communication skills, you will both sense & analyze your self & world view, and envision, design and take action towards what it can be.
A NEW LIFE powered by NEW BUSINESSES, by THE HEROINES.
Meet Your Heroine Self, with The Heroines.
The Heroine knows she needs to be courageous and resilient to go beyond-where the business has not been taken before.
She knows her responsibility to manifest her conscious business, while becoming the conscious leader of her own heroine's journey.
She surrounds herself with uplifting, powerful people, ideas and events. She knows the journey is better when walked together.
She moves from Mind to Heart, and her womb through embodiment practices.
She learns & practices to appreciate their whole self:
feminine & masculine power,
responsible adult & inner child,
lover, sovereign, warrior & magician archetypes
as well as light & shadow selves.
To manifest a new blueprint of success in business, designing 5D Conscious Business Model:
loyal to her values & daring to her dreams
serving to empower employees, clients, local/ global communities to add their unique contribution towards the health and well-being of the larger wholes.
in line with the global goals-people, economic, social & planetary needs
utilizing technology & exponential partnerships
aligning with new economic models
global vision, connections and local resources
prototyping and acting, now!
birthing a heritage to 7 generations.
Meet The Guides.
Designed, led and curated by conscious business model designer and global cultural innovation strategist Canay Atalay, presented with regenerative storyteller Desiree Driesenaar, birth-life-death doula Amber Joy Rava and guest holistic experts.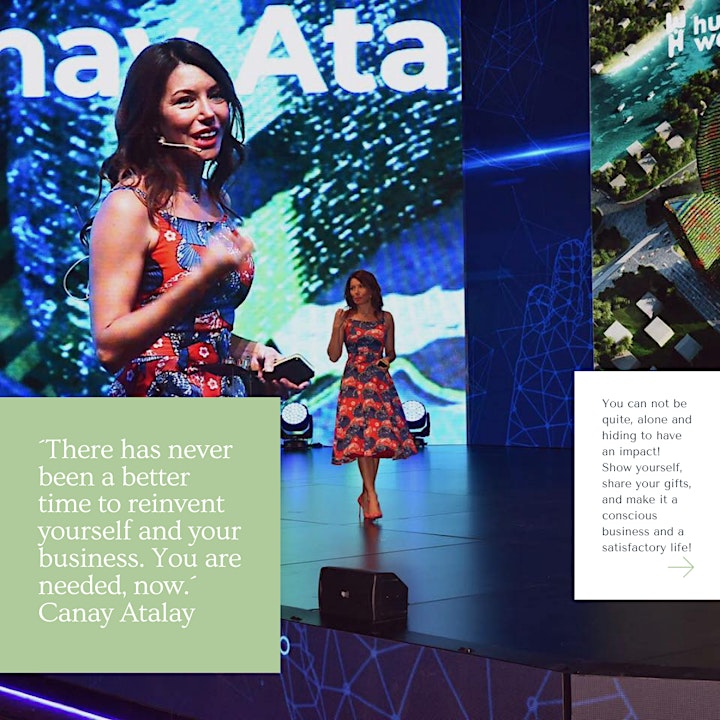 FORMAT
DURATION 4 Weeks
ONLINE Cohort Courses on Wednesdays & Thursdays
4 Hours/Week Live, 1 Hour/Week Recorded Teachings.
Live online sessions, will also be available as recordings
Personalised coaching for Deep Transmission (1 hour/week) for 1on1 Guidance with Canay Atalay
WEEKLY PLAN (2 days a week: Wednesdays & Thursdays)
Wednesdays
(6-8 pm CET) 5D Business Model & Leadership with Canay Atalay (Weekly)
Thursdays
(6-8 pm CET) Storytelling & Regenerative Leadership with Desiree Driesenaar (1st & 3rd week)
(6-8 pm CET) Sacred Embodiment with Amber Joy Rava (Wellness, Dance, Breathwork, Meditation & Energy Work) (2nd & 4th week)
Plus:
1 Socratic Dialogue,
Trends and Mega Shifts Session with Rudy de Waele
Celebrations: Opening Ceremony and Closing Ceremony
Guesthouses with inspirational women
And community collaboration sessions
On Air:
Community Interactions: Online- Community Platform, Miro, Slack & Zoom
DETAILS: Click here
UPCOMING DATES (2021)
WINTER CAMP: 20th of January-12th of February, 2021
SPRING CAMP: 20th of April-12th of May, 2021
TESTIMONIALS: