Sales Have Ended
Registrations are closed
Sorry this event is now fully booked. However, it is worth putting your name and contact details on the Waiting List. As the system does not let us capture how many places you would like please e-mail us at swbookings@rspb.org.uk and let us know. Please also let us know if you could attend with short notice (ie if we get a cancellation how much notice would you need?)
Sales Have Ended
Registrations are closed
Sorry this event is now fully booked. However, it is worth putting your name and contact details on the Waiting List. As the system does not let us capture how many places you would like please e-mail us at swbookings@rspb.org.uk and let us know. Please also let us know if you could attend with short notice (ie if we get a cancellation how much notice would you need?)
Description
Have fun spotting grey herons with our warden and find out more about these fascinating birds that almost seem prehistoric. The actions of a hunting bird that has succeeded in catching an eel are truly spectacular as this most accomplished of fishermen tries to swallow the most agile of fish.

In spite of the snow and the cold, herons are gearing up for the nesting season at this time of year.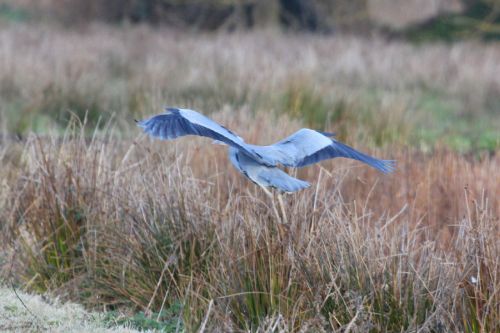 Did you know that Marazion Marsh is one of only a handful of sites in the UK where grey herons nest on the ground (in the reedbed and willow scrub)?
Migrant wading birds turn up on the beach and some - like the whimbrel - stop to feed in the short sward in the 'sanctuary area' - so, join us for a leisurely stroll and find out how to spot and identify other resident and migrant birds and wildlife living on Marazion Marsh.
This event is family friendly but will include walking over grassed and uneven surfaces, so buggies might not be suitable.
Children must be accompanied by a responsible adult.
Please wear warm clothing and sensible footwear. Well behaved dogs welcomed. Please bring binoculars if you have them.
Booking Essential but tickets are not required as we will have a list of attendees
Adult £5, children free
When booking please provide a valid phone number and e-mail as your booking confirmation will be sent via e-mail. We need a valid phone number (landline and mobile) in case we need to get hold of you urgently to update you with changes/cancellation. Thank you for your co-operation
IMPORTANT: We respect your privacy and will not sell your personal data to any third party.
Any personal data you provide here is collected and used only for the purposes of booking this event. Your details will only be used by this event's RSPB co-ordinator and will not be shared with anyone else.
For further information please ring RSPB Cornwall Reserves on 01736 360624 or take the 'Contact RSPB' email link provided below.
Images: Heron with eel Mike Richards (rspb-images.com); Heron in flight by Nick Stacey