About this Event
What is the Her Story Women Empowerment Circle?
It is a global empowerment movement for women all over the world. The purpose of the Her Story movement is to inspire, empower and connect women across nationalities, ethnicities and professions, through the sharing of their vulnerable stories. The stories are a celebration of the women's journeys from struggle to successful transformation, via personal growth.
How is the movement executed? By creating a stage for one mega event that features an "ALL-FOR-HER UNIVERSE" that offers programs addressing women's mental, spiritual and physical vitality. By this, we mean speeches, workshops and booths that offer services for women to be groomed and shine from head to toe.
After the kick-off in Las Vegas in July 2019, the aim is to have 1000 events all over the world, with a maximum of 100 speakers at each event, in turn impacting one million women worldwide. Founded by a serial entrepreneur Getrude Matshe, this platform brings together powerful speakers who will share their own personal, vulnerable stories. The main message to be delivered is that there is no shame in our struggles and that talking about our struggles does not make us weak. In fact, sharing stories about our struggles is the first step towards regaining strength and power. Through the inspiring stories, it is our hope that those who are engaged and battling with life challenges, will be moved to take the first step towards positive change.
Founder of Her Story Women Empowerment Circle
GETRUDE MATSHE
Getrude is a celebrated author, philanthropy consultant, global curator and founder of Her Story Circle - a women's global empowerment organisation. She is passionate about helping people achieve their fullest potential. For twelve years, Getrude worked in the IT industry as a Systems Analyst, Systems Support Manager and Project Manager, migrating to New Zealand in 2001. Currently, she owns a publishing company that supports all publications for the Her Story Circle, worldwide. Getrude is a mother of three and a well-known African storyteller, poet, artist and published author.
Organisers of Her Story Conference Norway
SURIATI SUPANI
Suriati was born and raised in Singapore, where she last worked in research and policy-making. In the last 10 years in Norway, Suriati has had to recreate her identity, transforming herself into an entrepreneur and author. In addition to organising Her Story Conference Norway, she runs a diverse string of businesses in travel, fashion and public speaking. The common thread across her 4 businesses is that they are all focused on self-empowerment and helping others become their most authentic selves, while fulfilling their lifetime dreams.
RICHA CHANDRA
As a Norwegian citizen, Richa was born into a country that holds dear to its traditions and culture. This does not prevent her from also being true to her ethnic Indian roots. Richa is a classical Indian dancer who runs a dance school in Oslo. Her work as a dancer is well received worldwide including in India. As a coach and author, Richa is involved in meditation, public speaking and in business development where she helps new entrepreneurs develop and run successful businesses. As co-organiser of Her Story Norway, Richa aims to uplift women in Norway to achieve greater heights.
ATTENDEES/PARTICIPANTS
Kick the door open & welcome the new century 2020! A new year always ushers a million promises and hopes for better days ahead. And your heart wants and yearns for those great, happy days. Only problem is. You are stuck in a rut. You don't know how to come out from a big life challenge that you are caught in. You feel like you are not moving forward in life. You feel that there should be more to life.
At this point, you find it hard to see the light at the end of the tunnel. You are looking for a way to leave the destructive cycle that makes you feel trapped. But how?
Who can you turn to?
Are there others who had experienced the same difficulty as you?
If you are struggling in a life challenge, we'd like to invite you to attend the Her Story Conference, on 26 January 2020, at the Intercultural Museum, Oslo, Norway.
Who should attend the Her Story Norway Conference?
You who's looking for others who had experienced a similar life challenge
You who thinks it's time to join a safe community
You who's seeking for sources of inspiration in others who survived a life challenge that you faced
You who's ready to explore programs that can help you move forward
You who's looking for a coach/mentor
You who just wana have fun! We promise you it's gona be a super exciting conference like no other!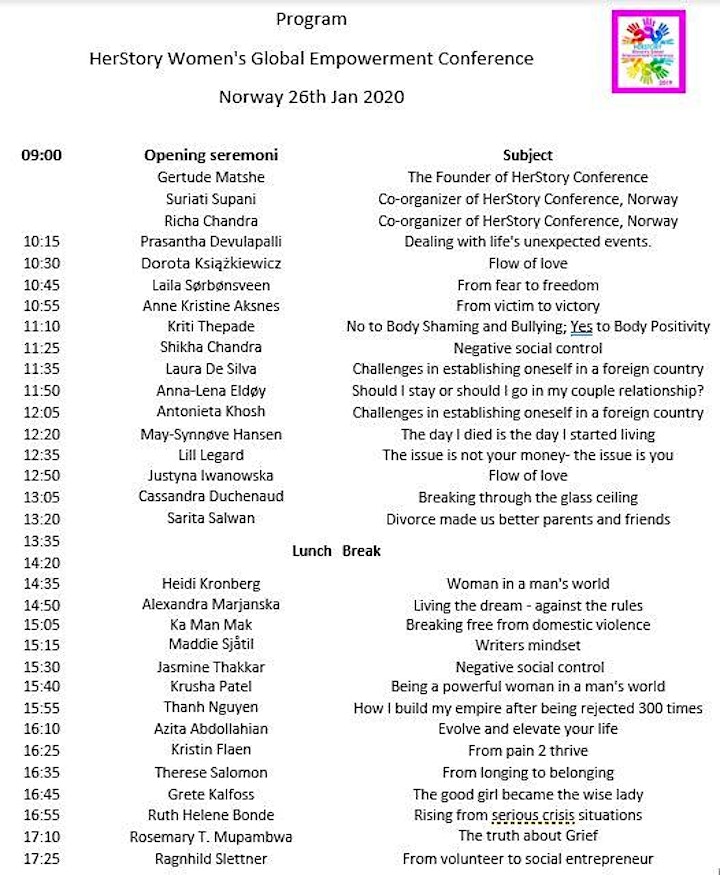 WORKSHOPS!!!
GET MORE VALUE from the event by attending our exciting WORKSHOPS. There's 26 workshops to choose from. Click on TICKETS & you'll see all the workshops we have in stored. And yes, we'll have a Bollywood Dance Workshop too! GO CLICK ON TICKETS NOW!
NOTE: Workshops are ADD-ONs.Pls purchase the Entrance Tix above before booking your workshops.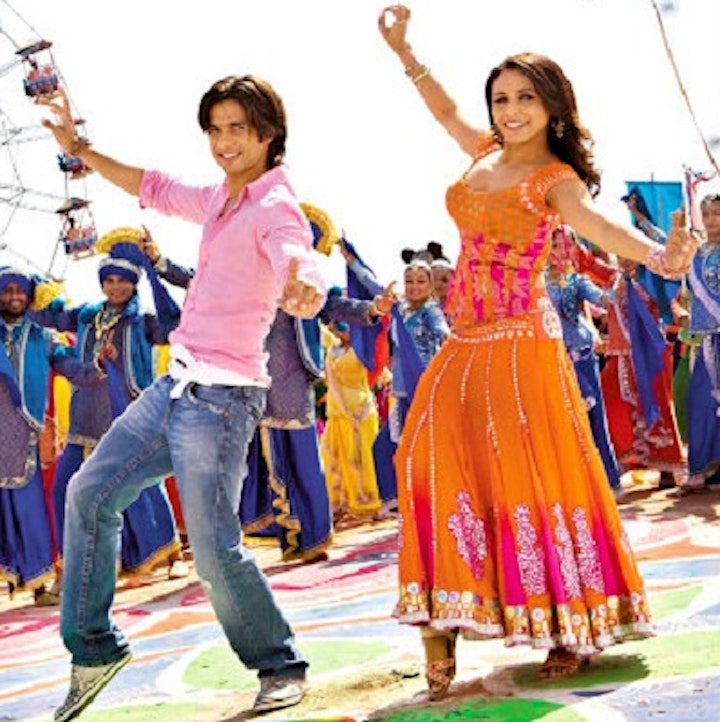 GRAB YOUR TICKETS NOW!
No Paypal? Then pay by Vipps!