Location
Fielder Centre
Hatfield Avenue
Hatfield Business Park
Hatfield
AL10 9TP
United Kingdom
Description
HSP Partners' Forum – Monday 1st October 2018
Date: Monday 1st October 2018
Time: 2-4pm, registration and networking lunch from 1pm
Venue: Fielder Centre, Hatfield Avenue, Hatfield Business Park, Hatfield, AL10 9TP
You are cordially invited to attend the next meeting of the HSP Partners' Forum being held at the Fielder Centre on 1st October 2018.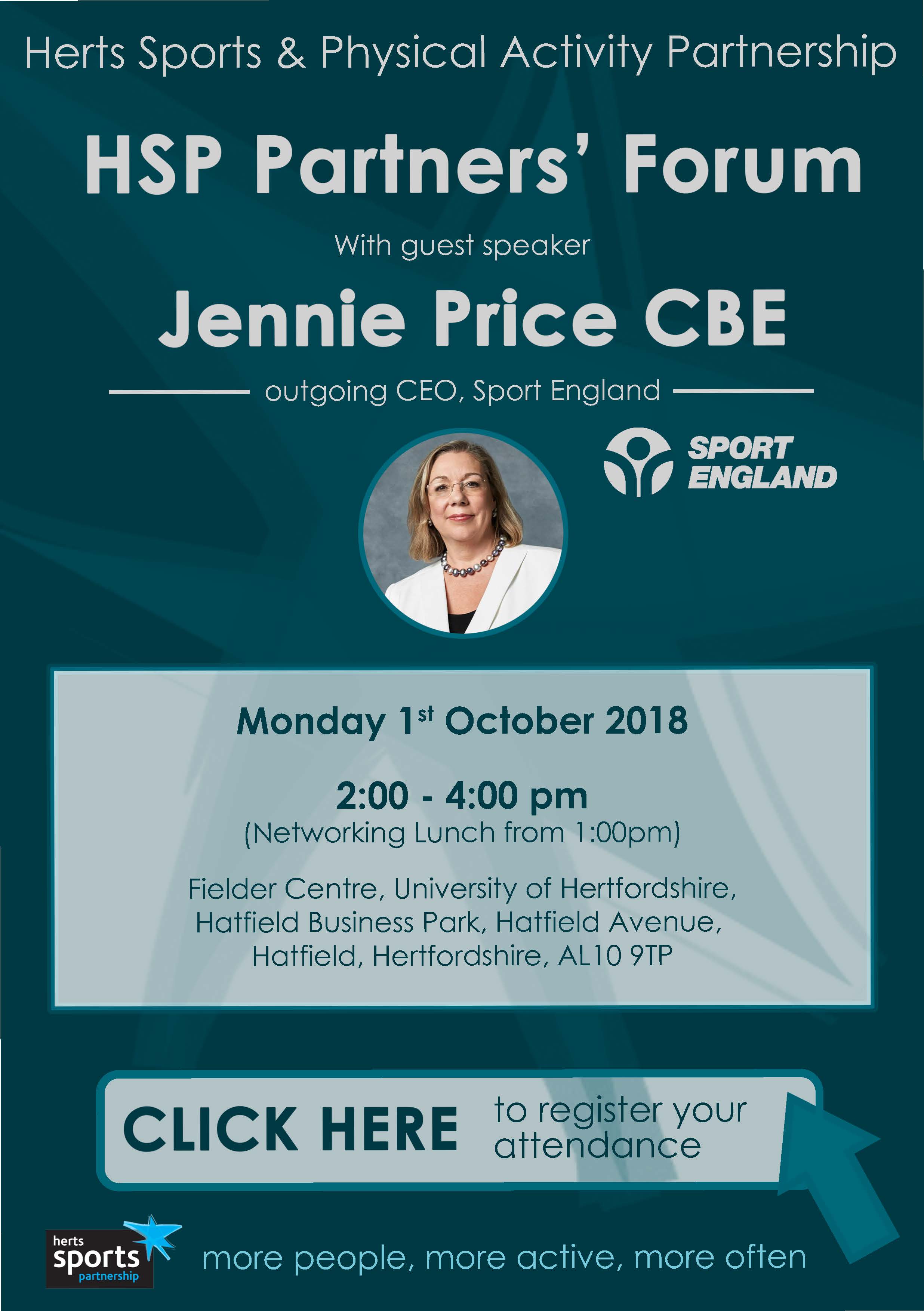 Guest speaker at the event will be outgoing CEO Jennie Price who has agreed to share her reflections on her 11 years at the helm of our principal funder, Sport England.
Jennie has been a strong supporter of County Sports Partnerships, so we will use the occasion to mark the end of her time with Sport England with a presentation to thank her for her support and to wish her well for the future.
The event will also mark the inauguration of Grahame Bowles as the Partnership's President, following his decision to step down as HSP Chair at September's AGM.
Grahame has been the Chair of the Partnership since its inception in 2003 and has been instrumental in the success of our various programmes and projects over that period with his sharp insight, inclusive approach, and his far reaching knowledge and experience. As such, we are delighted that he will be taking up this position and Jennie's agreement to join us to mark this occasion, is a fitting testiment to the high regard in which Grahame is held, across the sport and physical activity sector in Hertfordshire.
We hope that you will be able to join us for what promises to be an interesting and enjoyable event.
In the meantime should you require any further information on this event please contact us on 01707 284229.
*You will receive a confirmation email from k.fagan@herts.ac.uk 7 days prior to the event, this will include a map for directions and a parking permit. If you do not receive this by 27th September 2018, please call 01707 284229.