HHCP Biennial Conference 2021: Children's Agency and the Curriculum
To what extent can young children express their own views and make independent choices in their education?
About this event
The Helen Hamlyn Centre for Pedagogy (0-11), UCL Institute of Education, in association with the Education Learning Trust and the Association for the Study of Primary Education, is pleased to announce that the HHCP Biennial Conference will be held virtually on Friday 18th June 2021,10 am to 14:30 pm.
Join us for our morning session from 10:00 to 12:00 featuring keynote talks from:
Dame Alison Peacock, CEO of the Chartered College of Education
Professor Sue Rogers, Director (Interim) UCL Institute of Education
Lorenzo Manera, Postdoctoral Research Fellow at Reggio Children Foundation and University of Modena and Reggio Emilia
Rachel C.Boyle, Head of Subject, Carnegie School of Education, Leeds Beckett University
Engage with experts in education research, practice and policy, in our choice of workshop sessions from 13:00 to 14:00. Workshops will be available to join on the day but we strongly advise reserving a place beforehand by clicking the links in the session details below.
Keynote Speakers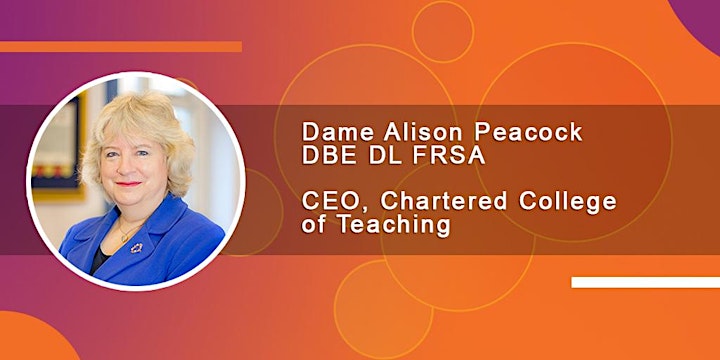 Dame Alison Peacock
Professor Dame Alison Peacock is Chief Executive of the Chartered College of Teaching, a new Professional Body that seeks to raise our status through celebrating, supporting and connecting teachers to provide expert teaching and leadership. Prior to joining the Chartered College, Dame Alison was Executive Headteacher of The Wroxham School in Hertfordshire. Her career to date has spanned primary, secondary and advisory roles. She is an Honorary Fellow of Queens College Cambridge and a Visiting Professor of both the University of Hertfordshire and Glyndŵr University. Her research is published in a series of books about Learning without Limits offering an alternative approach to inclusive school improvement.
Alison Peacock will speak about the importance of pupil voice and agency. She will draw upon her experience of teaching and headship as well as her early work with Professor Michael Fielding and Professor Jean Rudduck. The ethic of Learning without Limits is intrinsically about the importance of trust, co-agency and inclusion. She will talk about this research with colleagues from the University of Cambridge exploring an alternative improvement agenda and leadership dispositions that enable this. She will also reflect upon her decision to lead the Chartered College of Teaching in pursuit of teachers' intellectual liberation.
Professor Sue Rogers
Professor Sue Rogers was appointed Interim Director of the UCL, Institute of Education in January 2020. Prior to this Sue served as Pro-Director Academic Development since January 2016, and was responsible for the day-to-day line-management of the IOE's Heads of Department, working with them on the strategic development of its academic activities, academic staff development and wellbeing, as well as equalities and diversity and HR matters. Sue first joined the IOE in 2006, and during her time there has also been head of two departments. Sue is an early childhood development and primary education specialist with research interests in pedagogy and curriculum in early childhood, the role of play in early learning, professional learning in the early childhood workforce and approaches to evidence-informed practice.
At the time of writing children, their families and teachers are navigating the challenges of working and playing in the midst of the Covid19 pandemic. Restrictions on domestic spaces to play, social distancing and home schooling will impact in different ways children access play. The ways in which the pandemic has both exacerbated and uncovered inequality has led to the concept of lost learning. How and in what ways that lost learning will be conceptualized and recovered for young children remains to be seen. A renewed appreciation of the importance of children's agency in the outdoors, play and the importance of creativity to health and wellbeing may also play a part in our journey back from the effects of the pandemic and the very tangible ways is has altered our day to day lives and working practices. It remains to be seen if in the post-pandemic world play, through which children may exercise agency, is further marginalised in order to recover lost school learning or if the time has come to recognize more fully that in order to thrive and cope with adversity we need opportunities to engage in less formal, creative and nature-based activity.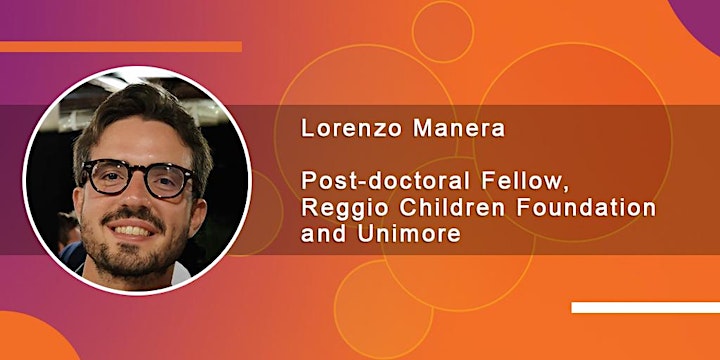 Lorenzo Manera
Lorenzo Manera, PhD in Human Sciences, is currently a post-doc fellow in Aesthetics and Pedagogy in the Department of Education and Human Sciences of the University of Modena and Reggio Emilia and at the Reggio Children Foundation. He is a board member of the PhD in Reggio Studies promoted by the two Institutions, and member of Italian Society of Aesthetics.
Lorenzo's talk aims firstly to present possible ways to design experiences based on coconstruction and children engagement in hybridized practices developed at Fondazione Reggio Children. Secondly, to present research on children's learning experiences when connecting analog and digital materials in educational contexts. The research presented considered digital spaces to be some of the most relevant innovative environments of our era, since they can destructure everyday perception and offer children and adults the chance to decode, symbolize and re-signify the meaning of the images they create, projecting them in immersive environments and making new experiences that integrate digital and physical materials possible. To avoid a passive experience with digital technologies, where children spend more time watching screens than exploring materials and possibilities, the contribution aims to describe experiences more similar to an online workshop, supporting the use of digital technologies for designing and creating as well as children's agencies.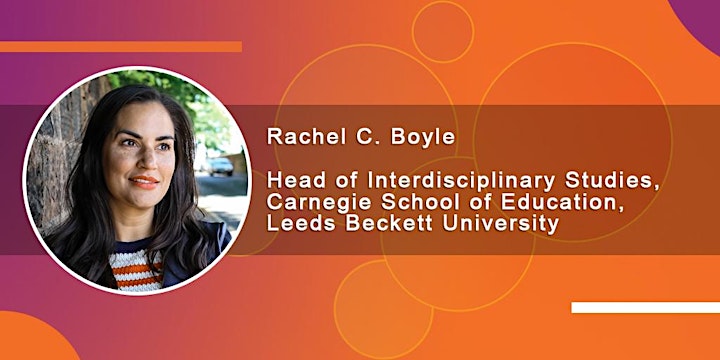 Rachel C. Boyle
Rachel C. Boyle is the Head of Interdisciplinary Studies in the Carnegie School of Education, Leeds Beckett University.
Rachel's research focuses on race, racism ethnicity and education. She uses critical race theory as a theoretical framework to examine 'race' inequalities in society, specifically in education. The experiences she had growing up as a mixed race child in the 1980s have underpinned Rachel's passion for and commitment to addressing racial inequality in education. She has worked with trainee teachers to examine the impact of race, racism and ethnicity on the educational experiences of children and young people. Rachel encourages her students to develop an understanding of the position of the 'other' and to use their voices to ensure that the teaching profession consistently evolves to meet the needs of the children it serves.More recently Rachel has worked across the media to provide commentary on societal issues of racism including the death of George Floyd, the Black Lives Matter movement and racism within the UK.
Rachel's talk will address the experiences of mixed-race children in primary school. It presents an initial discussion from a current project on how children's agency is both impacted and enhanced by their racialised position. It will specifically look at how children see themselves represented in primary school both in the curriculum and in their teachers themselves. The talk will explore the notion of belonging and discuss how mixed-race children form their sense of self through interactions with both their peers and their teachers. It will look at statistical information about the teaching profession and how further work is needed to diversify the teaching body to enhance the agency of mixed race children.
Workshops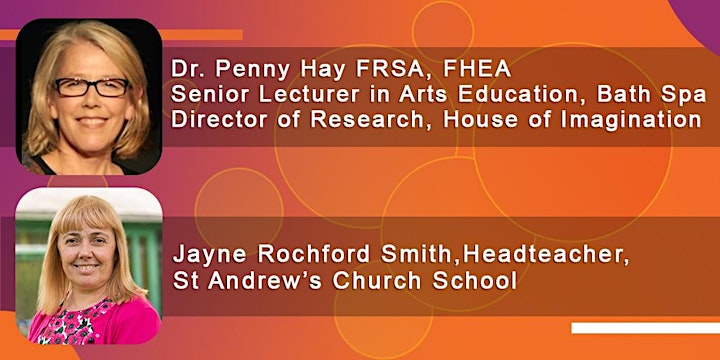 To what extent can young children express their own views and make independent choices in their education?
Hosted by: Dr. Penny Hay and Jayne Rochford Smith
Dr Penny Hay and Headteacher, Jayne Rochford Smith will share their experience of co-designing the whole curriculum to prioritise children's agency in learning. School Without Walls is a radical creative learning approach that challenges current orthodoxies and informs a shift in the culture of learning, placing children's agency and engagement in the arts at the heart of the process. School Without Walls offers a creative enquiry-based approach to learning, reconceptualising the whole curriculum with the city as a campus for learning. Jayne will share the St Andrew's Connected Curriculum that engages children and educators in creative and reflective practice and a curriculum approach that places agency and dynamic relationships at the centre.
Reserve your place: http://bit.ly/PennyHayWorkshop
Re-imagining pupil voice: children conducting research to lead on improvement.
Hosted by: The Education Learning Trust
In this workshop school leaders, practitioners and those who are interested in empowering pupil voice, will be able to explore a theoretical and research framework for the ways in which pupil voice can be captured and gathered. It will also illustrate a case study where pupil research has impacted on practice improvement to teaching and learning to further shape a growth model for evaluation. You will also have the opportunity to hear first-hand from a group of pupils who have led school improvement works across their schools and how this shaped practice improvements.
Reserve your place: http://bit.ly/ELT_PupilVoice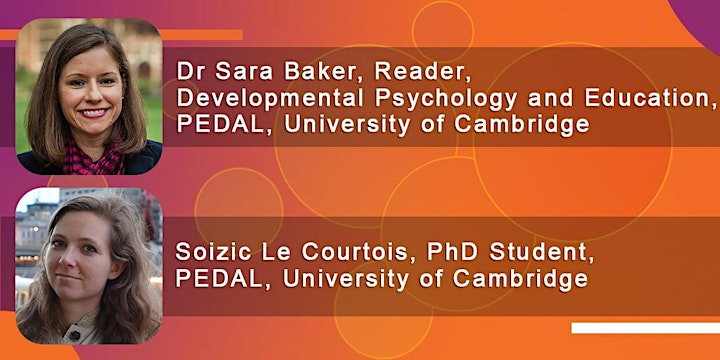 Practical strategies to enhance learning through play and children's agency.
Hosted by: Dr Sara Baker and Soizic Le Courtois
In this workshop we present a theoretical account of how play in the early years can support the acquisition of lifelong learning skills by developing children's agency in learning, and through this, their motivation and self-regulation. We will share practical strategies that educators can adopt to enhance learning through play and children's agency in their learning, connecting with the "characteristics of effective learning" from the UK Early Years Foundation Stage. Together, we will also explore the barriers and enablers of agency in playful learning, in the early years, through Key Stage 1, and into Key Stage 2.
Reserve your place: http://bit.ly/PEDAL_Workshop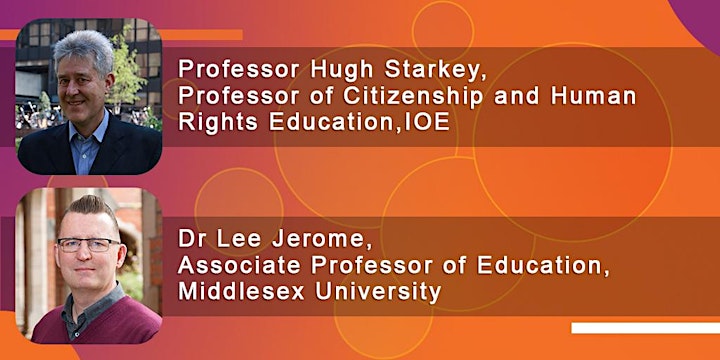 Implementing Children's Rights
Hosted by: Professor Hugh Starkey, IOE, and Dr Lee Jerome, Middlesex University
In this workshop we will introduce participants to the principles of the UN Convention on the Rights of the Child through the 3Ps – provision, protection and participation. We argue that a children's rights approach is useful for developing children's agency, as it tackles children's rights in school, and children's capacity to act as human rights defenders. Participants will have an opportunity to begin to review their own school's performance in relation to the 3Ps, and then consider some of the ways in which children can work on addressing relative weaknesses in provision (sometimes on their own and sometimes with adults). Participants will leave with some ideas for taking the conversation forward in their schools, some case studies of successful practices, and some warnings about pitfalls to avoid. The workshop is based on our new book 'Children's Rights in Education in Diverse Classrooms' published by Bloomsbury.
Reserve your place: http://bit.ly/ImplementingRights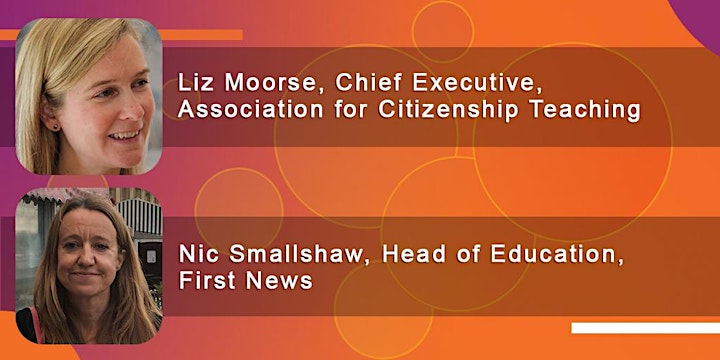 How citizenship and active citizenship support and develop children's agency
Hosted by: Liz Moorse and Nic Smallshaw.
The session will consider the key points about what citizenship is, its position in the primary curriculum and how our active citizenship process and award scheme can be used in different ways. This includes supporting children in addressing issues they are concerned about through democratic and active learning processes. The scheme involves a 7-step process based on an active learning cycle that encourages children to investigate and take action on local and/or news issues they are concerned about. As well as explaining the process, we will share case studies of how this works from schools involved and the impact for pupils.
This approach is underpinned by children's rights, in particular their right to free expression – to have a say on matters that affect them and their right to get good quality information from the media and the Government.
Everyone attending will be given copies of the pupil and teacher toolkits that ACT and First News have developed and an invitation to join in with the approach.
Reserve your place: http://bit.ly/Citizenship_Workshop


Organiser of HHCP Biennial Conference 2021: Children's Agency and the Curriculum