Hidden Disabilities: Disabilities and Cultural Diversity (IDPWD)
This event will look at Disabilities and Cultural Diversity to mark International Day for Persons with Disabilities 2020.
About this Event
Celebrating Culture: International Day of People with Disabilities Day, CRAIC NI with MyWayAccess
Hidden Disabilities: Disabilities and Cultural Diversity webinar
There will be a varied line-up of speakers, all with different experiences to share who will have connections to Northern Ireland! Guest speakers include:
Shiro Masuyama, a Japanese artist based in Belfast.
Rachel Siew, a Malaysian activist.
Sharan Anil, an Indian artist based in Dubai.
Niki Collier, Visual and textile Bulgarian artist based in Dublin.
Soo Hun, a Malaysian Open Arts Community Choir living in Northern Ireland.
Gawai, Vietnamese Special Olympic Athlete living in Northern Ireland.
Martynes, Special Olympics Athlete born in NI of Lithunian parents.
Listen to Accessibility, Arts, Music and Sports. Find out about:
- Cultural differences and similarities
- Everyday life and accessibility in NI and other countries
- Be inspired !
- Get a factsheet on disability awareness and cultural diversity.
Q&A with our training team. #GoodCraic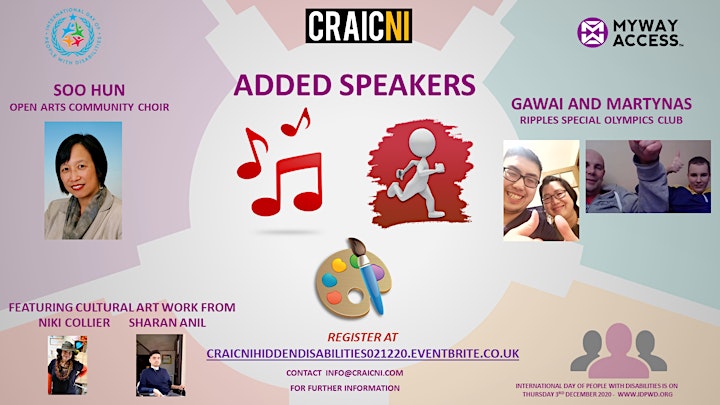 Niki Collier from Bulgaria, living in Dublin
We are delighted to have Niki Collier, a Visual artist from Bulgaria living in Dublin
Find out more about Niki's work Niki Collier - Visual and Textile Artist