Location
Dalston Eastern Curve Garden
13 Dalston Lane
London
E8 3DF
United Kingdom
Refund policy
Refunds up to 7 days before event
Description
SMALL INTIMATE WALKS IN WONDER :)
What if a walking tour could change the way you see the world around you? What if it could somehow change your life...? Get inspired, get involved!
It's all connected: our creativity, our wellbeing – and our environment:
What if there was a tour that was fun and stimulating and helped you discover hidden Hackney – and then left you feeling inspired and excited about the future and your own part in it?
"...focused on change-makers and social enterprises in Hackney [it] was very inspiring. Simon tailors each walk to the participants' interests making it a completely unique experience." - DC (Hackney resident)
There's a lot of doom and gloom around at the moment, yet there's a lot of brilliant things happening right under our noses. Anyone for a reframe?
Worried about global issues in the Extinction Rebellion era? There are solutions. People are doing things and you can be part of it, right here. Exciting initiatives in Social Enterprise Borough Hackney are tackling issues from food waste to climate change to exclusion from education.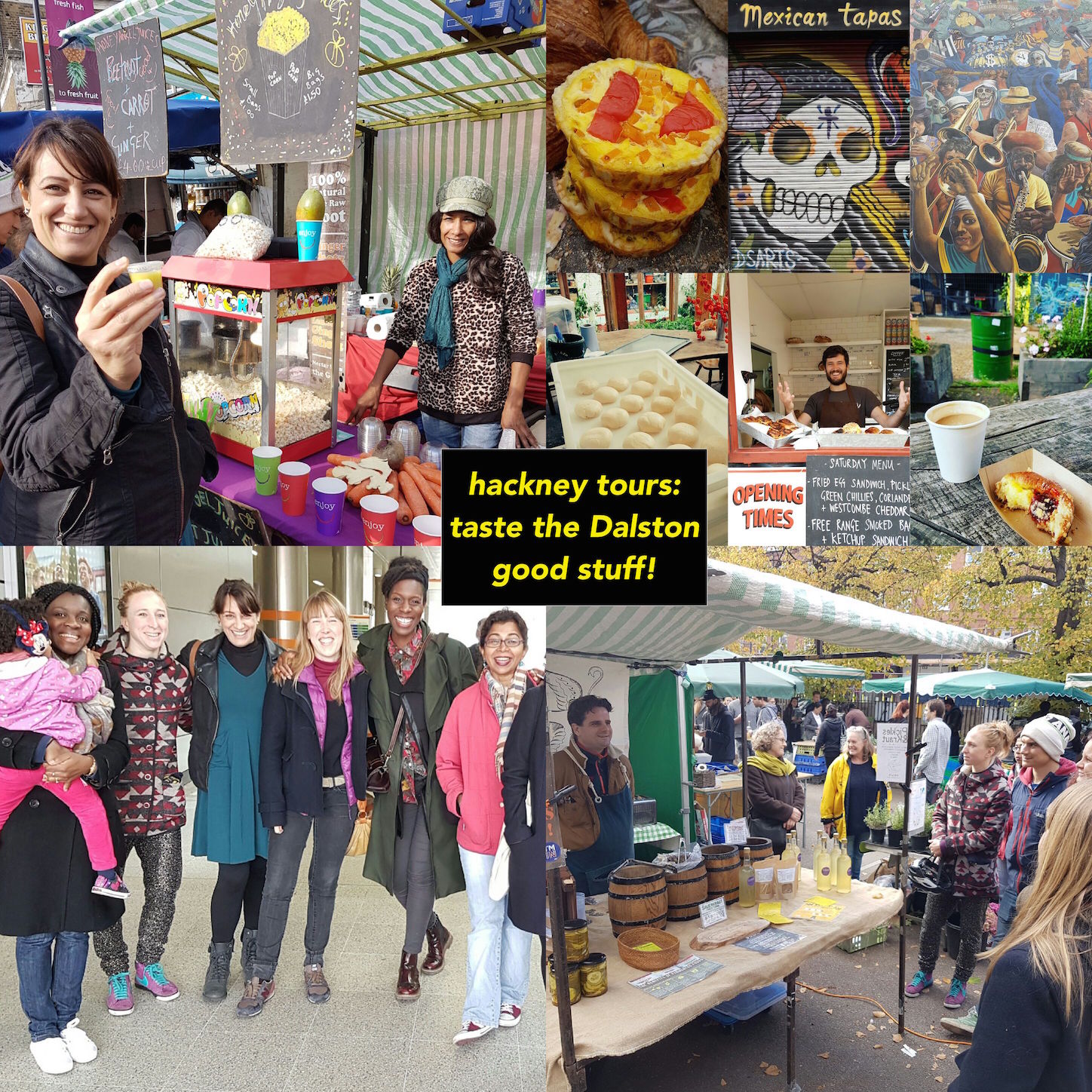 What if you could see your own backyard in a completely different way? Whether you become the social entrepreneur of the future, or just connect a little more to your community and fly a little less, everyone can do something and everyone get something from this markets and alternative food tour...
"If we are to better the future, we must disturb the present"
...it could be the mission statement of a modern-day East London innovator, but it's a quote from a Hackney reformer of the 1800s. This part of the global city has a rich tradition of disruptors rocking the mainstream boat to address the problems they see all around them.
Hackney Tours uses walks to explore the past to reframe the present and anticipate the future; let's tap into that on a walk that channels the best of the powerful desire for positive change by showcasing examples of it happening around us today.
Using inspirational characters from the past, we discover how today's pioneers in Dalston and Stoke Newington are following in great footsteps.
What's Dalston's best kept secret and how does it make Hackney happier?
Who is making their own sunshine?
How are markets – old and new - crucial to creating community and sharing our heritage?
How is food addressing mental health issues here?
How is the Arts interfacing with sustainability offering energy solutions?
Who is helping local kids get the education they deserve?
Why is Social Enterprise Borough Hackney exciting?
What is the media not telling us about the future of farming and how can we tackle food waste?
How can you be part of a mass movement of positive change and become a changemaker too?
Who's about to disrupt the disruptors, in the field of holiday rentals in places like Hackney?
How is Hackney addressing United Nations' Sustainable Development Goals?
#HackneyDifferent
#changemaker #EastLondon #responsibletourism #responsibletravel #HackneyIsSocial