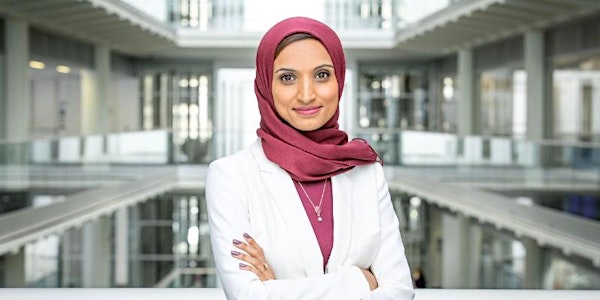 Hidden Heritage: Rediscovering Britain's Lost Love of the Orient
Location
40 George Square (Lecture Theatre C), The University of Edinburgh
40 George Square
Newington
EH8 9JU
United Kingdom
About this event
PLEASE NOTE THIS IS AN IN-PERSON EVENT
The British Association for Islamic Studies is delighted to be welcoming journalist and author, Fatima Manji, to Edinburgh for a special closing keynote as part of its 2022 Annual Conference.
Although part of hte conference programme, this special event is open to the public, but ticket numbers are limited.
Fatima Manji
Fatima Manji is an award-winning broadcaster and journalist who anchors the UK's Channel 4 News, the nation's most popular adversarial nightly news programme. She reports on major national and international stories, and is best known for breaking stories with a global impact: including the tale of Saudi princesses held hostage for years by their father the King; giving voice to the heart-rending testimonies of internally displaced Iraqis fleeing ISIS; investigating an MI5 spy accused of entrapment in Northern Ireland; and tracing the perilous journey of victims of war across the Hungarian border in the face of rising anti-migrant extremism.
Hidden Heritage: Rediscovering Britain's Lost Love of the Orient
Why was there a Turkish mosque adorning Britain's most famous botanic garden in in the eighteenth century? And more importantly, why is it no longer there? How did one of the great symbols of an Indian king's power, a pair of Persian-inscribed cannon, end up in rural Wales? And who is the Moroccan man that stole British hearts depicted in a long forgotten portrait hanging in a west London stately home?
Throughout Britain's galleries and museums, civic buildings and stately homes, relics can be found that beg these questions and more. They point to a more complex national history than is commonly remembered. These objects, lost, concealed or simply overlooked, expose the diversity of pre-twentieth-century Britain and the misconceptions around modern immigration narratives.
Hidden Heritage powerfully recontextualises the relationship between Britain and the people and societies of the Orient. In her journey across Britain exploring cultural landmarks, Fatima Manji searches for a richer and more honest story of a nation struggling with identity and the legacy of empire.