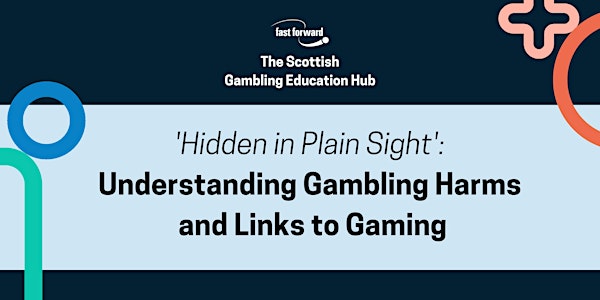 Hidden in Plain Sight: Understanding Gambling Harms and Links to Gaming
A 2.5 hour introductory webinar about gambling harm for anyone in Scotland that works with children, young people or families.
About this event
This RSPH accredited training will provide an introduction to gambling and the associated risks and harms, including the increasingly blurred lines between gaming and gambling. It is open to anyone working within youth services, family services or formal education in Scotland.
The session will be delivered by the Scottish Gambling Education Hub, a Fast Forward project.
Our mission is to ensure all children, young people and families across Scotland have access to gambling education and prevention resources.
Throughout the 2-hour interactive webinar, we will explore gambling as a public health issue, focusing on current issues affecting children, young people and families.
Following a harm reduction approach, we will discuss how to talk about gambling with the individuals and groups that you work with, and we'll share free educational resources with links to specialist support.
Participants will:
- Gain knowledge of current issues surrounding gambling related to children, young people and families
- Gain an increased awareness and understanding of gambling harms
- Develop an understanding about gambling-like features within video games and how these can possibly lead to gambling harms
- Be more prepared to lead conversations and facilitate activities or discussion around gambling and gaming with children, young people or families
- Be able to identify and recognise the signs of gambling harms, and know how and where to signpost for additional support
Please note: this webinar will be hosted on Zoom.
Interested in a gambling education and prevention training session but cannot join through Zoom? Please contact donna@fastforward.org.uk to discuss options and to arrange a bespoke in-house training session for your team using an alternative platform.
Additional sessions, bespoke webinars or 'in-person' training can also be arranged according to need and demand.
After attending this training, we offer free tailored support to set up and embed gambling education and prevention provision within your service.
Join our newsletter for the most up-to-date news and announcements from the Scottish Gambling Education Hub!
If you do not work in Scotland, but are interested in finding out more about the risks and harms associated with gambling, please contact donna@fastforward.org.uk.