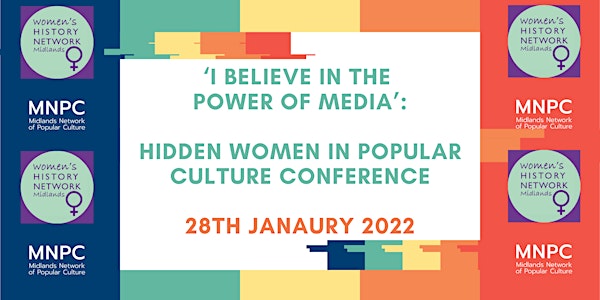 Hidden Women in Popular Culture Conference with Women's History Network
Sales Have Ended
Registrations are closed
This conference has now happened, follow out EventBrite to find out about future events, or visit our website to view any past events: www.https://midspopculture.wixsite.com/website/video-archive
Sales Have Ended
Registrations are closed
This conference has now happened, follow out EventBrite to find out about future events, or visit our website to view any past events: www.https://midspopculture.wixsite.com/website/video-archive
An intersectional, interdisciplinary conference spotlighting the hidden, marginalised or forgotten women in popular culture across history
About this event
Women's contributions to the cultural industries throughout history (whether as producers, workers, or audiences) have been erased or diminished in both academic and mainstream discussion – and the field of popular culture is no exception. Therefore, this conference will elevate, interrogate and celebrate two intersecting areas of marginalised discourse: the role of women within popular culture.
Schedule:
9:00 - Registration
9:15 - CONFERENCE INTRODUCTION
9:30 - Keynote Lecture with Dr Sam Hirst
Darkness Becomes Her: Gothic Women and the Heart of Gothic History
In this talk, we will trace an alternative history of Gothic development, starting from the Gothic's roots in the 18th century to the current. The talk moves away from the critical focus on fear, terror, horror and the grotesque as the defining features of Gothic evolution, and looks instead at the centrality of desire: the hungry beating heart of the Gothic, sometimes opposed to and sometimes aligned with its horrors. Focusing on the ways in which the Gothic has always been fuelled by desire moves us away from a reductive focus on terror and horror. We will trace the Gothic's evolution in the 19th and 20th centuries through a range of popular genres, from weird fiction to Gothic romance to urban fantasy to queer reimaginings, all while focusing specifically on female authors. We will uncover the hidden stories of the Gothic, so often marginalised in a Gothic criticism which seeks to assert its validity by focusing on 'literary' manifestations of the genre and the defence of the artistic value of fear, transgression and the grotesque. We will seek to centre these marginalised forms and figures of the Gothic, uncovering the Gothic's (not very well) hidden heart alongside investigating the centrality of women to the genre more broadly. This talk will take us through various eras and stages of the Gothic, 200 years of history, focusing on both well-known and hidden female figures and their pivotal role in defining, producing and influencing the genre.
11:00 - COMFORT BREAK
11:30 - 13:15 - Women's History in Popular Literature Panel
Panel Speakers:
Annelise Edwards-Daem
Imperceptibly the doll had already become "she"': The Doll in Twentieth Century Women's Writing
This talk will explore the figure of the doll in twentieth century women's texts, with a focus on fiction by Margery Lawrence, Daphne du Maurier, Margaret Yorke and Thea Von Harbou, taken from my current doctoral research which focuses on the figure of the doll in twentieth and twenty-first-century women's writing. The doll has been heavily researched in male-authored texts, such as Hoffman's The Sandman (1818) and Dickins' Our Mutual Friend (1865) but has been neglected in texts written by women over the past couple of centuries. Therefore, this talk will explore how twentieth century women writers have represented and reclaimed a figure which has traditionally been used to embody female identity in oppressive and patriarchal ways. This talk will outline my thesis, my research questions, and specifically why I chose to study the figure of the doll and its place in women's and feminisms literary history also.
Francesca Farnell
Supernatural Tales and Women in the Popular Early Modern Consciousness
Trigger warning: disordered eating.
In early modern England, accounts of mystical, miraculous and magical phenomena abounded in cheap print. This proliferation of 'wondrous newes' tales found such a lively and receptive audience that it effectively constituted its own genre of popular literature. This paper will focus in part on a prominent subset of this fantastical genre, that of 'starving girls' whose abnormal diets, most typically in the form of food rejection or displacement, sparked local or even national cause célèbres. Strongly coded as an exclusively feminine practice, these narratives of disordered eating triggered by divine, diabolic or magical interference sit at a complex intersection of sex, agency, religious fervour, voyeuristic curiosity and desire for control over women's bodies. While the issue of historical self-starvation remains deeply contentious, these accounts nevertheless provide us with examples of moments in which common women's personal experiences could be elevated into contemporary popular consciousness rather than obscured from it.
More generally, it is in the spirit of this recovery effort for 'ordinary' women's voices that my thesis is situated, using stories of the supernatural to weave together the sometimes-disparate strands of early modern women's multifaceted existence.
John Cammish
Joanna Baillie and her Forgotten Influence on Lord Byron: the origins of the Byronic Anti-hero
The anti-hero, the redeemed hero, the misunderstood, the relatable villain; these terms are indicative of the modern and contemporary interest in portraying both heroes and villains as complex and somewhat relatable – as perhaps one bad day away from madness. This is an idea that has many historical and literary influences, and perhaps one of the most major of these influences is the Romantic poet Lord Byron. His dark brooding heroes, be that Conrad the pirate captain of the Corsair, the Faustian Manfred in his drama of the same name, or the phenomenally successful and influential Childe Harold, are all recognised as crucial to the development of psychologically complex literary figures. But what of the influences on Byron?
One of the most major of these, a Scottish playwright of the Romantic Period, Joanna Baillie, was hugely influential on Byron and many other romantic figures. Her best known and most influential work, the series of plays entitled Plays on the Passions, explore the then novel concept of psychological progression and the intensifying of emotions such as love or jealousy from mere passing thoughts to all consuming obsessions. Baillie's focus on the development of these traits over the course of each play make her not just proto-Byronic, but proto-modern, someone with a keen interest in the portrayal of human psychology before the term had been invented. This paper will explore Baillie's work, her innovations and idea, and make a claim for her importance as a forerunner of the modern popular anti-hero.
11:30 - 13:15 - Women's History in Performance Panel
Panel Speakers
Careena Fenton-Cullen
She sees without eyes and hears without hearing: Exploring sight and sensation in The Mysterious Lady Act of the mid-nineteenth century
A second sight act known as 'The Mysterious Lady' was so successful in the mid-nineteenth century that it was copied several times, with each performer claiming originality. This paper explores the theme of sight, spectacle and spectatorship in performance, an audience that can gaze freely at the performer without observation and the woman on the stage who 'sees without eyes and hears without hearing.' The face of The Mysterious Lady was hidden in performance, her back to the audience and her eyes blindfolded. I interrogate the impact 'The Mysterious Lady' acts had on nineteenth-century popular culture and the reasons why they caused such a sensation.
Dr Jodean Sumner
Chipping Away at the Monolith: Generating the presence of hidden women within the life of Queen Elizabeth I.
Through her doctoral research, Jodean conducted a series of performances that explored the embodiment of Elizabeth I. Elizabeth Tudor is one of the most performed and visible individuals in the representation of historic women in popular culture. In this discussion Jodean discusses the increasing dissonance between the power and agency of Elizabeth, and the invisibility and lack of power for the others related to, labouring for, or impacted by her.
Dr Jodean Sumner is a researcher, lecturer and artist and is currently based at University Campus Oldham. She is interested in the ethics of the encounter with audiences and co-performers and feminist explorations of care and labour and the invisibility of these within history and contemporary culture. As well as a researcher and artist, she works as a performance-maker, facilitator and editor for artistic publications and projects.
Sam Edwards
Abstract TBC
13:15 - LUNCH BREAK
14:00 - ECR Prestentation from Jennifer Voss
Norah Baring and Madeleine Carroll: A***** H********'s Leading Ladies
Throughout 1928 and 1930, UK press coverage surrounding British actress Norah Baring boasted of her 'unusual' beauty, marking her out as distinctive, with the potential for stardom (Barratt, 1930: 20; Burke, 1930: 9). Gaining popularity for her performance in 1928 silent drama, Underground (Dir. Anthony Asquith), British magazines positioned Baring as an up-and-coming star, earning her a fan club along with other popular British stars such as Betty Balfour (Gordon, 1930: 8). However, despite the praise and her appearances in numerous successful silent and sound films in Britain, there remains yet to be any critical writing produced on Baring's performances. In a similar vein, between 1937 and 1942, British actress Madeleine Carroll was listed among the most popular and highest paid actresses in Hollywood (Variety 1938: 54, Motion Picture Herald, 1938: 55, Variety 1940: 18, Motion Picture Daily 1942: 3). As with Baring, Carroll's on-screen performances have been neglected within British film history; with her silent films seemingly rendered inconsequential (Gledhill 2007). While Baring and Carroll's respective careers ultimately followed distinctly different trajectories, the work and performances of both actresses have been completely overlooked by the prioritisation of a continued focus on the director of their most notable films, Alfred Hitchcock (Leitch and Poague 2011; Lennon 2019) Focusing on Baring and Carroll as central case studies, this paper will shift the focus of analysing film performance away from the work of the director, and onto the actresses who ultimately constructed and embodied these leading roles. Highlighting the agency, skill and labour in women's performances in film during the 1920s and 30s, this paper will explore some of the key approaches and ideas explored in my PhD research, contributing to the ongoing feminist research into previously overlooked and hidden contributions made by women to the film industry.
BioJennifer Voss has recently submitted her PhD in Drama Studies and Film History at De Montfort University; a project funded by the AHRC in partnership with Midlands 4 Cities. Jennifer's doctoral research, which uses performance theory and archival research to build upon a traditional film studies approach to women's film history, focuses on actresses' performance of emotion during the transition from silent to sound cinema in Britain and America. Alongside her PhD, Jennifer is a Part-Time Lecturer in Drama Studies, as well as working as an Archives Assistant in De Montfort University Archives and Special Collections. Jennifer has also worked as an Archive Assistant in the Hammer Script Archive, the Peter Whitehead Archive, and the Indian Cinema Archive.
15:00 - 16:30 - Women in Popular Culture Today: An Industry Roundtable featuring Melanie Owen, Natasha Gaunt and Amy Matthews.