High on Life Retreat - Ecstatic Dance Festival! - Portugal June 2018
Description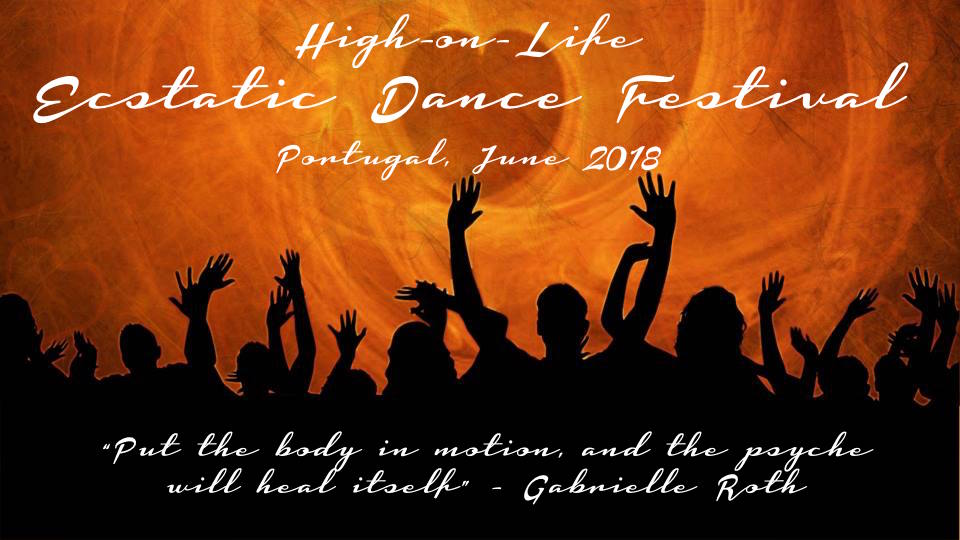 High on Life Retreat - Ecstatic Dance Festival! Portugal June 7th-10th 2018
An experiential playground for co-creating transformational experiences.
- Creating life-affirming events beyond the old Drug and Alcohol paradigm -
Ecstatic Dance - Active Meditations - Breathwork - Bioenergetics - Cacao Ceremony and Conscious Connections with amazing, conscious people, who love music and dance!

We believe that you don't need to get drunk and take drugs to have fun.
We use music, movement, ritual, and connection to take dancers into the unified field of being.
Please check out our ecstatic dance video on youtube to give you a taste of the journey: https://www.youtube.com/watch?v=0OSV_SkP7bk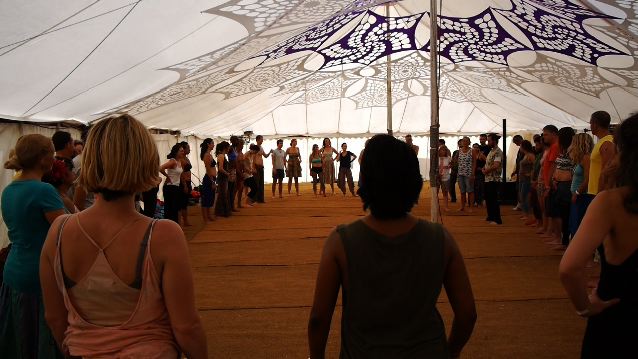 The basic framework of the gathering is Connection;
1) with ourself and our bodies foremost. Explored through a cross-section of approaches including Bioenergetic Alchemy, Authentic Movement, Ecstatic Dance / Active Meditation practices and Breathwork.
2) Meetings with others through dance and connection, games, communication and boundary exercises. and
3) with Nature and the world through dancing on the beach and a deep connection with Nature.
Cosmic Connections. One of the outcomes: Feelings of love and connectedness to ourselves, other attending souls and the world as a whole. The nature of the journey is that of community bonding, individual transformations and unlimited possibilities to see the world with fresh new eyes.
Below are some videos of the work we will be exploring on the weekend:
- Tantric Trance Dance on youtube: https://www.youtube.com/watch?v=Dddj19xC-b0&t
- The Big Love Experience: https://www.youtube.com/watch?v=ADqQOEOsvvk

Pioneering conscious communities built around music, dance and healthy living, the Ecstatic Dance Temple™ opens new doorways of possibilities beyond what we dare to dream.
"Put the body in motion, and the psyche will heal itself" - Gabrielle Roth
Ecstatic Dance Temple™ is creating a global health-conscious community, a movement that celebrates life through music and dance.
Feedback from previous retreats:
"That was a very beautiful experience. An amazing journey inward & out. To express in a free space filled with joyful vibes & gorgeous smiling faces. In sound, in rhythm, in motion, in colour, in sweat, the Dance, the Soul." Cath
"The smiles, the kind eyes, the hugs, the bits when I lost myself in the music, the joy of the moments when it felt as if the whole room was jumping in unison." Salvo
" What a profound experience! The music was so beautiful ... it carried me effortlessly inward facilitating a deep connection to Spirit, moving my body in a way that I felt I had little control over. It was magical! Thank you " Ashley
Throughout the weekend we will explore, as individuals and a group, a wide variety of ecstatic dance/active meditation processes. From Tantric Trance Dance & Kundalini Meditation to Authentic Movement, Dance of Awareness, Breathwork, Mindfulness & Group Process.
This will be a weekend of wild dancing, deep healing and connection with ourselves and other lovers of dance, music and healthy living.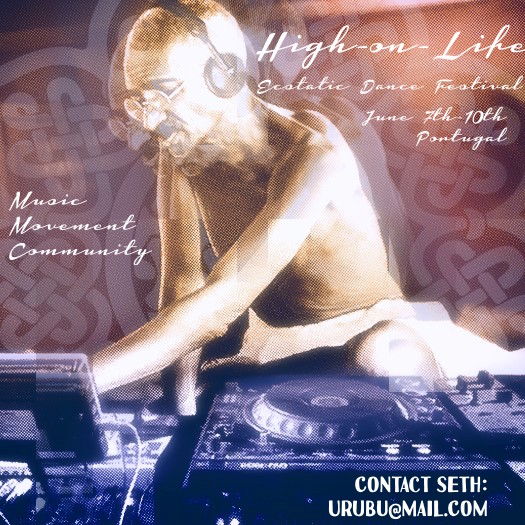 Plus!* There will also be at least one beach outing where we will have free time with the sun and the amazing setting. This beach is one of the most outstanding beaches in Portugal. A real treat!
Where: A beautiful rural Retreat Centre in Portugal
The festival takes place on the beautiful property of 33 ha forestland in the midst of a natural reserve, overlooking the endless hills of Southern Alentejo.
It is near S. Teotónio, Odemira and Zambujeira do Mar, about 25 km from the beautiful beaches on the west coast of Portugal.
Closest Airport is Faro (Easyjet & RyanAir) and a 1-hour train ride to the closest station, where you will be picked up by the retreat centre!
Or get picked up at the airport for an additional cost.
When: 6 pm Thursday, June 7th- 6 pm Sunday, June 10th 2018
Cost: All prices are including food and accommodation - camping. Please bring all your own camping gear.
- £150 Super-Duper Earlybird
- £220 Earlybird
- £250 Regular price
The Ecstatic Dance Temple™ was created by Seth Newman who as well as growing up with Osho in India, has trained in Tantra, Bioenergetics, Humanistic Psychotherapy and Active Meditation. He is a long-term student at the Open Centre in London, and has trained with Guy Gladston (Bioenergetics), Amadis Cammell (Core-energetics), Michael Gavin (Radix Neo Reichian bodywork), Silke Zeihk (Postural Integration) and Tim Brown (Dance of Awareness). Seth brings a holistic approach to his work with groups and individuals.
Feedback from our previous workshops:
"Thank you, Seth. The weekend was an exceptional experience of deep healing, awakening, and opening. I feel so light, peaceful, and full of Love. Through the journey we took, I touched some of my wounds, gently but deeply releasing and healing what was ready to be alchemised. Thank you to all the other lovely participants. Please organise the next one soon :-)" Tanja
" The weekend gave me the opportunity to go deeper into my body and discover new experiences which I hadn't been able to tap into before. It was a good mix of different exercises, and I had a really blissful experience with the breathwork." Vijay
" I feel so grateful I had the opportunity to attend this weekend event. I felt that Seth, through his presence, allowing, way of being, created a very unique, safe space in which I could release, discover, explore and meet different aspects of myself. I was amazed how during the two days I was – often unexpectedly and gently – led to bring forth and embrace a child, an ancient woman, an animal, a spoiled brat, a mother, a lover, a goddess… Also through Seth's guidance and suggestions I felt within very short spaces of time both my immense sorrow/yearning/pain and my immense joy/gratitude, realising how close to each other these seemingly opposites are. Today I feel a more solid belonging in the world, and a heightened awareness of the soles of my feet on the floor, like the earth, was more magnetic!" Maria