Actions and Detail Panel
HIGHER LIFE SEMINAR HILLINGDON
Sun 21 May 2017, 10:00 – 12:30 BST
Description
God has called you to live the higher life!
The Higher Life Seminar is a one day seminar of teaching from Pastor that will expand, reveal and completely renew your understanding of God and the Christian life. It will be a time of power, purpose and plenty in the Holy Ghost. Many will be lifted to a higher level in Christ where all things are yours and possible.
This seminar is dedicated to revealing the beautiful, uncensored, blissful love that God has for you. It is dedicated to revealing to you the realities of the miraculous life given to you as a believer. This program is a proclamation of Truth, a confirmation of love, an awakening to healing, a deposit of wisdom and a beckoning to the glorious life given to you in Christ.
Time
Sunday 21 May 2017
Venue
The Royal British Legion
Hillingdon
UB10 0LQ
(Opposite Hillingdon Primary School)
Time
10:00 - 12:30
Book your ticket now!
Testimony
I suffered a crush injury to my left foot and ankle in 1973 which has given me trouble from time to time. I had also been suffering pain in my right ankle which I believed to be sciatic or from a constricted lateral nerve in my lumbar spine.
As Pastor was ministering to people I became aware that the pain in my left foot was disappearing. This continued until it had gone.
When Pastor Chris told us to lay a hand on any affected area of our body, I slipped my hand into the waistband of my trousers so that the back of my hand rested on my lumbar spine and left it there. A little later Pastor Chris asked everyone in the congregation to stand.
I stood up with everyone else. I had only stood for a few seconds when I felt my spine adjust with a pronounced click and all the pain disappeared from my right ankle.
I was standing next to a flight of steps leading down to a landing and exit. I needed to move, to walk somewhere to check what I had felt happening in my body.
The only way to go was down the steps. After a couple of minutes' hesitation, I walked down the steps without any pain or discomfort.
As I reached the landing an usher appeared who asked me what had happened to me. As I began to explain what I'd been doing, he confirmed that I had been healed.
He then ushered me into a group of people just outside the auditorium where I was asked again what had happened by different people. I was eventually ushered back into the auditorium to join a queue of people waiting to be introduced to Pastor Chris.
I stood in this queue for some time listening to the testimonies from the front and from the link to ExCEL. I was being jostled and then ushered from one side of the walkway to the other.
The queue was very slow moving and I saw another equally long queue on the other side of the auditorium. There were also people queuing to testify at ExCEL.
I began to think "What am I doing here? How long is this going to take? I've only lost a couple of aches and pains. There are people here who are healed of cancers.
Others are dancing round the wheelchairs they arrived in. " Suddenly an usher approached me, took me by the arm and said "Come with me".
He led me to the front of the auditorium behind two people waiting to be introduced to Pastor Chris. I had been fast tracked! I was introduced to Pastor Chris and what was said and done there was probably recorded.
I remember demonstrating my healing by bouncing on my toes and running on the spot. As I spoke with Pastor Chris he told me I had a strong voice and asked me if I sing.
Without thinking, I replied "Would you like me to sing you a song?" Before I knew it, someone put a microphone in my hand and that was it! I got as far as "Oh Lord, my God. .
The congregation rose, the musicians and choir struck up and we sang "How Great Thou Art". I was in the Spirit and the Fire and the Glory of God was upon the congregation.
Pastor Chris ministered to me and gave me instruction concerning my eldest brother who had been diagnosed with asbestos-related cancer of the chest wall last year. I visited my brother the next day and did as I had been instructed.
The rest is up to the Holy Spirit. I was asked by a sister at our fellowship what it was like to be with "The Man Of God".
The answer is simple. You see from his point of view.
I am now convinced that Pastor Chris sees what he says. He was teaching us that we are the Glory of God.
That is what I saw in the congregation that night, His Fire and His Glory! Never mind the X factor and Britain's Got Talent! God promotes people who aren't looking for it. That's my testimony.
I had no idea what was going to happen that night. I only ever knew the next step to take and when I couldn't move on, I was carried.
All he wanted was my willingness. He knows my heart.
He knows that I long for His presence to be manifested in power through congregations of true worshippers. He inhabits the praises of his people and I have been privileged to do what I did that Sunday.
It was better to me than being healed. Few people know who I am.
Immeasurably more know who Jesus is and that's how it ought to be. He knows me and has proved it by continuing to confirm it in his dealings with me to this day.
Praise is Holy Name! I could write a great deal more, but I'm into my fourth page now. The moral of this story is: Never ask an old timer for a short testimony.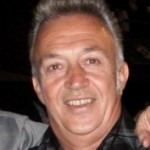 Edwin Tillyer
Book your ticket now!
Date and Time
Location
THE HILLINGDON ROYAL BRITISH LEGION
Uxbridge Road
Directly opposite Hillingdon Primary School
London
UB10 0LQ
United Kingdom