Hillside Outside Volunteers 2018 (Tweedlove Festival/Tunnel Trail Run/Granf...
Description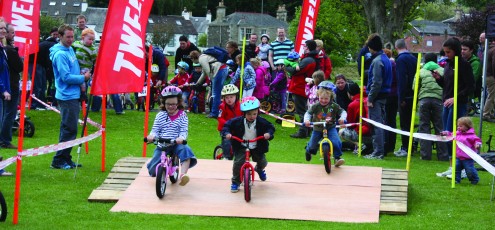 Thanks for your interest in volunteering with Hillside Outside. We'd love to have you onboard as a valued member of the events team. Helping at these events can be a lot of fun and you get a backstage, up-close experience of the event, plus an exclusive crew t-shirt of course! There are some other cool new benefits being introduced for the crew this year too!

These events would simply not be possible without volunteers so any help that you can give is hugely appreciated. What we do together adds a huge amount of value and pride to the whole Tweed Valley and bike community, so remember your contribution is appreciated and respected by thousands of people across the area – not just the riders who come here to join our community for the events.

We're looking for volunteers throughout the year at various events. We have a variety of volunteer activities including being involved in event and course preparation (course taping, trail prep, etc.), setting up the expo and event villages, marshalling on event days (you can't get any closer to the action) and clear up day (more fun than it sounds, honest!).

To sign up

click register button

Select the events you would like to volunteer at by selecting 1 for each of the event you wish to help at.

Press checkout

you will then be ask to provide contact and availability details

you will aloo be asked to consent for us to hold your personal information to contact you with respect to volunteering. A copy of our privacy statement is available here!

Once form is complete, press Complete Registration

You will then be sent an email confirmation.
Once you are signed up we should be in contact with you approximately 2 weeks prior to the events to confirm the arrangements - if you have not heard from us please don't hesitate to get in touch by emailing volunteers@tweedlove.com. If you sign up for any of the race days we will definitely need your help.