Sales Have Ended
Registrations are closed
Congratulations! You are attending British Hindu Women's Festival 2021. We're super excited. Share the event with your friends and family using the following link: https://hwf2021.eventbrite.co.uk
Sales Have Ended
Registrations are closed
Congratulations! You are attending British Hindu Women's Festival 2021. We're super excited. Share the event with your friends and family using the following link: https://hwf2021.eventbrite.co.uk
A festival of celebration and reflection. Bringing together an entire community to commemorate womanhood and femininity.
About this event
Delegates will be able to access the online event using a link on eventbrite and/or confirmation email.
-
Over the course of five days, 7-11 April, researchers and thought leaders will come together on a virtual platform to present 25+ inspiring sessions on a variety of themes. The subjects being explored are wide-ranging and deeply personal, encompassing relationships, sex and sexuality, leadership, social and cultural barriers to political activism, access to education, motherhood, psychology, and rituals and practices around menstruation and pregnancy. There will also be interactive sessions on writing, cooking, yoga, and holistic wellbeing.
The Hindu Women's Festival 2021, hosted by Beyond the Bindi, seeks to incubate indigenous Indian ideas, and present diverse Hindu perspectives on femininity and womanhood. Beyond the Bindi is an independent literary platform, run entirely by volunteers, seeking to explore Hindu femininity, and is due to publish with independent publisher Tattva Press in Autumn 2021.
You only need to register once, and you'll have access to join any of the sessions.
Dates:
The festival will run from 7th-11th April 2021 and will be hosted virtually.
Noted speakers will include:
• Sinu Joseph, Bangalore-based Women's Reproductive Rights activist and Author, 'Ṛtu Viḍyā: Ancient Science behind Menstrual Practices' and 'Women and Sabarimala: The Science behind Restrictions'
• Nithin Sridhar, Editor, IndiaFacts and Advaita Academy, and Author, 'Menstruation Across Cultures: The Sabarimala Confusion -- A Historical Perspective' and 'Musings on Hinduism'
• Brahmacharini Shripriya Chaitanya, Acharya, Chinmaya Mission
• Satish K Sharma, Dharmic Theologian, Hindu Philosopher and Yoga Acharya, Global Hindu Federation
• Seema Anand, Kama Sutra Expert, Mythologist and Author, 'The Art of Seduction'
• Sunita Shah, Author and Founder, The Jai Jais
• Sonal Sher, Director, Jammu Kashmir Festival
• Dr. Rishi Handa, Head of Sanskrit, Religious Studies and Philosophy, St. James Senior Boys' School
• Dr. Tina Mistry, Psychologist & Co-Founder, Another Mother Story
• Manu Khajuria, Founder, Voice of Dogras
• Janhavi Dadarkar, CEO, Maiora International
• Drishti Mae, Senior M&A Integration Manager and Former President, National Hindu Students' Forum UK
• Bhaven Pathak MBE, Group Head of Mergers & Acquisitions, Canopius Group & Director, Yog Foundation
• Lavina Mehta MBE, Founder, Feel Good with Lavina
• Mira Kaushik OBE, Co-Founder, Manch UK
• Anusha Subramaniam, Founder, Beeja Dance Company
any many more...
For the full itenerary, visit:
www.hinduwomensfestival.org
Reserve your seat now and share with friends and family
Book your free place now. Registration is mandatory to attend the sessions.
Share the social media post below to friends and family.
#IWD2021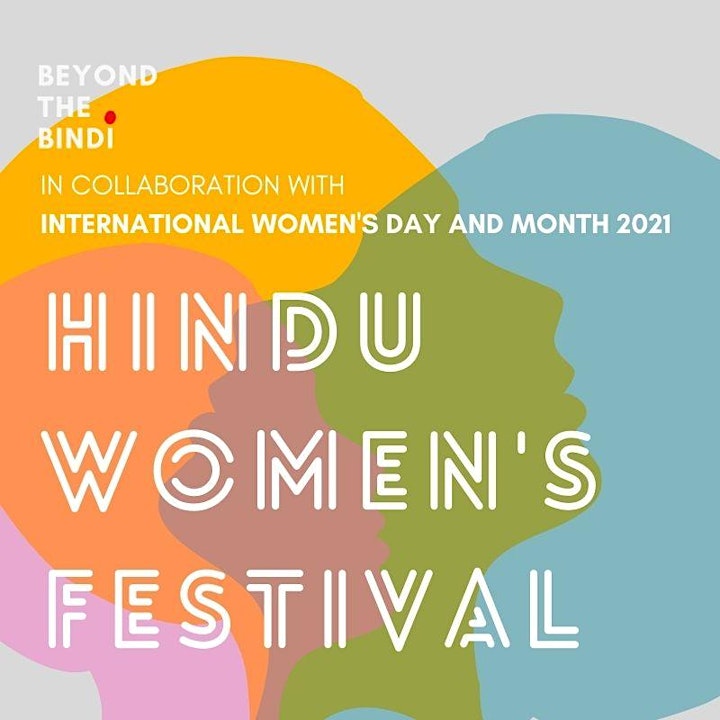 About
The event is being organised by the Beyond the Bindi Project team , and is in partnership with a number of organisations across the country. This is an entirely non-profit project being undertaken by community volunteers.
If you would like to sponsor any of the panels, please email: beyondthebindi@gmail.com
Tattva Press is the official publisher for the anthology. It is a non-profit publishing house dedicated to furthering diversity in the worlds of arts and literature.