About this Event
Are you ready to Drink... Party... Sing....Dance.... And WIN PRIZES???
Yeahhh that's right we bringing this beautiful game of Bingo back with a bang!!! But this time with a twist of Hip Hop Anthems running all through the party keeping the vibes niceee!
London's Biggest Bingo x Brunch Party
Hip Hop Bingo Brunch is delighted to invite you to their Official Launch on the 29th of December.
We've teamed up with the UK's first and only purpose built, contemporary bingo nightclub to fill your Sunday Funday with addictive sing-a-longs, Instagram worthy moments, the craziest Bingo Games, Gift Prizes, Hilarious 1v1 Prize Competitions!! All or nothing It's going down!!!!
Hip Hop Bingo has come to takeover London and we just hope you ready to go on an adventure like you have never been before!
Hosted by none other than Martin 2 Smoove ( Eve's Official DJ) + Plus More!
Event time: 12 - 6pm
Bottomless Prosecco Session: 12pm-1pm
Please Note: Food is not included in your ticket price but will be available on the day.
After Party Also, Can't Just End There! Running the Biggest Hits in the Charts!
Location: Dabbers Social Bingo - 18 - 22 Houndsditch, London EC3A 7DB
Expect an experience that you'll want to tell your friends about. We want to do things differently, offering you a comfortable space to unwind and win big.
All ticket sales are non-refundable. Strictly Over 18s only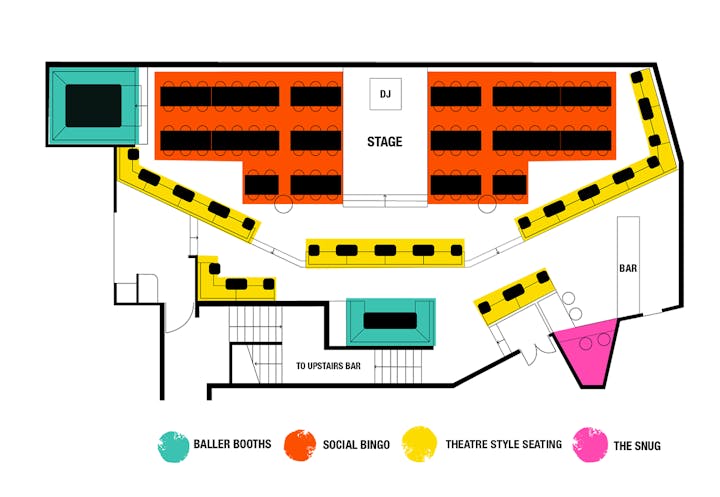 DABBERS SEATING PLAN
Social Bingo
You're in the mix, you're at the centre of the action. These are long trestle tables with deluxe padded stools that are in the lowered floor area around the stage. Rub bingo wings with fellow dabbers, order a sharing plate, and get up and dance because you're in the thick of it.
If you're booking separately from your friends please email us at Londonmusicgroupltd@gmail.com with the names of the people you'd like to sit with.
Theatre Style Seating
These comfortable padded theatre style seats run around the edge of the social bingo area and we also have a few on the raised floor. They're great for a date or a smaller group of friends – not really suited to groups of 6 or more.
Baller Booths
We have two Baller Booths, suitable for 5 and 12 people. Here you'll have an excellent view of all the action with your own private table for you and your friends.
The Snug
The Snug offers a private table for a group of up to 8 friends. It has its own TV, so you'll be able to keep an eye on the numbers, and it's right next to the bar for easy access!
What To Expect From Our Hosts
We work with some of the finest comedians, performers, and character acts on the scene. They'll dazzle and delight whilst working the room and calling the numbers. This means that every show is fire!! Customers are advised that some strong language and adult themes may feature. If you require more information, please email Londonmusicgroupltd@gmail.com.