About this Event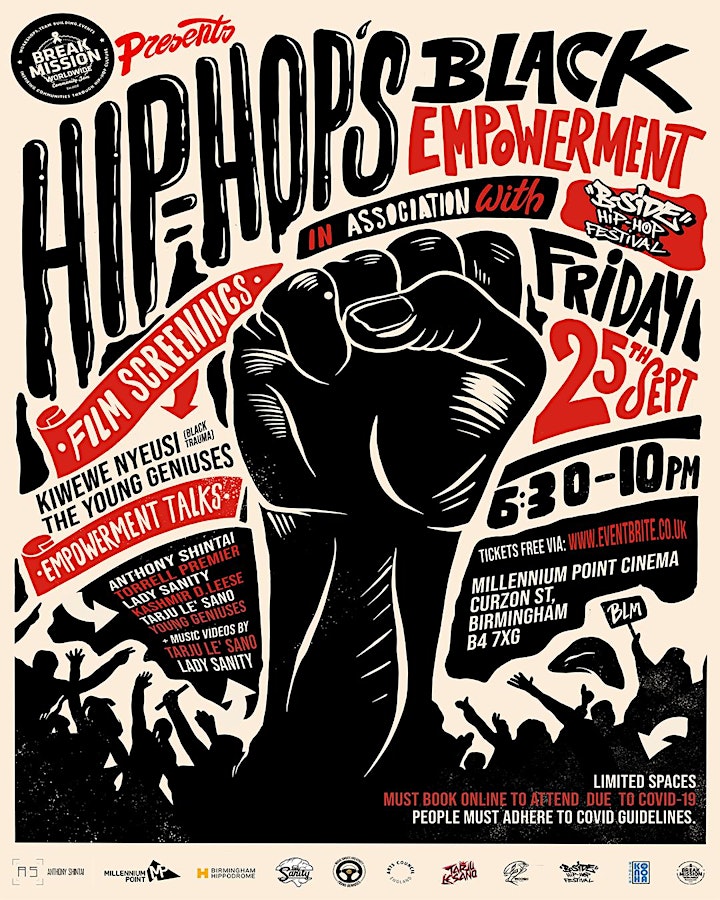 Part of B-SIDE Hip Hop Festival 2020 celebrating its fifth year, with generous funding support from Arts Council England. Find out more here.
This event is COVID-19 Secure and will be following all guidelines and regulations to keep you as safe as possible.
Break Mission Presents an evening showcasing the Black Empowerment of Hip-Hop in association with B-SIDE Hip Hop Festival & Birmingham Hippodrome.
Taking place at Millennium Point Cinema in Birmingham City Centre.
Hosted by Sir Swifty and Break Mission, the evening features films and performance showcases by Young Geniuses, Tarju Le' Sano and Lady Sanity. Feature film Kiwewe Nyeusi - created by Kashmir D Leese followed by an interview and Q&A session. The evening also includes talks from prominent figures in the current hip hop scene including Anthony 'Shintai' Amao and Torrell Premier.
This event is COVID-Secure and the event organisers have the Visit England Good To Go stamp of approval!
You will be expected to follow all guidelines set out in the booking details. As part of booking a ticket your details will be collected for NHS Track & Trace and will be securely stored for 21 days after the event.
All seating inside the cinema and venue will be socially distanced and compliant with guidelines. Face coverings are mandatory in line with government guidelines. Further safety information can be found below and upon ticket registration.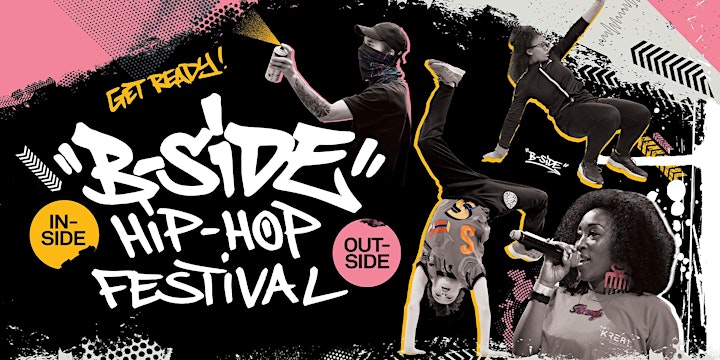 As part of registering for a ticket for this event you agree to adhere to all COVID-19 UK guidelines and regulations at the time of the event taking place.
In line with government guidelines, face coverings must be worn in the cinema but can be removed when eating and drinking. Social distancing measures have been implemented across all areas within the cinema in line with local government guidelines as required.
Please do not attend this event if you think you may have COVID-19 or are displaying any of the following symptoms: a high temperature, a new, continuous cough or loss or change to your sense of smell or taste.
We will adopt social distancing rules ensuring the event is safe for everyone, and we will ask you to be kind to other people attending the event and comply strictly with rules and regulations which will be clearly displayed on a day.
All toilets will be stocked with anti-bacterial hand soap. Hand sanitiser stations are provided in all cinemas. The cinema's already high cleaning standards will be enhanced by a cleaning programme designed to clean and sanitise the high touch points within the cinema.
Confirmation emails can be used as tickets, and e-tickets are available on the Eventbrite app. We are taking part in public health authorities' Coronavirus (COVID-19) Contact Tracing scheme as detailed in the event description. If you have any questions or queries regarding the event please contact the event organiser.