Hiring Masterclass for Entrepreneurs, Small, Medium and Micro Businesses
Sales Have Ended
Ticket sales have ended
Many thanks for buying your ticket for the Hiring Masterclass the The British Library. Helen looks forward to meeting you on Wednesday, November 27th. The workshop is very practical and sometimes it helps if Helen has context of any hiring issues you've had so far. If you have a job description or want to send her some advanced info ahead of time, please email her directly on: Helen@YourPeoplePartners.com
Sales Have Ended
Ticket sales have ended
Many thanks for buying your ticket for the Hiring Masterclass the The British Library. Helen looks forward to meeting you on Wednesday, November 27th. The workshop is very practical and sometimes it helps if Helen has context of any hiring issues you've had so far. If you have a job description or want to send her some advanced info ahead of time, please email her directly on: Helen@YourPeoplePartners.com
If you're fed up with hiring the wrong people and the knock-on effects on your business, you should attend this workshop!
About this event
If you're fed up with hiring the wrong people and the knock-on effects on your business, you should attend this workshop!
Once and for all, learn the right way to hire people with a tried and tested 6 step process from one of the UK's leading small business recruitment experts.
If you hire a new team member with a salary of £26,000 and they're a bad hire, it will cost you more than their salary, once you include recruitment fees, national insurance, pension, training time, company car, sickness, rehiring costs and office space and equipment.
This cost does not include the stress and disruption that a poor hire will have on you and your business – a poor hire can easily put your business growth back 3-6 months.
Here are the 7 key challenges you will face when hiring great staff:
If you've ever hired someone in a rush, without a proper hiring process you'll know this reduces the chances of you hiring the right person. Running a rushed hiring process is a warning sign that you're not doing things properly. Panic-buying when it comes to hiring is a recipe for failure.
The web has changed hiring and how people look for jobs. The rapid growth of online hiring platforms and search tools, where you can find amazing candidate has changed everything. Not knowing the best places to advertise your roles is an expensive mistake that's easily fixed with some basic knowledge
Relying on recruitment agencies does not guarantee a great hire every time. Even with a brilliant recruiter, it's crucial to not look the other way during the hiring process and to make sure you are actively involved.
Too many business owners assume that a proper hiring process consists of assessing CV's, doing interviews and then offering the job, or the triangle of truth as it's known – however, nothing could be further from the truth of what actually works.
Do you get bowled over by a fantastic looking CV, which may have been written by a CV writing expert? It's crucial to get other information about applicants in your recruitment process. You should be asking for a covering letter, why people want to work for you rather than someone else, what makes them tick and of course, references.
It's crucial to create your OWN hiring systems and processes in your business that support all your hiring efforts, whether you hire in-house or use a recruiter. If you're hiring and you skip the referencing, the half day office trial, the team lunch, the assessments, testing and your gut feeling, you are risking making a bad hire.
For too many business owners, the problems start after a job offer has been accepted by a candidate and even before their first day on the job! Many more issues can still develop if you don't effectively manage a new recruit from their first day to the end of their probationary period.
What will you learn at this Hiring Masterclass?
In this workshop, you'll learn the 6 Step Process to Hiring Superstars for your business, developed by Helen Sanders of Your People Partners.
Step 1. Laying strong foundations – the backbone of your successful hiring process
Learn the crucial difference between a job description, which describes a job role and a job advert, which is all about attracting the right candidates.
After this workshop, you'll never write another generic job description, and you'll learn a simple way to analyse exactly who you need for your roles.
We'll use real-life examples of job adverts and job descriptions and you'll learn how to write an AMAZING job advert that attracts the right candidates for your business.
Step 2. Supercharge your employer brand – and start attracting better candidates
Discover how to pitch your organisation and the career opportunity to potential candidates. Using real-life examples, we'll show you how to craft your company story in a way that attracts people who are excited to work for you.
Helen will share 5 easy hacks to position yourself as a fantastic place to work that will dramatically improve your employer brand.
Step 3. Learn The Smart-Screening System – and instantly spot the best candidates
Using real-life CV's and working in groups your CV skills will be put to the test!
Learn to spot red flags and green flags when looking at CV's and you will see how an over-reliance on CV's can undermine your entire hiring process.
Helen will show you the 5 key things apart from CV's you can use to really get to know your candidates. You will get real-life examples of phone screening scripts, video interviews, tailored covering letters, tests and email and text communications during hiring.
Step 4. The ultimate interview checklist – everything you need to know to do your interviews properly
Interviews are a key part of most hiring processes so you must do them properly. You'll learn how to structure your interviews, what 7 questions you MUST always ask, why timing is important and why you should never offer the job at an interview.
We will show you how to respond the right way after a great interview to further reduce your risk of making a poor hire. Your interview checklist will be in your bound 35-page workbook, so it will always be at hand.
Step 5. Testing – The secret ingredient to effective hiring
All the experts say to hire attitude over skills and while this is true, the right tests can REALLY help you hire better. If you only rely on interviews, and maybe a covering letter, you will end up hiring the person who interviews best, not the person who will perform best.
There are plenty of tests which can be easily implemented to reduce your reliance on interviews. During this masterclass, you will get examples of the most important hiring tests and learn which tests you must use in your business. You will get examples of written tests, team day trial tests, role-based tests, psychometric testing, and competency tests. Implementing the right tests for your business is a game changer.
Step 6. Avoid falling at the final hurdle – Learn the 5 rules of successful onboarding
It's common to be bowled over by someone at an interview, offer them the job and then end up not hiring them! There are numerous pitfalls between when you offer someone a job and them actually starting and staying with you. You will learn the rules of successful onboarding which are:
The right way to Negotiate a salary and package
How to easily get your contracts signed and avoid future issues
How to organise the first day, week and month of work to make the right impression
Creating a proven probationary period process
Having a buddy system for growing teams
You'll learn that it's crucial not to be complacent once your new employee has started and that onboarding properly is the not-so-secret path to long-term hiring success and retention.
Bonuses:
Every attendee gets a 30-page wire-bound page Hiring Masterclass workbook! Each workbook is packed with real-life examples of CV's, job descriptions, job adverts, templates, checklists, step-by-step instructions, practical info, exercises, your hiring action plan and space to make notes!
You'll be given time to create your own hiring checklist, your employer brand template and hiring action plan. You'll leave the masterclass with an absolute minimum of 10 practical steps that will fix your hiring process forever!
Please ask questions at any point during the masterclass. We always have valuable discussions and there will be lots of personal input from Helen Sanders, your masterclass leader, on your hiring challenges and opportunities.
Book Your Place to Learn how to Hire Superstar People Every Single Time:
Where: The British Library Business and IP Centre, near King's Cross
When: Tuesday, July 9th 2019
Time: 2pm to 6pm
About Your Masterclass Leader:
Helen Sanders has successfully hired for over 1000 companies over twenty years including entrepreneurs, startups, VC funded high growth companies, micro companies hiring their first staff member or freelancer and corporates. Her experience of hiring for both SME's and larger companies such as Orange, M&S, Intel, Hewlett Packard and SAP means she brings a deep depth of knowledge and practical advice to her teaching.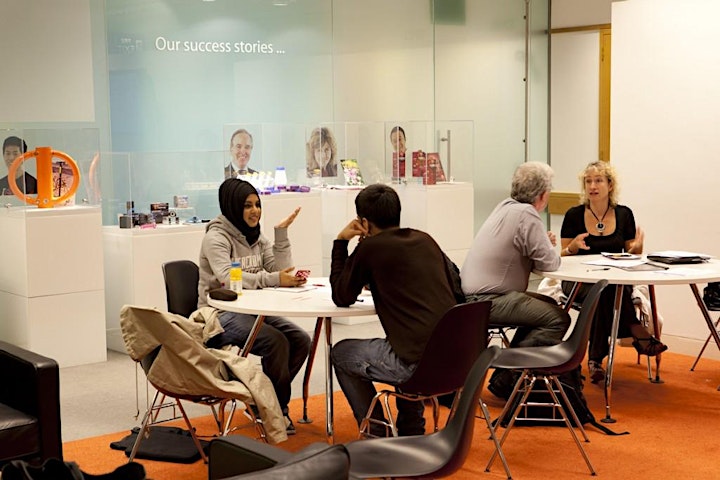 Organiser of Hiring Masterclass for Entrepreneurs, Small, Medium and Micro Businesses
Helen Sanders has long been apologetic for what she does in her day job. For over two decades, she's been working as a recruitment consultant ... don't hold that against her.  
She's spent pretty much all that time trying to reinstate people's belief in the fact even recruiters can absolutely put human beings at the heart of everything they do. After all, unlike many recruiters, her main aim is to support the humans in the middle of the hiring process - business owners, hiring managers and those looking for a new career move - and this means focusing on far more than a job description and a CV! 
For the past decade, Helen has developed a coaching practice which supports small business owners to hire well, nurture a happy team and support each company's growth. Since 2018, Helen's workshops aimed at solopreneurs and entrepreneurial growing companies are a sell-out at the British Library's Business & IP Centre.