A Christmas Mince Pie workshop held online. Get yourself prepared and in the mood for Christmas with delicious historical recipes.
About this event

Enjoy two hours of cookery escapism and make your Mince Pies from a historic recipe, with me, Paul Couchman, The Regency Cook.
#1830MincePies is an online event that will walk you through the steps you need to create Mince Pies from a recipe from the 1830s.
Sunday 5th December 2021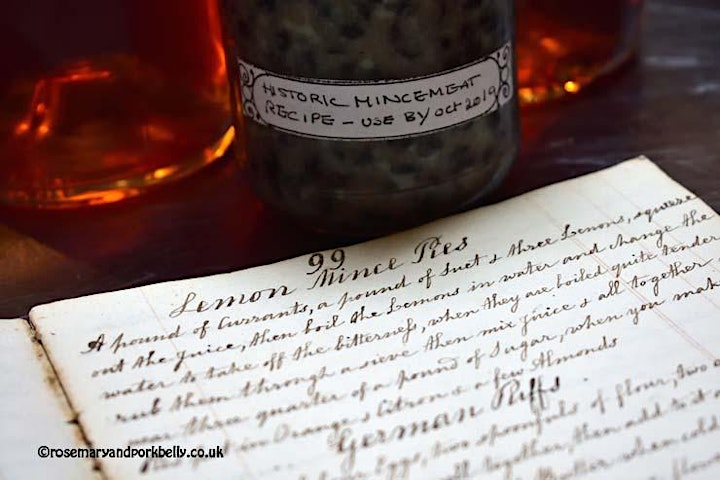 What's Included:
Virtual cookery class (create your own Mince Pies ready for cooking live in the class)
Inspirational live presentation on the history of the Mince Pies.


Video tour of the Town House kitchen areas and video demos in the kitchen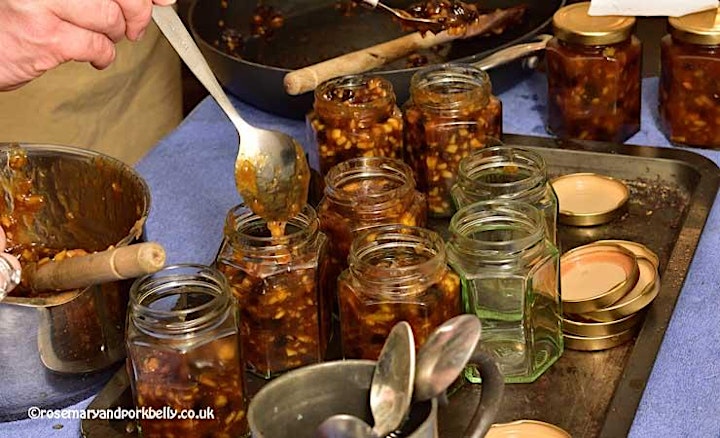 If you're feeling Zoomed out….please feel reassured the event will NOT just be on zoom.
I'm recording extra bonus content so that you can follow along with the recipes with video footage recorded in the old kitchen. 

Taking the event online this year means that I can deliver more than I could in a physical class cookery course.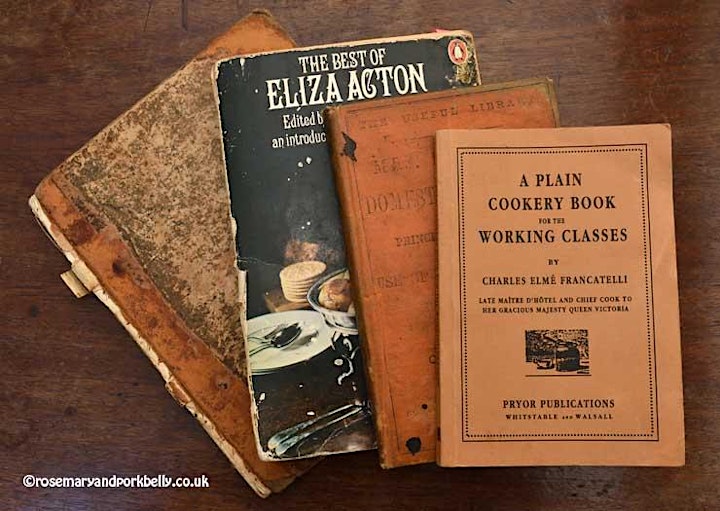 ``Included in the course are:
A collection of Christmas Pudding recipes from the 17th, 18th and 19th centuries.  
A video tour of the Town House, concentrating on the servants' offices in the two basements of the Town House.
A booklet with notes about the history of Mince Pies from their Medieval origins to their Victorian mass popularity.
What you'll get from #1830MincePies.
INSPIRATION
Get cookery inspiration from some of the best recipes writers from the eighteenth and nineteenth centuries including Hannah Glasse, William Kitchiner, and Eliza Acton.
GETTING YOUR PIES MADE
If you find yourself putting off making your own Christmas mince pies then why not take a few hours to work with others virtually? At the end of this session, you'll get that warm feeling of having got your Pies made. And this year your pies will have a historic twist.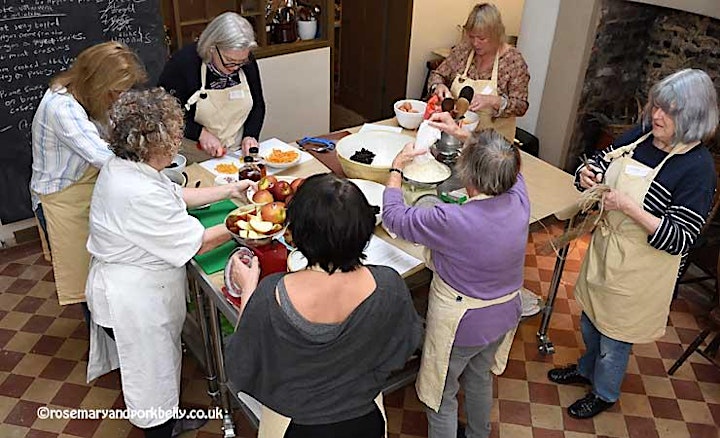 What people say:
If you're reading this thinking 'this all sounds great, but what's a historic food course like?'…here's some reviews for the courses I've given in the Town House kitchen.
I attended a historic fodo course and had a very enjoyable afternoon. Paul was very knowledgeable and answered our questions about the building and the period kitchen equipment on display. The hot cross buns and biscuits we made were really nice, so nice my daughter declared the bun probably the best she'd ever tasted. We even managed to fit in a trip to the basement of Number 10 which was fascinating. Highly recommended.
I spent an amazing Sunday baking at the Regency Town House. A 5 star review for Paul…thank you Paul for veganising your recipes – the rose and caraway biscuits are a taste sensation. It was a real privilege also to see the basement flat at No. 10. I can't wait to book in again for your next baking event! Thank you.
Thank you so much for today's baking session it was so much fun and totally inspiring! Keep up the good work.
I just did the hot cross bun making class, it's was absolutely brilliant. Paul was a great teacher and very patient and we were in such wonderful surroundings. I will be back again.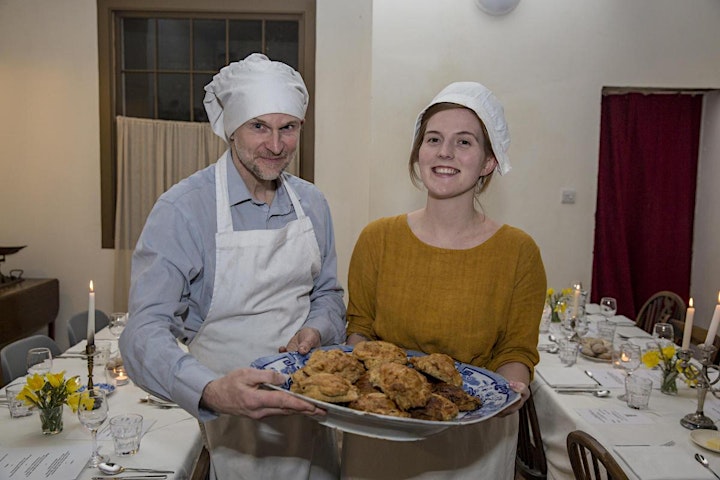 Who am I?
I'm Paul Couchman, The Regency Cook and I help people, like you, fascinated by history and food, rediscover recipes from the 1830s.
I started on my historic food journey by restoring an old kitchen and then learning how to cook in it. I want to share my passion for cooking from historic recipes and the kitchen that I'm lucky to work in with you.
I host regular pop-up dining events, I speak on local radio about food and I am constantly experimenting with old recipes. You could call it an obsession.
Who should attend #1830MincePies?
History lovers
Food lovers
People who want to join a community of history enthusiasts
Students starting their journey into history or food history

FAQs
When is the course happening?
The course is taking place on the 5th December from 3 pm to 5 pm British Time.
What's it like taking a course with The Regency Cook?
Luckily I had the wonderful Rosemary and Pork Belly to visit one of my Christmas courses and they wrote about it. Here are their impressions of the course.
Is the event suitable for beginners?
Yes. Complete beginners can enjoy this class. The recipes themselves are simple and I will provide ingredient lists and methods before the course itself.
If you are unsure you can prepare everything before or even practice. But this isn't strictly necessary as there will be time to do everything within the class.
I know a lot about food history. Will the course be too easy for me?
Perhaps. But there will be the delight of coming together with people who are just as passionate about food as you are, from all over the world.
I will also be sure to include all references that I used, including books you might like to add to your food history library. If you are unsure just contact me through my website: www.paulcouchman.co.uk
Will there be a replay?
If for whatever reason you cannot make the class there will be a recording made of all the sessions so you can still enjoy the class at your own place at a time that suits you.
Will there be a refund?
Because I'll be offering replays, course materials and a to all attendees whether they attend live or not I can't offer a refund if you can't make the live section of the course or if you have technical difficulties on the day.
How much is the event?
£20 (including booking fee) Early bird (limited number)
£25 (including booking fee) Normal Price
What's included in the price?
The live course.
Recordings of the class. Sent afterwards.
The workbook that includes a history section and three historic recipes.
Where can I contact the organiser with any other questions?
Please contact me at paul.g.couchman@gmail.com
Date and time
Location
Refund policy