Description
The Churches Conservation Trust, in association with Exeter Local History Society, presents the first in a series of seven lunchtime lectures on Exeter's historic buildings. All these talks are given by leading specialists and take place at St Martin's Church, tucked in a corner of Cathedral Close between the Clarence Hotel site and Mol's - see picture below - from 1 until 2pm.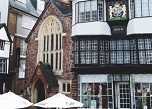 On Monday, 5 March, Dr Stuart Blaylock will be taking us through the history of the Guildhall from medieval times to the present, covering a time span of 600 years.
Dr Blaylock is a noted archaeologist and architectural historian whose researches cover domestic architecture from the medieval period to the 17th century.