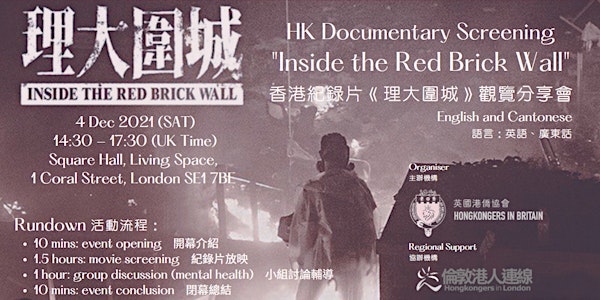 HK Documentary Screening - Inside the Red Brick Wall 香港紀錄片《理大圍城》觀覽分享會
Sales Have Ended
Registrations are closed
We are sorry that this event is already fully booked. 活動報名名額已滿,感謝關注。
Sales Have Ended
Registrations are closed
We are sorry that this event is already fully booked. 活動報名名額已滿,感謝關注。
The siege of the university is the most dramatic scene of the protest in Hong Kong. Knowing the fact and root cause to address the trauma.
About this event
【報名已額滿,新報名將列候補】
【This event is fully booked, all new registration will be on waiting list】
People can register using fake or nicknames for security reason. All information we may collect will be kept completely confidential, and permanently deleted after the event. 
閣下若有安全顧慮,可考慮使用假名進行活動登記,及隱匿其他個人資料。閣下資料將絕對保密,並於活動後永久删除。
Journalists registration and media inquiry, please email to:
記者出席或媒體查詢,不必在此登記門票,請電郵至本會郵箱:
hongkongersinbritain@protonmail.com
Rundown: 活動流程:
10 mins: event opening 開幕介紹
1.5 hours: movie screening 紀錄片放映
1 hour: group discussion (mental health) 小組討論輔導
10 mins: event conclusion 閉幕總結
Languages: 語言:English and Cantonese 英語及廣東話
Objective of the event: 活動背景:
This movie screening event aims for showing video records of recounting the historical fact of Hong Kong, the pro-democracy protest culminated in the siege at the university, which is being regarded as the beacon for social change, and became one of the most iconic images of the conflict in 2019. Since then, trauma is deeply rooted but also buried in the Hong Kong society and diaspora.
The event will be presenting this movie objectively as a fact and social affairs for people to recognise, think and discuss. Through this event and during the group discussion session, our mental health support team can mingle with people and provide their social service.
此次活動旨在放映講述香港歷史事實的錄像,警察圍攻大學的事件,把民主抗議活動的緊張局勢推至頂峯,大學向來被視為社會變革的燈塔,圍城畫面成為了香港民主抗爭運動最具標誌性的一幕。此後,創傷深植於香港社會,但也埋藏了起來。
本次活動將客觀地呈現這部電影,為人們認識、思考和討論該事實和社會事件。 通過這次活動和小組討論,我們的心理支援團隊可以與人們交流,適時提供社會服務。
Background of the documentary: 紀錄片介紹:
In 2019, Hong Kong was swept by demonstrations against the controversial extradition bill. At the Polytechnic University, a group of students also takes a stand for freedom and democracy. Negotiations with the police are chaotic and aggressive, conducted via megaphones and politically charged music played over loudspeakers.
The colourful umbrellas which the young people use to protect themselves against the brutal police actions emphasize the group's bravado, which borders on recklessness. What begins as an energetic battle against the establishment turns into a lopsided game of cat and mouse when the police decide to surround the building.
Within its red brick walls, the university building becomes a prison. Over the nearly two weeks that follow, as fear and exhaustion grow among the hundreds of students, so does the uncertainty. Should they hang on inside, or leave the building to face the armed police?
The camera follows the developments and emotions so closely that it is impossible for the viewer not to become caught up in this deadly clash.
在香港反送中運動中,理工大學一役成為最慘烈的衝突。遭警察驅散的示威者撤退到理大校園內,被警方封鎖包圍,困在紅磚牆內,動彈不得。攝影機捕捉牆內牆外的暴戾衝突,見證警察的無情武力,也對示威者的衝動、矛盾、掙扎和血淚,有深刻的描繪。
Organiser of HK Documentary Screening - Inside the Red Brick Wall 香港紀錄片《理大圍城》觀覽分享會