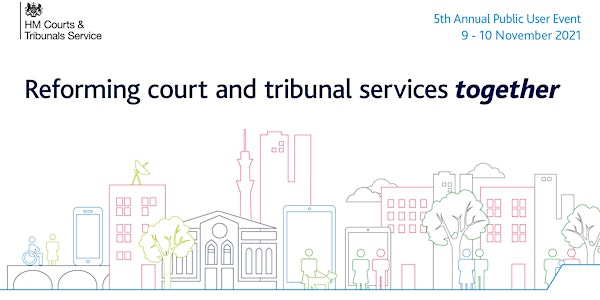 HMCTS Public User Event: Reforming Court & Tribunal Services Together
An opportunity to hear and provide feedback on HMCTS reforms to court and tribunal services.
About this event
#PublicUserEvent21
#HMCTSevents
After the success of the 2020 event – which attracted the most attendees yet - HMCTS' 5th Annual Public User Event will once again be held virtually, this time spanning 2 days. You'll have the opportunity to hear from leaders in the organisation about the projects and services we're working on as part of our Reform Programme, and the progress that has been made in these over the past year.
Sessions will provide you with an insight into the vital work we are doing to improve the user experience through our services. You'll also have the opportunity to provide feedback and ask questions, as we come together to improve court and tribunal services for all users.
Throughout the days there will be opportunity for Q&A sessions, live demonstrations of online services, and much more! We'll be delivering sessions that cover the following jurisdictions:
• Crime
• Civil
• Family
• Tribunals
• Cross-jurisdictional services
Sessions will be running simultaneously in their allocated time slots.
Day 1
10:00-10:30 Opening Speeches
10:45-11:30
Section 28 - Changes within section 28 provision for victim and witnesses
Immigration and Asylum reform project, new online appeals service for Appellant in Person (submitting an appeal without representation)
11:45-12:30
Whiplash Reform Programme – the Official Injury Claim Service
The Publication and Information Project - Making it easier to find and view court and tribunal lists
12.30-1.15 Lunch
1:15-2:00
Probate: digital journey so far and next steps
Improving the crime service through technology
2:15-3:00
Remote Hearings - What Next?
Royal Court of Justice and Upper Tribunals project: digital technology
3:15-4:00
Ending the 'blame game' - the Divorce, Dissolution and Separation Act
Find a Court or Tribunal (FaCT). A new design to help find the correct court or tribunal for you​
Day 2
10:00-10:45
Improving the crime service through process redesign
What has the civil reform project delivered so far and what will the future look like in the next 12 months?
11:00-11:45
Equal Justice: Collecting Protected Characteristics Data
SSCS Tribunals Project - Expansion of submit your appeal/ Manage your appeal for other DWP appeal types
11.45-12:45 Lunch
12:45-1:30
From Insight to Action: Designing out barriers to justice in reform services
Domestic Abuse and other protective orders
1:45-2:30
Improving defendant engagement: encouraging the take up of legal representation in custody using behavioural insight
HMCTS Small Claims Mediation Service
2:45-3:30
A New code of practice for the victim's of crime (Victim's Code)
Helping people access and use HMCTS online
3:45-4:30 Q&A Panel
Session descriptions, speakers and their biographies will be sent to all registered delegates.
To book your place now, follow the registration process on this page.
You don't have to attend for a full day, but have the option of joining whichever sessions you would like to by clicking the appropriate link at the time it starts. Attendees are welcome to attend as many or as few of the sessions as they would like.
HMCTS may publish video recordings of the sessions afterwards for those unable to participate on the day. Please note that questions submitted either in advance or on the day may feature in these recordings.
If you plan to attend but need additional support to join or access the event, please let us know by Monday 1 November: HMCTSCommunications@justice.gov.uk
Organiser of HMCTS Public User Event: Reforming Court & Tribunal Services Together