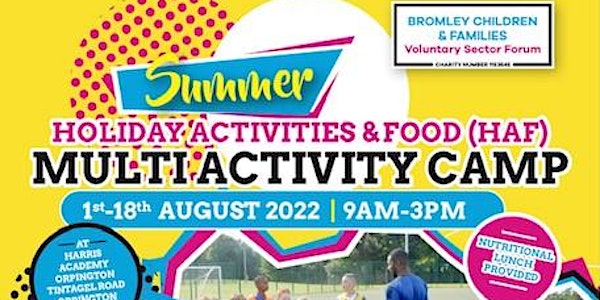 Holiday Activities & Food (HAF) Camps - Prolific Striker Academy (7-16)
Location
Harris Academy Orpington, Tinagel Road, Orpington, BR5 4L
Harris Academy
Tinagel Road
Orpington
BR5 4LG
United Kingdom
Holiday Activities & Food (HAF) Camps - Prolific Striker Academy (7-16) For Children on Free School Meals / Children in Need
About this event
Free School Meal Eligibility/Children in Need
Bromley Children and Families Forum in Partnership with Department of Education & London Borough of Bromley
We are proud to be offering an exciting range of activities across Bromley this summer to give young people the chance to explore new activities, including boxing, tennis, football and many more events.
These entertaining activities will take place across the borough from Monday 1st August - 26th August 2022 Holiday Activities and food is to help children on Free School Meals have fun in a safe and nurturing environment with a nutritional meal.
Some of out activities include food so please ensure you state any dietary requirements or allergies when completing the booking form
We are offering spaces at Prolific Striker Academy this amazing academy run by ex professional strikers.