Sales Have Ended
Registrations are closed
This confirms your virtual seat to HOLITION TALKS Webinar Series: The Future of Fashion is Virtual. Please anticipate an email from Holition X Interlaced for details regarding the webinar. See you there!
Sales Have Ended
Registrations are closed
This confirms your virtual seat to HOLITION TALKS Webinar Series: The Future of Fashion is Virtual. Please anticipate an email from Holition X Interlaced for details regarding the webinar. See you there!
About this Event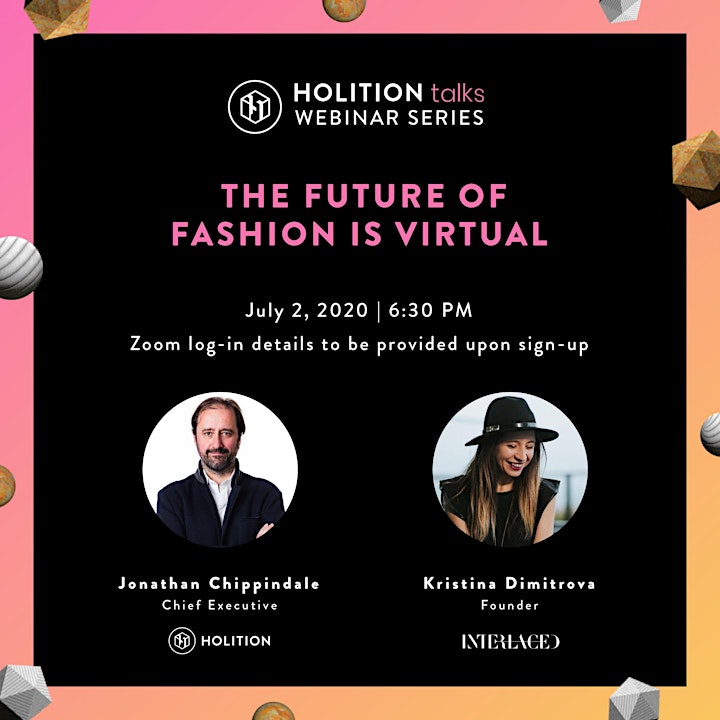 The Coronavirus pandemic has changed the world at an unprecedented scale, forcing us to rethink how we engage, communicate, and interact with others. With store closures following the outbreak of COVID-19, brands and marketers have been left with no choice but to recalibrate their strategies to adapt to the ongoing crisis.
Before COVID-19, spending real cash on virtual products in the gaming world was nothing new. Players of League of Legends, Fortnite and the likes are happy to throw money at "skins" - digital outfits and accessories that pump the looks of their characters. In fact, Epic Games' Fortnite, which has over 250 million global users, reportedly earns $300 million a month selling skins.
As our digital and real world become increasingly intertwined, the appeal of virtual products is coming for our wardrobes and social media feeds too.
In 2019, we witnessed the first collaboration of world eSports gaming company Riot Games and Louis Vuitton. Designed by the fashion house's Artistic Director, Nicholas Ghesquiere, the brand released a new capsule collection inspired by League of Legends champion and Louis Vuitton ambassador, Qiyana.
We also saw the first virtual garment designed by The Fabricant sold for £7,800 at an auction, retailer Carlings releasing a digital-only collection and the launch of A Hot Second - a retail concept that exchanges physical products for digital experiences.
Join Holition and INTERLACED for a fascinating panel discussion on virtual fashion, its impact in the real world and what are the opportunities for brands.
Who's this event for?
Marketers and brand directors from the fashion, beauty, retail and luxury industries. Anyone who is interested in fashion innovation, consumer behaviour and emerging technologies.
To know more about Holition, visit: https://holition.com
To know more about Interlaced, visit: https://www.interlaced.co/
Note:
The webinar will be recorded for marketing and post-event communication purposes.
By signing up for this event your contact details will be shared with both Holition and INTERLACED.
By attending this event you are accepting these terms.
SPEAKERS:
Jonathan Chippindale (CEO, Holition)
Jonathan co-founded hybrid retail technology agency Holition more than a decade ago having previously been in the luxury jewellery industry as managing director of the De Beers Group and in senior marketing roles at Asprey, Garrard and Mappin & Webb. Jonathan has an insatiable curiosity for and experience in leading world-first retail innovation projects with global brands including Hermes, LVMH, Cartier, Tiffany & Co, Coty Inc, Dunhill and Charlotte Tilbury. Jonathan is a provocative thought leader at tech, retail and innovation conferences around the world.
Karinna Nobbs (Founder, A Hot Second)
Karinna Nobbs is a Fashion Futurist, Academic, and the Founder of HOT:SECOND - the world's first circular economy concept store, which traded physical products for digital experiences. A published researcher and author, her knowledge ranges from retail and branding to communication and consumer behaviour as applied to the fashion, beauty and luxury sectors. She currently lectures at London College of Fashion, the Antwerp School of Management, ESA, Istituto Marangoni and Hyper Island and was awarded an affiliate Professorship at ESCP Europe in 2018 where she teaches Innovation and Trends. Karinna has successfully migrated her knowledge and skills from academia into a portfolio career and since 2017 she has worked alongside agencies like Holition, Sunshine and Wednesday, media brands like the Business of Fashion, Decoded Fashion and Frieze and luxury brands including La Prairie, The Vampire's Wife and Swear London.
Viviane Paraschiv (Retail Transformation Manager, Farfetch)
With a background in business and fashion management and work experience between Brussels, Paris and London, Viviane has worked for renowned brands such as Louis Vuitton, Ralph Lauren and now Farfetch at the intersection of luxury, innovation, technology and change management. In her role as Retail Transformation Manager, she helps luxury brands and retailers embrace the luxury experience of the future and look holistically at the technology they want to implement, their retail experience, their retail excellence strategy and their customers. She is also a mentor in the Farfetch accelerator, Dream Assembly.
Tim McCourt (Director & Co-Founder, THE LINE)
Tim McCourt is one of the Co-Founders of THE LINE, an animation studio based in east London, where he directs, illustrates and works as an animator. He has a background in advertising, short films and music videos, most recently directing a music video for Riot Games. His work incorporates elements of street style and high fashion and has an uncanny tendency to go viral. He's most known for his short film Amaro & Walden's Joyride, as well as his work directing videos with the Gorillaz.
MODERATED BY:
Kristina Dimitrova (Founder, INTERLACED)
Kristina Dimitrova is the founder of INTERLACED – a media, consultancy and events platform highlighting the most innovative developments for the future of fashion, retail and beauty. INTERLACED is the space that brings together startups, established companies, academia and the public for discussion about the next wave of the industry. With marketing and strategy background as well as a deep understanding of digital channels, Kristina often curates and speaks at industry events. She is also a guest lecturer at Nottingham Trent University and Fashion Retail Academy, among others, and a jury/mentor for international fashion tech competitions, including Aarhus Walks on Water and The Festival of Curiosity.