Hear from industry experts in the world of e-commerce, marketing & physical retail to address what brands can do to adapt to the new normal.
About this Event
Since the pandemic, footfall in UK High Streets, retail stores, and shopping centres plummeted to as much as 80% in April amid the lockdown.
Recent data shows that over 20,600 retailers are expected to have pulled their shutters down for the final time by the end of the year, a massive leap on the 4,547 that closed in 2019.
And how about e-commerce? Online retail is now 20 years old. And after two decades of experiments and digital firsts, fashion brands today face great changes in consumer behaviour — and a growing, diverse stable of competitors — just as the coronavirus epidemic turns the world upside down. What happens now?
Following the success of the first Holition Talks: The Future of Fashion is Virtual online event, Holition and INTERLACED bring you the second of our series of online webinar sessions.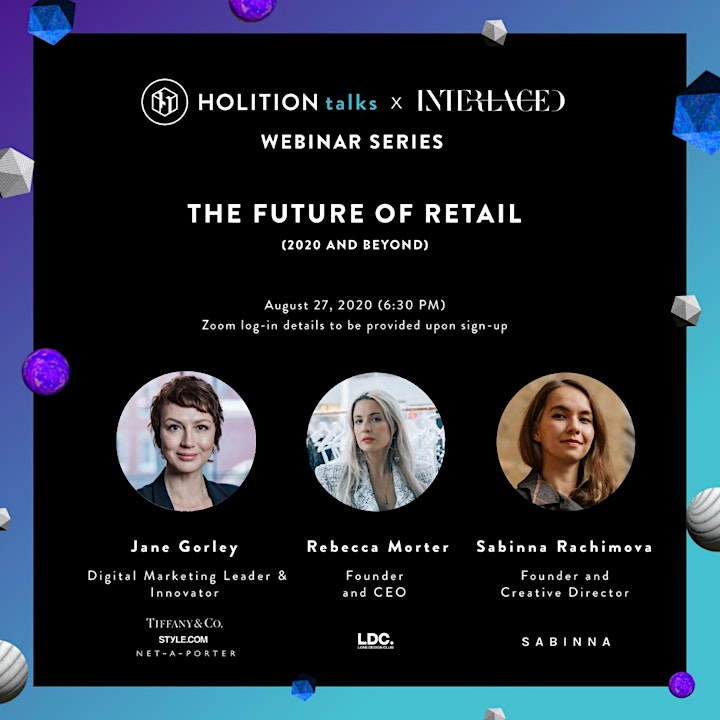 Hear from our expert lineup of panellists from the world of e-commerce, marketing and physical retail to address what brands can do to adapt to the new normal and plan post-lockdown strategies.
We will cover everything, from the role of pop-ups to social commerce, emerging tech innovations within customer retail experiences, and how we expect physical retail to change in years to come.
MEET THE SPEAKERS:
Jonathan Chippindale (CEO, Holition)
Jonathan co-founded hybrid retail technology agency Holition more than a decade ago having previously been in the luxury jewellery industry as managing director of the De Beers Group and in senior marketing roles at Asprey, Garrard and Mappin & Webb. Jonathan has an insatiable curiosity for and experience in leading world-first retail innovation projects with global brands including Hermes, LVMH, Cartier, Tiffany & Co, Coty Inc, Dunhill and Charlotte Tilbury. Jonathan is a provocative thought leader at tech, retail and innovation conferences around the world.
Rebecca Morter (Founder & CEO, Lone Design Club)
Rebecca is an experienced entrepreneur who has started and grown businesses in the fashion world. Her business, London Design Club is an online marketplace and pop up stores that offer customers the chance to meet the designers behind the brands, discover traceable, transparent and unique product amongst a two week activation of workshops, panel talks and interactive experiences. Not only does LDC provide a new route to market for its designers, but also activation and excitement for otherwise empty retail space.
With over 20 pop-up stores under their belt, working with over 200 brands and 40% recurring brand success, LDC is set on a strong growth path to disrupt and reshape the future of retail and how we consume.
Sabinna Rachimova (Founder & Creative Director, SABINNA)
SABINNA is a conscious lifestyle brand with a focus on storytelling, handcraft and innovation, offering products and experiences. The brand is based in London and has a small knitwear studio in Vienna. We explore sustainability beyond the product by making sure to be mindful about all aspects of our business. Our aim is to create ethical fashion without compromising our aesthetic and putting people and the environment at the forefront of everything we do.
Before launching her eponymous label, she worked for the leading Parisian Fashion house Christian Dior and London brand Mary Katrantzou. Sabinna has an innovative take on selling strategies and direct communication with her customers. As a double immigrant woman, she is incredibly passionate about inclusivity, equal opportunities and being an opinion leader for the future generation of creatives.
Jane Gorley (Digital Marketing Leader & Innovator, Former Global Vice President for Marketing at Tiffany & Co. and Former Creative Director at Style.com and NET-A-PORTER)
An experienced leader in brand marketing and creative development, content creation and strategic direction for fashion, luxury and lifestyle. Holistic marketer with left-brain pragmatism and right-brain creative thinking. Fluent in the practical and interactive aspects of user-centered product design. Passionate about innovation and emerging technology. A diverse design and campaign creative portfolio incorporating all platforms and media.
MODERATED BY:
Kristina Dimitrova (Founder, INTERLACED)
Kristina Dimitrova is the founder of INTERLACED – a media, consultancy and events platform highlighting the most innovative developments for the future of fashion, retail and beauty. INTERLACED is the space that brings together startups, established companies, academia and the public for discussion about the next wave of the industry. With marketing and strategy background as well as a deep understanding of digital channels, Kristina often curates and speaks at industry events. She is also a guest lecturer at Nottingham Trent University and Fashion Retail Academy, among others, and a jury/mentor for international fashion tech competitions, including Aarhus Walks on Water and The Festival of Curiosity.
Who's this event for?
Marketers and brand directors from the fashion, beauty, retail and luxury industries. Anyone who is interested in fashion innovation, consumer behaviour and emerging technologies.
To know more about Holition, click here
To know more about INTERLACED, click here
Note:
The webinar will be recorded for marketing and post-event communication purposes.
By signing up for this event your contact details will be shared with both Holition and INTERLACED.
By attending this event you are accepting these terms.