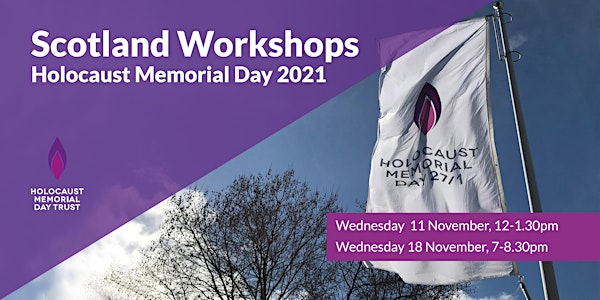 Holocaust Memorial Day 2021 Scotland Workshop 18 November 7.00-8.30pm
Holocaust Memorial Day 2021 workshop for Scottish local activity organisers
About this event
Are you based in Scotland and planning an HMD activity in your group? We are organising two workshops to support local activity organisers in Scotland. We will come together to hear about the theme for HMD 2021 and have an opportunity to share ideas and experiences.
There will be 2 workshops held in November, both covering the same material, with one being held during the day and one in the evening. The dates you are signing up for is:
Wednesday 18th November – 7-8.30PM
Our workshops offer a valuable opportunity to find out more about our theme, Be the light in the darkness, explore powerful life stories of those affected by the Holocaust and genocide, participate in thought-provoking activities and discussions, and network with other activity organisers. We will also provide information about our free resources and previous activity ideas to help inspire you.
Organiser of Holocaust Memorial Day 2021 Scotland Workshop 18 November 7.00-8.30pm
Holocaust Memorial Day Trust (HMDT) encourages remembrance in a world scarred by genocide. We promote and support Holocaust Memorial Day (HMD) – the international day on 27 January to remember the six million Jews murdered during the Holocaust, alongside the millions of other people killed under Nazi Persecution and in subsequent genocides in Cambodia, Rwanda, Bosnia and Darfur. Together we bear witness for those who endured genocide, and honour the survivors and all those whose lives were changed beyond recognition.