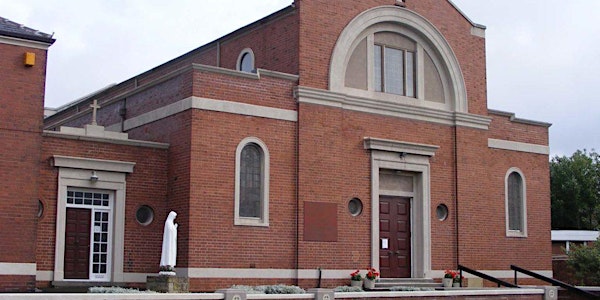 Holy Mass at the Parish of the Sacred Heart & St Joseph (St Joseph)
Location
St Joseph's Catholic Church
Barnsley Road
South Kirkby
WF9
United Kingdom
Join us for the celebration of Holy Mass at St Joseph's Catholic Church
About this event

The Sacred Heart & St Joseph are parishes serving within the Diocese of Leeds.
Due to COVID-19, it has become necessary for the parish to operate a registration system, in order for us to reduce the risk of infection for parishioners and visitors.
The registration system will allow individuals, families, and groups to secure a seat at Mass. It will also prove to be a useful tool which will help our stewards to co-ordinate visits safely on arrival. Please select 1 ticket for each person. We would ask you to book only up to 14 days in advance and be aware that the schedule may change (usual minimum notice of 14 days) according to the determined needs. It will also help if you are able to make bookings at least 24 hours in advance, to assist with seating arrangements. Many thanks for your help and understanding!
The system will also ask permission to share data with the parish, and so ensuring that data protection measures are maintained. The Diocese Data Privacy Policy can be viewed here
Before registering to attend Mass, please ensure:
• You do not have any symptoms associated with COVID-19 (e.g. fever, dry cough, shortness of breath, loss of sense of smell or taste)
• You do not have COVID-19 nor are you awaiting the results from being tested for COVID-19
• You are not required to self-isolate on account of - living with someone with COVID-19 - or having being instructed to self-isolate via 'test and trace' or another appropriate authority (eg your school, place of work)
• You have not returned, within the past 14 days, from a destination that is subject to a 14 day self-isolation period on return to England.
We very much look forward to seeing you once again at Holy Mass