About this Event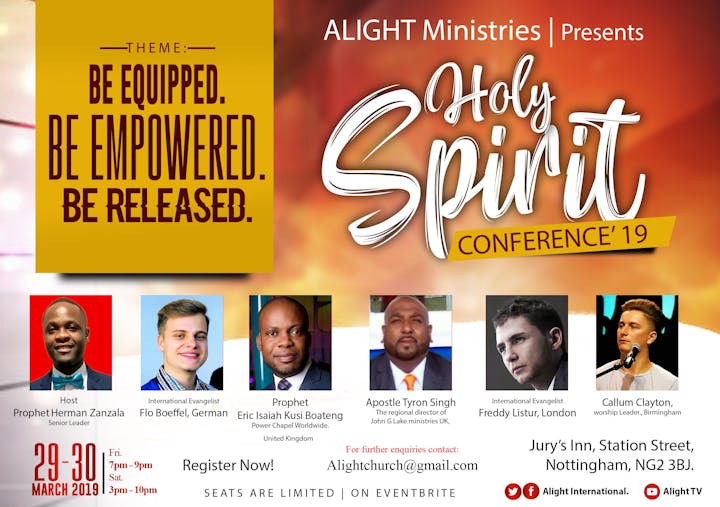 Holy Spirit Conference is not just another conference. It is a clarion call to "equip the saints for the work of ministry, for the edifying of the body of Christ," (Ephesians 4:12). And inspire every Christian, young and old, to carry the Gospel of Jesus Christ with power like never before in one of the most pivotal times in history. For this reason, we have a powerful line up of speakers, which include the following:
* Prophet Herman Zanzala
* Prophet Eric Isaiah Kusi Boateng
* Apostle Tyron Singh
* Evangelist Flo Boeffel
* Evangelist Freddy Listur
* Callum Clayton, worship Leader
Conference Schedule:
Prophet Eric Isaiah Kusi Boateng
Friday Evening - Session 1 - 7:00 p.m. – 10:00 p.m.
Evangelist Flo Boeffel & Evangelist Freddy Listur
Saturday Afternoon - Session 2 - 15:00 p.m. - 18:00 p.m.
Break
Apostle Tyron Singh & Herman Zanzala
Saturday Evening - Session 3 - 19:00 p.m. - 22:00 p.m.
 Location
The event is taking place in Nottingham:
Venue: Jurys Inn Nottingham
Station Street, Nottingham, NG2 3BJ
Time: Friday 29th March @7pm
Saturday 30th March @3pm
Event Information:
Booking
This event is FREE OF CHARGE but you must registration.
Service Times and Seating
There will be no reserved seating unless you are an Alight Covenant Partner, in which case you will have reserved seats in the front sections.
Service times are noted above, but doors will open approximately forty-five minutes to an hour before each session.  Alight Covenant Partners (ACP) will be granted access fifteen minutes prior to everyone else. Complete information will be e-mailed out regarding this to all attendees.
Childcare
Childcare will not be provided at any session. This event is not particularly aimed at children, but they are welcome.
Prohibitions
Photography is forbidden throughout the whole of the complex, except for accredited staff. For public safety, you are not allowed to bring the following items into the venue: Professional cameras or audio/video recording equipment. Security staff will confiscate such items, and you can collect them upon departure.