Event Information
Location
The National Museum of Computing
Bletchley Park
Bletchley
MK3 6EB
United Kingdom
Refund policy
Contact the organiser to request a refund.
Eventbrite's fee is nonrefundable.
Organised exclusively for Home Educators, enabling families to experience the Museum through tours and talks available to school groups.
About this event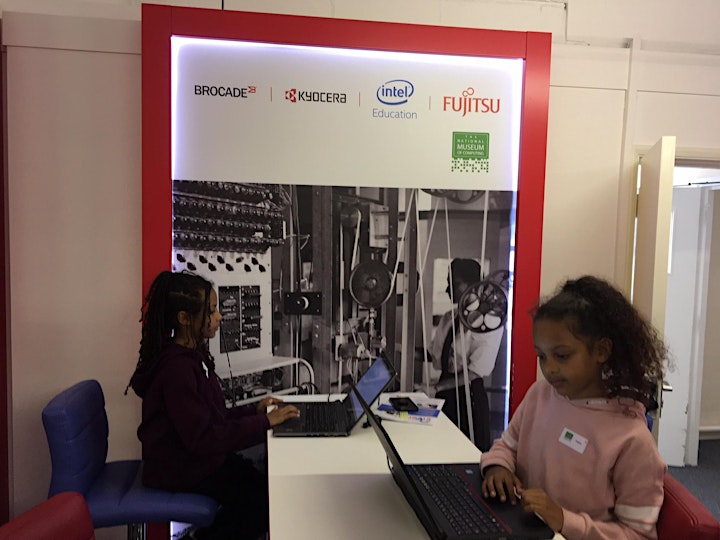 About the Museum:
At The National Museum of Computing, voted one of England's 'Top 100 Irreplaceable Places', the evolution of Computing will unfold before your eyes. Journey from the early electro-mechanical code breaking machines of WWII and the world's first entirely digital semi-programmable computer, discovering how technology evolved from valves and early semiconductors to the modern microprocessors we use today. You will uncover the development of large mainframes, supercomputers and scientific mini-computers, responsible for process control from office-based systems to airspace! Finish by exploring the rise of personal computing, mobile computing and the advent of the internet and smart devices, bringing you up-to-date by examining how this technology has revolutionised the way we now interact with machines and each other. Home to the world's largest collection of working historic computers, our fantastic team of friendly and knowledgeable volunteers are on hand to demonstrate the plethora of operational machines in our unrivalled collection. We look forward to welcoming you!
About this Event:
This special day is organised to enable Home Educators to explore the Museum and experience educational activities that are typically available to school groups as part of our Education Programme. The content of the Museum is best suited to students aged 10 years and older. There are additional activities for accompanying younger students including a Family Activity Back Back and 'Osmo' Learning Games.
Please see the schedule for the day below.*
Workshop Options:
Enigmatix (KS2-4): In this hands on introduction to encryption, learners will build an understanding of the inner workings of the Enigma machine. Solving puzzles using our specialist Enigmatix makes this immersive session engaging for all.
Primes and Encryption (KS3-5): Learners will find out more about the incredible powers of prime numbers in encryption. This maths based session guides learners through real life application of mathematical concepts (Lowest Common Multiple, Venn Diagrams and more) in encryption practice.
Sphero Bolts Assault Course (KS1-3): Aimed at younger learners, this introduction to robotics teaches basic coding skills on nifty little gyroscopic robots to avoid obstacles and make it out of our challenging maze.
Programming Snake (KS3-5): Remember when you would have to spend hours copying out lines of code to play games? Enter our retro 80s BBC Classroom and practice programming in BASIC on our original BBC Micros to write and play your own customisable game.
RAF STEM Team Engineering Activities:
MTa Kit (KS3-4): Build interpersonal and collaborative team skills in this challenging hands-on, practical problem-solving session hosted by our incredible partners at the RAF STEM team.
Rocket Cars (KS3-4+): Develop practical engineering skills and test your understanding in this engaging activity to build rocket cars (to be tested outside!)
Mini-Explorer Room (KS1-2): Our youngest learners will have access to a dedicated space where they can interact with academic options selected especially for them. These include Osmo's Maths Wizard exploration and other games. Seats here are limited and learners must be supervised by adults.
Pimoroni Musical Gloves with Micro:Bit Coding (KS1-2): Learners will merge practical craft skills and technological proficiency in making these musical gloves. With sounds programmed by learners, encourage them to dance to their own rhythm.
You are free to explore the Museum at your pace. There will be guides on hand to support your learning. All activities are included in the ticket price. Sign up to workshops on the day by arriving at the session 10 minutes before the start. Spaces will be allocated on a first come first served basis.
Covid-19 Regulations: Cancellations
We accept cancellations and refund/ date transfer request up to 7 days before. after this date we are happy to transfer your tickets to an alternative date. Please note no shows will not be issued a refund.
Following current Government Guidance on Covid-19 for educational settings, we request that all visitors wear masks for the duration of their visit, unless exempt. The Museum has hand sanitiser stations throughout and visitors are asked to practice social distancing.
*Schedule subject to change.

Date and time
Location
The National Museum of Computing
Bletchley Park
Bletchley
MK3 6EB
United Kingdom
Refund policy
Contact the organiser to request a refund.
Eventbrite's fee is nonrefundable.