About this Event
The event will be hosted by Adrian Cooper, CEO & Chief Economist of Oxford Economics as well as Louis Kuijs, Head of Asia Economics. Please arrive at 8:30am for registration and a 8:45am start.
Agenda
Date: Tuesday 19th November
Venue: Dragon Room 1, 43/F, The Hong Kong Banker's Club
8:30am: Registration and Breakfast
8:45am: Global Outlook - Are we heading for recession?
9:30am: Coffee break
9:45am: China and Asia Outlook – Coping in a turbulent world
10:30am: Depart
Discussion Points
Are we heading for recession?
Global economic growth has slowed significantly over the last year amid increased trade protectionism, political uncertainty and volatile financial markets. Adrian Cooper will ask how worried we should be by signals that a global recession is imminent. He will also present the results of our latest survey of global economic risks and scenarios. And he will address medium-term constraints on growth which will keep inflation and interest rates low and create challenges for policy-makers in mitigating possible recessionary shocks.
China and Asia Outlook – Coping in a turbulent world
The outlook for China and the rest of Asia is challenged by weak global trade and the US-China trade war. How is the US-China conflict likely to evolve and what will be the short and long-term impact? So far, China has remained relatively restrained so far in its response to the slowdown. How low will Beijing allow growth to be in 2020? In this turbulent setting, how are trade-oriented and more domestic demand-driven Asian economies positioned for growth, and how is Asian macro policy likely to respond? Medium-term wise, how are Asian economies positioned for further sustained growth?
SPEAKERS
Adrian Cooper | CEO & Chief Economist of Oxford Economics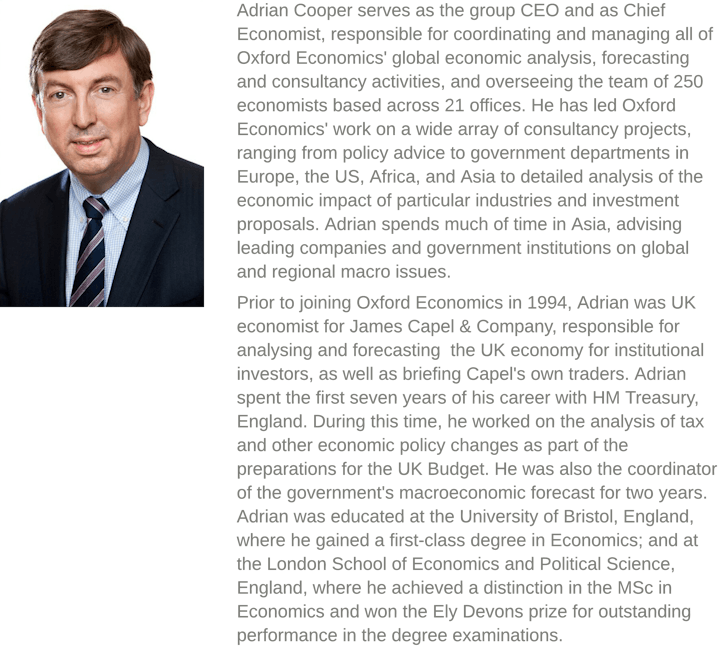 Louis Kuijs | Head of Asia Economics